The Meaning behind Halloween Animals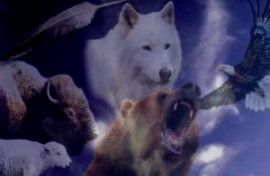 Western Civilizations have developed an uncanny notion that Halloween is a scary, "evil" time. However, this perception is inaccurate. These civilizations take spiritual energy, also known as ghosts, to mean dangerous manifestations. Yet, many who live in this same culture do not fear the concepts of angels or godly deities manifesting or being celebrated throughout other times of the year. So, what is the purpose of Halloween? For many, it is the most sacred time of the year.

There was a time, long-before-now, when humans understood the importance of balance, above all things. Halloween is part of that balance. It has been known by many names over time: Hallowe'en, All Hallows Eve, Samhain, and Winternacht, to name a few. It is the sacred time of in-between, which corresponds to the Gregorian calendar as the autumn season. Autumn is viewed as the time of in-between because it falls between summer, when the Earth's bounty is plentiful, and the dormant cycle of winter, which is most closely associated with death. While it is a time of regaling over successful harvests, it is also said to be the thinning between living and spiritual energies.

In the time of long-before-now, the cycle of in-between was considered the most balanced, because it most accurately reflected the living journey. However, for a select few, it was seen as a time of great vulnerability, because spiritual and living energies shared equal footing. For, during this time it was believed spiritual energies could embody animals and roam the Earth. Ancestors relied heavily on astrology and determined that the narrowest point between living and spiritual energies occurs between the Autumnal Equinox and the Winter Solstice. This is when the "thinning of the veil between the worlds" is most pronounced. In the Northern Hemisphere, that is 31 October and 1 November and in the Southern Hemisphere, it is 30 April and 1 May, of which both correspond to times of planetary balance.

Typically, families prepared the Feast of the Dead and embraced the presence of animals to mean ancestors had arrived to spend time and celebrate with their living family members. The animals were welcomed into family dwellings with open arms. However, it was also a time of fear for those families who had wronged their ancestors, as they could come back embodied in animals to seek retribution for the crimes committed against them. Families who feared such an act would darken their houses and wear animal masks in an attempt to trick vengeful spirits from finding them. Those who had cause for concern would convey to others, outside the family, to hide their identities because their ancestors carried so much rage it would indiscriminately attack. Ultimately, this tactic was a trick to get others, who harbored no ill will towards the spectral visitors, to mask their identity to ensure wronged spirits could not seek out those who had offended. Ironically, those who did not fear retribution enjoyed wearing animal masks as a way of welcoming spiritual visitors. It was seen as a sign of respect and embraced as a tradition. Additional customs ranged from placing milk and cake outside the door to having a lavish feast where family members and animals were invited inside to partake and celebrate. Most often, a communing of thanks to the ancestors preceded the meal and a conveyance of continued prosperity occurred the next morning.

The animals rejoiced, or feared, varied by culture. What remained consistent was the attitude toward these visitors. Those who had cause to fear did so in a grand fashion in an effort to incite panic. Nevertheless, those who had no reason to fear did not panic, they rejoiced; thus was living, in the time long-before-now, and so it remained, until the prospect of power over the masses forced the tradition into hiding.

You Should Also Read:
Animal Symbols of the Lunar Calendar


Related Articles
Editor's Picks Articles
Top Ten Articles
Previous Features
Site Map



Follow @WildlifeWelfare
Tweet





Content copyright © 2022 by Deb Duxbury. All rights reserved.
This content was written by Deb Duxbury. If you wish to use this content in any manner, you need written permission. Contact Deb Duxbury for details.