NiGHTS : Journey of Dreams - Wii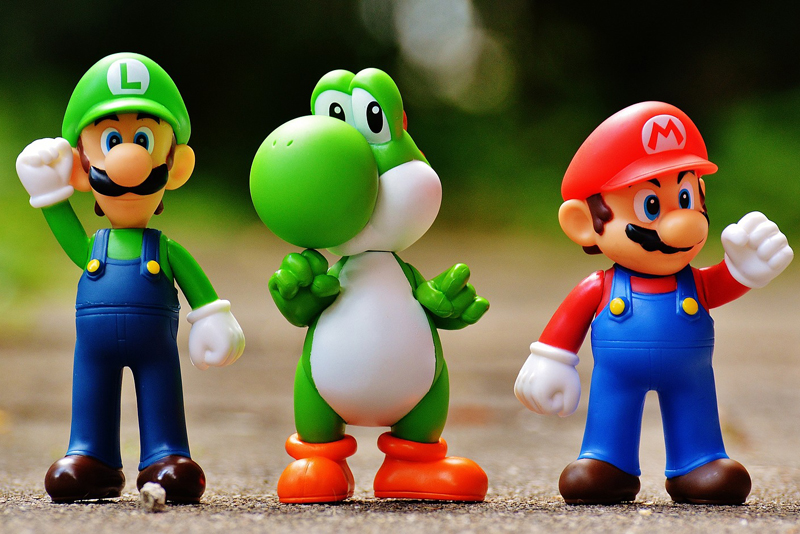 A long-awaited sequel to "Nights into Dreams" for the Sega Dreamcast, "NiGHTS: Journey of Dreams" has a similar theme to its predecessor. The main character, NiGHTS, is an acrobatic being who flies around a dreamscape battling creatures of nightmares.

The main character is NiGHTS, a mischievous jester who works against a being that seeks to take the spirits of people who dream. The two other protagonists are a young boy and a young girl, who for their own reasons have been having nightmares recently and come to the dream world to escape their problems. However, only through defeating the evil being can they save the paradise of their dream-world.

The game looks 3d, but is actually 2d. The levels are in most cases racetrack-shaped, looping around so that it's more than just a straight line. NiGHTS flies around, leaving a trail of pixie dust as it goes. If the pixie dust is formed into a loop, a small portal is generated that destroys enemies. NiGHTS' main other technique is a drilling boost that smashes into enemies in addition to making NiGHTS go faster. The goal of missions differs from area to area; some involve chasing enemies to find keys, while others simply involve flying through a set number of rings. After completing some missions, boss fights with special conditions will take place - though they're more of "puzzles" or "challenges" than traditional boss fights.

There are also platforming sections where you play as the "dreamers" - whichever child is currently "dreaming" at that point in the game. When playing as a dreamer, there is a time limit before you are pursued by creatures that try to "wake you up" (a "Night Over" is basically a "Game Over", so waking up essentially equals losing). There are some things you can do to avoid waking up - finding treasure chests prolongs your time, and you can distract your pursuers by throwing blue chips, which are small collectible items found on the stages.

The game is more complicated than it really ought to be, but that's really only in theory - in the game itself the concepts are reasonably accessible. The only problem with gameplay is that, due to the 3d field hiding what's really a 2d track it can be hard to keep track of what's in the foreground and what's in the background. This remained my most constant issue throughout the game - since most of the objects consists of brightly colored, but relatively featureless, shapes, it was difficult to tell things apart, and as such it was easy to become disoriented.

The graphics are good - about standard for a Wii game, which means a little bit behind what's considered "Next Gen" but still pretty good. The camera (as referenced above) is the biggest problem, often undoing the simple fun of flying around by pointing at an angle that makes it hard to see where exactly you're supposed to be going. Sometimes it switches from a straight-on camera to a third-person following camera, which complicates things even further.

As a whole, NiGHTS can be kind of fun, once you figure out how everything works. Besides the main game, there's also multiplayer (local or online) and "My Dream", a small garden where the enemies defeated and good creatures saved by NiGHTS are sent and can be interacted with. Both of these add at least some extra play value to the game. It's difficult to say what's wrong with NiGHTS, because there's not much particularly wrong; it's just not fun to play for the most part. It doesn't handle that well, and the camera makes it worse. As a total package, it can be pretty good, but it's kind of difficult - annoyingly so - to pick up.

7/10.



Related Articles
Editor's Picks Articles
Top Ten Articles
Previous Features
Site Map





Content copyright © 2022 by James Shea. All rights reserved.
This content was written by James Shea. If you wish to use this content in any manner, you need written permission. Contact Lisa Shea for details.