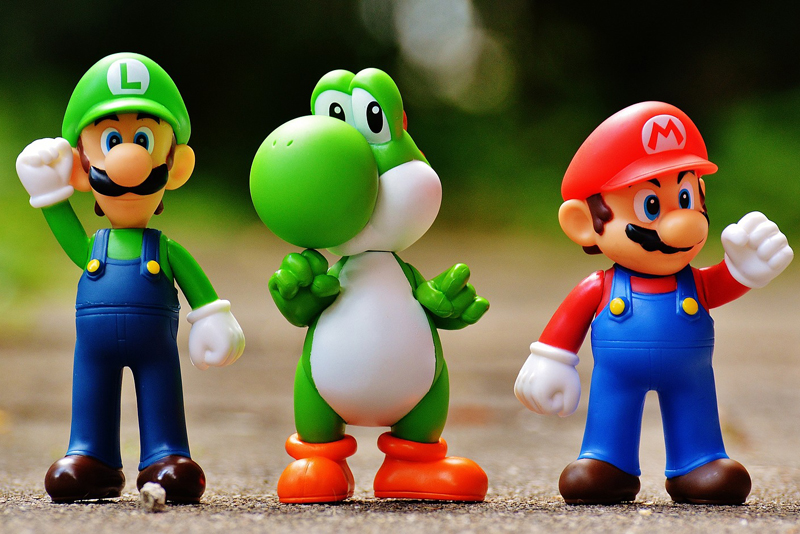 Nintendo Information
Animal Crossing


Animal Crossing is a great new game for the GameCube which is easy enough that youngsters can enjoy it, and involving enough that adults have fun too!
Big Brain Academy - Wii Degree


With all the research coming out about an active brain staying sharp, it's no surprise that the Wii now sports a brain training game of its very own. Unfortunately, it's just not as great as it should be.
Carnival Games Wii


Carnival Games Wii is a collection of typical carnival games - shooting ducks, skee-ball, knocking over bottles, and even testing your love potential. It's fairly easy, mindless fun.
Disney's Epic Mickey - Wii


Originally conceived as a gritty remake of Disney's main properties (Mickey Mouse and associated characters), "Epic Mickey" ended up being cleaned up into an average platformer set in sub-average environments.
Elebits - Wii Kid Friendly Game


Elebits is a "collecting" game where your aim is to gather up little electrical life forms while completely demolishing the room you're in. It is quite satisfying, and fun for all ages!
Happy Feet Wii


Happy Feet is a dancing penguin game, based on the movie. It tries to teach kids to respect their own talents even if they do not fit in with the crowd.
Kororinpa Marble Mania


Kororinpa Marble Mania is in essence Super Monkey Ball without the monkeys. Taking its cue from the classic Labyrinth game, you guide the maze in 3D and the marble acts with basic physics responses.
Mario Party 7


If you´re looking for multiplayer fun for your GameCube, the Mario Party series is a sure winner. Between the board game and minigames, there´s something for everyone!
My Word Coach Wii


My Word Coach Wii is a game that does well for ten year olds and can also keep 40 and 50 year olds on their toes. It has a robust vocabulary that's able to balance against the skills of the player.
OnePiece Pirates' Carnival


If you enjoy mini-game multiplayer fun like the Mario Party series, then OnePiece Pirates' Carnival will be right up your alley.
Pikmin


Puzzle games exercise your mind without splattering blood all over the screen. Pikmin is a great game that emphasizes cooperation over gore!
Rayman Raving Rabbids


Rayman Raving Rabbids is in essence a collection of fun mini-games which involve both the Wii controller and nunchuck. Make sure you've got a lot of energy for this one!
Shrek 2 for GameCube


Shrek 2 was an amazingly funny movie, with all of the wit and graphic animation of the first. The game Shrek 2 is obviously geared towards kids, but is great fun too.
Super Monkey Ball Banana Blitz


The problem with games like Super Monkey Ball Banana Blitz is that you have rabid fans of the series - some who love them no matter what, and others who hate any slight change, no matter how small.
Super Paper Mario Wii


Super Paper Mario for the Wii brings a fantastic new dimension to the 2D fun of paper mario. You can now switch - on the fly - between a 2D and 3D view of your world.
The Legend of Zelda Skyward Sword


The first Zelda game to truly take advantage of the Wii's control system, "The Legend of Zelda: Skyward Sword" offers a classical Zelda experience with some interesting new twists.
Warioware : Smooth Moves


I think the WarioWare games are brilliant. They are short, great fun, perfect for all ages, and incredibly inventive!
Wii Fit Plus


I'm an enthusiastic fan of Wii Fit - it is a fun way to get limber and in shape. Wii Fit Plus is an add-on for Wii Fit and adds a bunch of new games and activities into the mix! Plus you can weigh your pets!
Wii Game Party 2


Set up to be a college student weekend party recreation, you get a good mix of bean bags, lawn darts, shuffleboard, ping pong ball bounce into cup, and other traditional games. You can actually get an arm work-out playing this!
Wii Party


Wii Party is a minigame-based set of games which is fun for all ages. You can even play the games on your own if you wish. Highly recommended!
Wii Play with Wii Remote


Wii Play is a multi-game arcade set along with a free remote. A better way to look at this is that you get a remote along with a free or perhaps cheap game. The games aren't great, but they're certainly not awful!
Wii Yoga


Wii Yoga sounds like an awesome combination of healthy living and Wii controllers. You even get the talents of Anja Rubik. Just how well does this pairing do?
Editor's Picks Articles
Top Ten Articles
Previous Features
Site Map
Content copyright © 2018 by . All rights reserved.
This content was written by . If you wish to use this content in any manner, you need written permission.
Contact Lisa Shea for details.