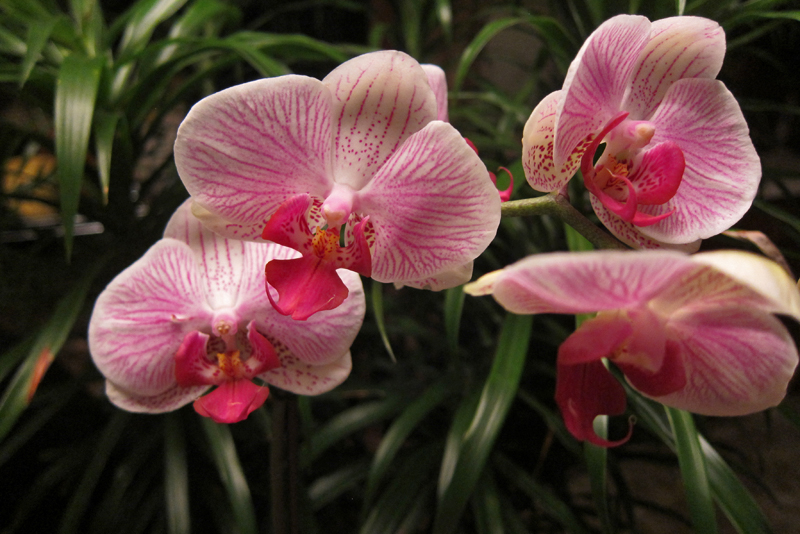 Cymbidiums need a special type of pot
Species Cymbidiums are grown extensively throughout East Asia and in almost all these cultures a pot two to three times as deep as it is wide has become the norm. There is a very important cultural reason for this -- the roots on these plants are much more extensive and deeper than other orchids and they will grow and flower much better when in this kind of pot.

Cut off Phalaenopsis Inflorescences in June
In order to promote good blooming year after year, cut off the inflorescences on your Phals in June. This allows your plants to put all their energy into growing and storing up for next year's bloom. If you simply cut back the inflorescence, you are lengthening the flowering season and handicapping your plant as far as the next year's bloom.

When Repotting Phals, always cut flower stem
When repotting your Phals, always cut back the inflorescence. You want to encourage the plant to grow roots and foliage when repotted, not continue to flower. Some growers recommend a yearly repotting for Phals and if you do this you will be following the above tip to cut the inflorescence and encourage better blooming the following year.

Use disposable razor blades
When cutting your plants, use disposable razor blades rather than your cutters. This ensures that you will not pass virus or plant pathogens from plant to plant. Use one blade on a plant and then dispose of it before moving on to another plant. This is much easier than disinfecting cutters or snippers between plants.

Wash your hands
Another tip to keep from spreading disease and virus in your greenhouse is to wash your hands thoroughly between plants or clean them with alcohol. Another choice is to use disposable plastic gloves when working with your plants. You will keep from spreading disease, virus or insects between plants.

Keep your potting area clean
When repotting, keep your work area sanitary by using newspaper between plants. Put down your newspaper and then wrap up all old medium, roots, etc., and throw it all away before starting on the next plant. Clean your hands, get rid of that razor and you're all ready to go with the next one.

Clean your plants
In the home environment, keep your plants clean by removing the dust from leaves. In nature rainfall removes dust on plants. Dust and dirt on the leaves provides a breeding ground for scale, mealy bugs and mites. Use either a soap-based or oil based solution and clean the tops and bottoms of all leaves for best results.

You Should Also Read:
Spring Orchid Growing Tips
Should I repot that new orchid?
Miniature Laelias


Related Articles
Editor's Picks Articles
Top Ten Articles
Previous Features
Site Map





Content copyright © 2023 by Susan Taylor. All rights reserved.
This content was written by Susan Taylor. If you wish to use this content in any manner, you need written permission. Contact Anu Dharmani for details.