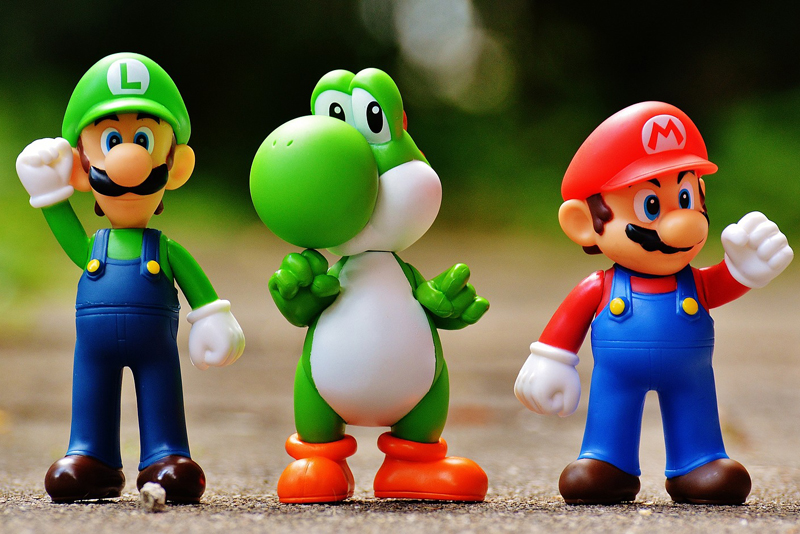 Mario Kart Wii is the latest release in a long line of very popular games. You can play with friends, play online, and race in teams or alone. It is really quite fun and addictive!
I should admit up front that I have always adored the Mario Kart series from the very beginning. You race around in little karts of various sizes, with classic Nintendo characters at the wheel, on super fun and imaginative courses. You try to get first place while bashing and zapping your enemies into submission.
The Wii version brings more courses, more characters, and even motorbikes to the mix! I love bouncing across mushrooms, worrying about the rising waters, leaping into the air in the arena stages, and generally having fun.
The beauty of these games is they work well for all ages and all styles of gamer. They aren't "violent". All you're doing to your enemies is causing them to spin on banana peels or zap into a small version of themselves. You're popping their balloons, or gathering up coins.
You can play on opposing teams, or you can be on the same team and play against the AI enemies. So if it's a parent with a child, they can team up together and help each other out.
Yes, there's single player, but to be honest it's multiplayer that is really a lot of fun. If anything single player is the way to train up your skills so that you can be good at multiplayer. With the online component so you can play with friends around the world, there's little excuse not to have some friendly team-based action!
The only real downside is that to unlock new characters and karts you MUST play single player. Why?? Why not have it be something you can do in single or multi-player? I really love playing this with others and just don't enjoy playing it alone. It seems like a chore / grinding mission to have to sit down and "force yourself" to play alone just to get some extras.
Still, some of these courses are just brilliant and I love playing them. The Wii controls are very intuitive for the racing, especially if you get the wheel add-on. You can use an old style controller too if you really have been hooked on those button combinations.
All in all, an awesome game that they did very well for the Wii. Highly recommended!
Buy Mario Kart Wii from Amazon.com


Related Articles
Editor's Picks Articles
Top Ten Articles
Previous Features
Site Map





Content copyright © 2023 by Lisa Shea. All rights reserved.
This content was written by Lisa Shea. If you wish to use this content in any manner, you need written permission. Contact Lisa Shea for details.