Battalion Wars - GameCube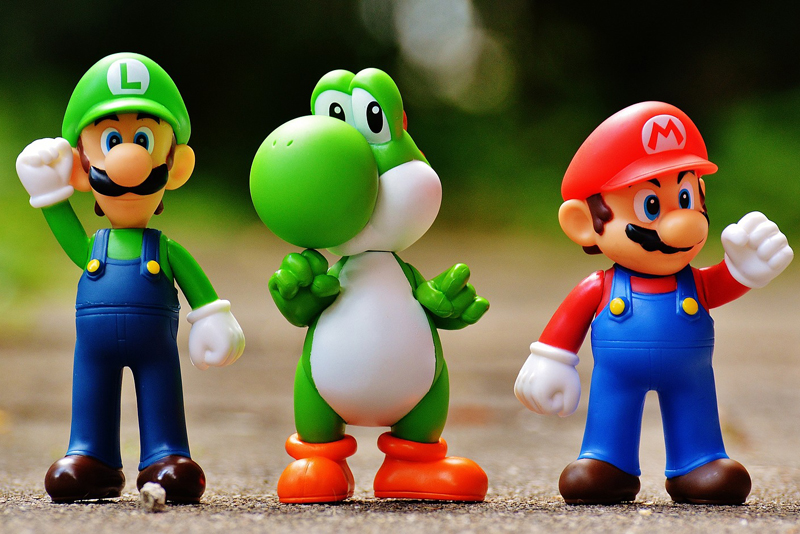 In Battalion Wars, you're cartoon army characters in an imaginary world, taking on suspiciously Soviet sounding enemies. It's a fighting game for kids.
You are egged on through your missions by a "drill sergeant" type as well as a bubbly "cheerleader" girl. Both voices are very stereotypical and get a bit grating after a while. Luckily you seem to be able to listen in on all of your enemy communications, while they taunt you in broken Russian-accented diatribes.
You are known as "commander", and you can direct individual troops or mechanized units on the field. You can tell other troops to follow you, forming platoons to move en masse on a target. There are a variety of troop types to work with - basic infantry, bazooka men, bombers, tanks, copters, and so on. You have to use some basic strategy to achieve each victory. Simply charging straight at the objective rarely works.
The game embraces and plays up its cute atmosphere. There isn't blood when you kill enemies - instead, a little ghostly skull floats up from their body. There's the traditional 'health' items laying around the field to heal you.
In general the graphics are quite good, although having cartoony characters blowing away enemies without a second thought does give me pause. The sound is reasonably good - there's the generally military sounding background which is rather innocuous. I found the voice acting to be silly and cliche, but that's what they were aiming for.
What really was missing here was a multiplayer mode. If we go with the idea that this was meant for non-adults, then you would think either that friends would want to play together in co-op mode, or maybe that parents would want to play with their kids as a way to have fun together (or to help out a younger kid who was stuck somewhere). It seems a real shame that there was no option to do this.
I also felt a bit uncomfortable with the whole premise. The storyline is that the "Russians" were looking for peace - but that the warmongering "Westerners" were bored and decided to go fight to have some fun. Then they blow away anybody foreign they see. And it's all cute. I realize that this shouldn't be any "worse" than say Mario jumping on Koopas, but for some reason it seems more questionable to me.
Rating: 4/5
Buy Batallion Wars from Amazon.com


Related Articles
Editor's Picks Articles
Top Ten Articles
Previous Features
Site Map





Content copyright © 2022 by Lisa Shea. All rights reserved.
This content was written by Lisa Shea. If you wish to use this content in any manner, you need written permission. Contact Lisa Shea for details.