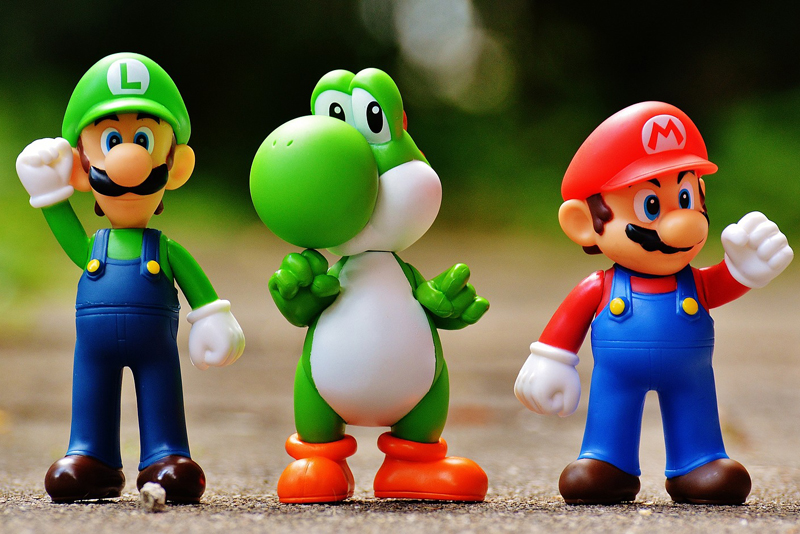 Killer 7 is a mature title that combines film noir, horror, and first person shooting in a game that is extremely artistic and unique.
Set in a futuristic but very bleak cel shaded world, you have the ability to morph between a number of gun-wielding individuals all named "Smith". There's Kaede Smith who is the only female, who wears a dress that barely covers her underwear. Garcian Smith is tall, dark skinned and handsome. Dan Smith is the forceful one, there's a blind Smith, a masked Smith and so on. As in most games of this ilk, each Smith has his (or her) own strengths and weaknesses, so part of the puzzle of the game is to figure out who to use in each situation.
There are a few puzzles, yes, but primarily the game is about shooting enemies at the indicated glowy yellow spot. A zombie-like creature staggers towards you. Their leg glows yellow. You shoot it and it explodes. In comes another, with a yellow glowing neck. You shoot the neck and it goes down. A larger glowing spot requires a powered up shot to take it out.
I found the graphics both impressive in an artistic way and a bit old school in how they were rendered. It definitely showed an artist's touch in the design of the characters and locations. However, the group which transferred them from the drawing board to the in-game system lost some of the shine along the way - many of the scenes looked "clunky". I've seen several other film noir style titles on the GameCube that didn't have the clunky problem, so it stood out. I actually felt sorry for the artist, that he had a great vision that you could appreciate, but it wasn't quite put up properly.
I got the same sort of feeling from the sound and dialogue. There were snippets that really had a film noir feeling going, and drew you into the feeling. But on the other hand, you had characters who kept saying the same thing Over and Over and Over again, until you were ready to look for glowy yellow spots on them. Much of the time the 'voice acting' involves reading subtitles while mechanized gibberish comes from the screen. To me, that's just not scary or dramatic. If the characters had a gnarly, spooky voice, or a manic, high squeaky one, or *something* with personality, I think it would have added a lot to the feeling.
Gameplay itself is an odd combination. On one hand, it's very directed. When you walk into an area, you get highlighted spots - people to talk to, items to interact with, places to go. Unlike most games that simply have arrows or circles around those areas, here you get splinter-like shards pointing you at them. Once you actually find a monster to kill (with yellow glowy target areas) you're in a more normal combat situation, where you aim and shoot. You do actually reload, too.
What I find odd about this all is that it's very much laid out as a "simple game" - which you would expect in a game aimed towards newer / younger gamers - but the content is VERY mature. There is a ton of blood, violence, swearing, sexual situations, etc. If the game really was meant for younger ones, it needs a lot of cleaning up before that would be appropriate. If the game was meant towards older gamers, I would expect the puzzles to be a bit more challenging, and the exploring to involve more thought.
Still, I don't mean to take away from the great effort put into this game to make it "different". With so many cookie cutter games out there, it takes an effort for a company to break the mold - and an effort to find enough gamers willing to open their minds and give the game a fair try. Far too many gamers get comfortable in a game style and immediately discount any game they try that doesn't fit into the mold.
So, lots of credit goes to these guys for their vision - but I think they didn't take quite enough time in testing and implementing it. I think if they come out with a sequel for the Wii, that has the much better graphic ability to really show the graphic vision, that it will become a true classic.
Buy Killer 7 from Amazon.com


Related Articles
Editor's Picks Articles
Top Ten Articles
Previous Features
Site Map





Content copyright © 2022 by Lisa Shea. All rights reserved.
This content was written by Lisa Shea. If you wish to use this content in any manner, you need written permission. Contact Lisa Shea for details.