Hooking your PS2 Up To your Stereo
Just got a PS2 and trying to hook it up to your TV, stereo or both? Here are instructions to help you get everything working smoothly.
First, some basic cable definitions. These are pretty much standard for ANY system or stereo you ever get, so it's good to learn them.
RED CABLE
- right channel for stereo sound (get it - Red Right?)
WHITE CABLE
- left channel for stereo sound
YELLOW CABLE
- video signal
Your PS2 plays games and plays DVDs. So it is generating signals that go OUT of that box. You want those signals to go IN to your TV. The most simple way to do this is to simply plug them into your TV, if you have no stereo system hooked up and nothing else attached to your TV. Most TVs have stereo left in, stereo right in, and video in. Most in fact have them all color coded with the above colors. So all you do is plug the cables in and turn the TV on. Some TVs have to be set to channel 2 or 3 to know to take the signal in from the Video In line, but your manual would tell you if that was the case. Here is a diagram of the straight connection.
I would really recommend hooking a stereo system into your TV, though. The PS2 has INCREDIBLY stereo sound and you really miss out on a lot if you just have the sound coming out of your TV speakers!! Especially if you play DVDs through your PS2, you want that sound coming out of the stereo system. So in this case you would send the video to your TV, so your TV can show the picture. You then send your audio (sound) to the stereo, so it can play the sound. Most stereo systems have multiple input spots so you can plug in your CD player, your tape player, your record player, etc. So just choose an input spot that isn't taken yet. Here's an image of that connection -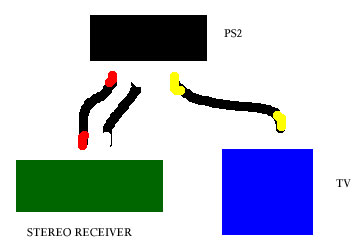 So let's say you don't have a tape player and therefore plug the red cable into "Tape Input R" and plug the white cable into "Tape Input L". To make the sound play, you would now press the "Tape" selection button on your stereo so it played the music coming through the tape channel. Since that's where your PS2 is plugged in, that is the sound that will come out of your speakers.
At our house, we have a complex system set up with 3 gaming systems, a CD jukebox, and multiple video feeds. So if you need a more complex description of setting up a house like that, read on!
Hooking your PS2 Up to your TV and Stereo - Multi Console and Advanced Techniques
PS2 and Wireless Connector Speed


Editor's Picks Articles
Top Ten Articles
Previous Features
Site Map



Follow @lisavideogames
Tweet





Content copyright © 2022 by Lisa Shea. All rights reserved.
This content was written by Lisa Shea. If you wish to use this content in any manner, you need written permission. Contact Lisa Shea for details.