PS2 to TV and Stereo Hookup using Switch Box
Are you trying to hook multiple consoles into your TV and stereo system? Whether they're XBox, PS2 or GameCube, here is what you have to do.
First, think about this logically. Each of those consoles is putting out a left audio signal, a right audio signal, and a video signal. You need to get them all into your stereo system (the audio) and your tv (the video).
So the first step is to have something to handle all the various consoles and get them into one spot. That is the purple device in this image -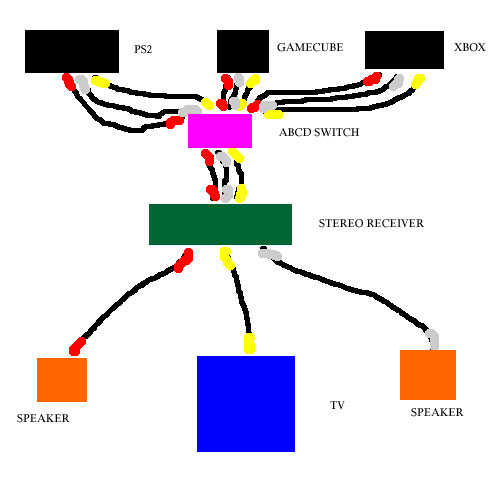 and is a switch box. Here is one you can get from Amazon.com -
In essence all 3 sets of consoles plug into the back of it. One set of cables comes OUT of it. There are buttons on the front and you just push "A" "B" or "C" to say which signal you want to use at the moment. So you leave everything hooked up all the time and just press the button for the system you're using.
Now for that one signal coming out. We have a good stereo receiver that handles audio AND video signal. I highly recommend getting one. Otherwise you are going to be plugging and unplugging your cable, VCR, DVD and console plugs from the back of your TV as you switch between them. So in our case we simply plug the red (right audio), white (left audio), and yellow (video) cables coming from the switch box into the "AUX IN" ports on the back of our receiver. Now when we press the "AUX" button on the receiver, it is sending through the signals coming from the AUX line (which stands for auxiliary) on to the various components.
Then you plug the "right speaker out" to the right speaker and the "left speaker out" to the left speaker, as you would always do for any sound. And you would hook the "video out" to your TV system.
To then play a game, you would take these steps -
* Turn on the console and put in the game
* Press the correct letter (A, B or C) on the switch box
* Press the AUX button on your receiver
That would have the signal begin at your gaming console, flow through the switch box properly, then flow through your receiver properly. You should then hear the sound on your speakers and see the video on your TV system!
Hooking your PS2 Up to your TV and Stereo - The Basics
PS2 and Wireless Connector Speed


Editor's Picks Articles
Top Ten Articles
Previous Features
Site Map



Follow @lisavideogames
Tweet





Content copyright © 2022 by Lisa Shea. All rights reserved.
This content was written by Lisa Shea. If you wish to use this content in any manner, you need written permission. Contact Lisa Shea for details.