NRDC Says Stop Breaking the Law!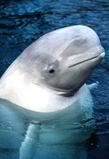 The Apache Alaska Corporation is using air guns, explosives, and high-intensity seismic exploration within the critical Cook Inlet habitat to search for oil. This body of water is a sanctuary for the 284 remaining Cook Inlet Beluga whales and both the area and the whales are protected under the Endangered Species Act (ESA). The purpose of the act is to provide sanctuary for animals facing extinction and preserve the necessary habitat for their continued survival.
Laws cannot work if government agencies are disinclined to enforce them. American citizens should be outraged that the government willfully circumvents the ESA for deep pocket industries. Taxpayers have spent in excess of $700,000,000 to protect endangered species and their habitats with the expectation of lawful enforcement. The government is willing to spend the taxpayers' money to add endangered species to the list to give the illusion that the government is concerned about environmental and animal welfare issues. It can be nothing more than an illusion because governmental entities are turning their backs on the merits of the law, somehow justifying that the ESA must be subject to interpretation, which it is not.
The Endangered Species Act is meant to function as an emergency stopgap measure to limit environmental and wildlife destruction. Instead, it is presented as a bargaining chip to receive kickbacks, excessive contributions, and political assurances from industries, like big oil. Taxpayers do not need to spend excessive amounts of their hard-earned money to turn the United States legal system into a gigantic sales pitch. The people of the nation are expected to adhere to the spirit and literal interpretation of the law. So too should corporations, lawmakers, and enforcement agencies be held accountable.
Willful Violations
Apache Alaska and Shell Oil use devices linked to maiming, killing, and beaching protected whale populations. Yet, these techniques have governmental approval for oil exploration. This contradicts the findings of the United States Navy, which stated underwater blasts have such a destructive impact on marine life that it can impair or kill aquatic life even at a distance of 300 miles (482.8 km).
The Pebble Partnership seeks to create the largest open-pit mine in the world to extract ores in the Bristol Bay and Cook Inlet areas. The creation of this mine would necessitate tailing ponds to hold toxic chemicals like sulfuric acid and cyanide. At a minimum, these chemicals will leak into the protected habitat of the Cook Inlet and at a maximum would encounter a full breach, destroying water vitality and animal life of the Pacific Ocean.
Corrective Action
National Resources Defense Council (NRDC) enacted court proceedings to put a stop to the flagrant violation of the law. NRDC's position is that environmentally destructive corporations and governmental agencies are not above the law. Arguably, these corporate conglomerations and political entities should be held to the highest standard and strictest interpretation of the law, as these groups are most responsible for environmental destruction.
The ESA itself is not what is pointless. Governmental agencies devaluing the law, in an effort to allow corporations unencumbered access is what is ridiculous. While taxpayers' continue to spend their money for laws that enforce social responsibility, politicians are striking backdoor deals with businesses like Apache Alaska, Shell, and Pebble Partnership to circumvent the law in return for political favors.
For those interested, sign the
Enforce Environmental and Animal Welfare Laws Initiative.
You Should Also Read:
Pebble Mine of Bristol Bay Endangers Whales
Endangered Arctic Animals Under Siege
Can You Live Without the Support of Aquatic Life?


Related Articles
Editor's Picks Articles
Top Ten Articles
Previous Features
Site Map



Follow @WildlifeWelfare
Tweet





Content copyright © 2023 by Deb Duxbury. All rights reserved.
This content was written by Deb Duxbury. If you wish to use this content in any manner, you need written permission. Contact Deb Duxbury for details.