Tar Sands Destroys Lake Conway Wildlife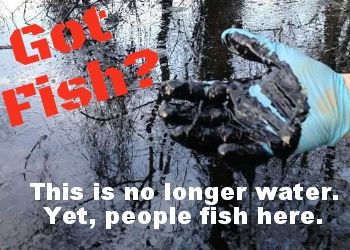 Lake Conway is approximately 6,700 acres. It is the largest Game and Fish Commission lake in America, and is a popular recreational fishing destination. The lake maintains a plentiful supply of catfish, bluegill, crappie, bass, sunfish, bowfin, buffalo, bullhead, chain pickerel, carp, and longnose gar. Historically, the fish populations have thrived. 30,000 acres of land surrounds the water for wildlife preservation. Since fish are so abundant in this region, it attracts a diverse wildlife population to the lake and preservation areas. Common animal dwellers include ducks, geese, turtles, cranes, snakes, lizards, and beavers.
In 2013, the Environmental Protection Agency (EPA) estimated that the Pegasus Tar Sands pipeline, operated by Exxon-Mobil, spilled more than 294,000 gallons (1,112,911 liters) of toxic sludge into Lake Conway and its surrounding bodies of water in the Mayflower, Arkansas area. The pipeline spilled diluted bitumen, or dilbit, from Alberta's Tar Sands. It is one of several major spills to occur in densely populated areas surrounding main bodies of water in the United States; most notable is the 2010 Kalamazoo River spill in Michigan, which dumped approximately 843,444 gallons (3,192,782 liters). Bitumen is a tar substance, and dilbit is a mixture of the tar with other caustic chemicals. Therefore, rescued wildlife are not merely covered in oil, but physically tarred. The toxic mix burns through fur, feathers, and scales, all the way down to the skin, closing off pores, and engulfs animals in a hard-shell as the bitumen dries, suffocating them.
Dr. David Schindler, a highly renowned scientific researcher with nearly 50 years of experience, has studied the concerning effects of fish exposed to dilbit. He found consistent patterns of mutations and presented a detailed report that outlined the unnaturally aggressive changes occurring within scores of fish populations. Research indicates that longstanding exposure to concentrated levels of Polycyclic Aromatic Compound (PAC) pollutants from these spills is one of the largest threats to usable water supplies in history. Scientists throughout the United States and Canada expressed deep concerns towards the lack of public understanding about the complicated nature of such spills. The more these pipelines fail, the greater the urgency becomes to reconstruct drainage, protect groundwater flow, and prevent soil contamination. The bitumen does not simply evaporate out of the water leaving nature unscathed, as believed by some of the population.
Keeping the public accurately informed to the hazards associated with Tar Sands exposure is an increasingly arduous task, particularly when oil corporations routinely threaten to have reporters jailed. This tactic is a significant indicator towards the expectation of more major spills from Tar Sands pipelines. More worrisome, factions of the United States government are supporting the media stonewalling efforts to such an extent that the Conway spill went under a no-fly zone mandate. While the media struggles to gain accurate information and scientists' race against the clock to comprehend the extent of the damage, the Game and Fishing Commission reopened the lake for fishing, exposing scores of people to significant health hazards without understanding the depth of that rabbit hole.
Communities across America show growing concern over the Keystone XL scheme, which plans to push 800,000 barrels of dilbit a day through the Heartland of the country. The Natural Resources Defense Council (NRDC) is working to stop the expansion of dilbit pipelines, with rapidly growing numbers of support. Those exposed to these spills have seen firsthand the negative effects on their communities, family health, and wildlife. For those interested in preserving wildlife and safeguarding families, please sign NRDC's petition to
Stop the Tar Sands Pipelines.
You Should Also Read:
Can You Live Without the Support of Aquatic Life?
Fossil Fuels Affect Core Aquatic Life
Animals Threatened by Tar Sands Corporate Practice


Related Articles
Editor's Picks Articles
Top Ten Articles
Previous Features
Site Map



Follow @WildlifeWelfare
Tweet





Content copyright © 2022 by Deb Duxbury. All rights reserved.
This content was written by Deb Duxbury. If you wish to use this content in any manner, you need written permission. Contact Deb Duxbury for details.