Brauhaus Schmitz - Philadelphia German Bier Hall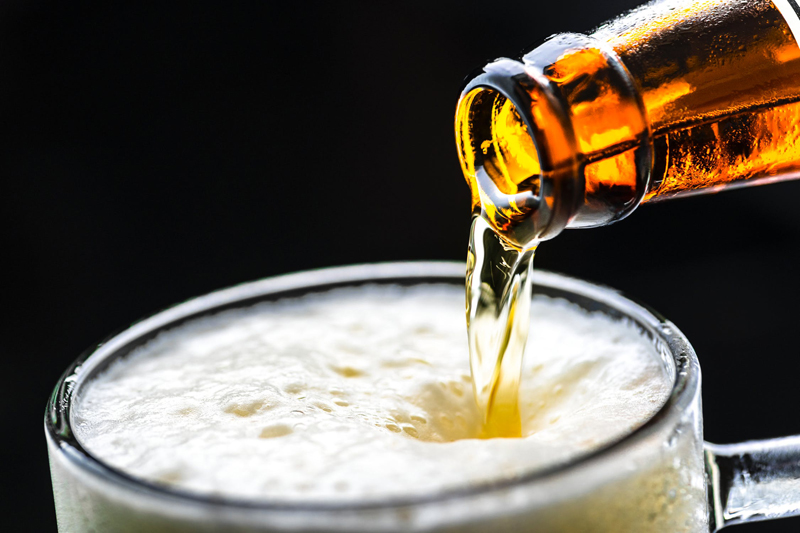 Spending time in Philadelphia is one of my favorite ways to experience a bit of culture – reveling in the ethnicity of the Italian Market, the interactivity of the Franklin Institute, the history of Headhouse Square, the Betsy Ross House, and South Street. In 1963, a Rhythm & Blues group from Philadelphia, The Orlons, christened Philly's South Street as "the hippest street in town." They sold over a million copies of that record, seizing a place on the charts as Golden goddesses in the world of music. South Street became legendary across the nation and never backed down. It remains true to Philly's folklore – totally hip, but like a favorite well-worn pair of shoes or a copper cup that has developed a fine patina. It's all about youth, fashion, and state-of-the-art. Shops feature glamorous sequins, Italian jeans, music and technology; restaurants focus on ethnic foods or the latest in fusion cuisine; and bars serve tasteful craft beer, locally brewed. Ask the beer geeks.

The true Beer Geeks are beer enthusiasts who compete during Philly Beer Week for the prestigious title of Philly Beer Geek, with the added benefit of beer-centric prizes worth over one thousand dollars. Each year, six Finalists win a spot to compete for the prestigious nom de plume. You may ask, "Do they remain beer geeks, immersed in beer for a lifetime, or is it just a moment of egotistic stage presence?" Win or not, some choose to carve out careers in the business of beer.


Those who have competed understand the dedication required to win a spot as a Finalist. These men and women firm-up with courage, flex with the situation, overflow with wit and humor, understand beer origins, styles, and ingredients and find pleasure in different styles of craft beer. Doug Hager, co-owner of Brauhaus Schmitz, understands.

Doug Hager earned a place as a "beer geek finalist" in the 2009 Philly Beer Geek Competition. At the time, he was sponsored by Bridgid's in Fairmount. His competition moniker displayed a sense of humor: Mad King Dougwig – a play on words that combined his own name with the legendary King Ludwig, the Swan King, famous for building eccentric, grandiose castles in Bavaria, the most famous being Schloss Neuschwanstein, with soaring towers and frescoed walls that honored Wagner's operas.

Dressed in traditional lederhosen, Mad King Dougwig told tales of beer adventure and shared a European savvy that brought cheers from his large fan base. He didn't win the title that year, but his enthusiasm for beer was clearly in the spotlight. Before the year ended, Doug and his wife Kelly Schmitz-Hager had opened Brauhaus Schmitz at 718 South Street in Philadelphia. With the feel of a German Beer Hall, Brauhaus Schmitz is rich in warm wood, exposed brick, a German balcony, schnitzels, accordion player, and authentic German beer. In my crazy imagination, it could almost be the setting for a Wagner opera, complete with an Aria from that very romantic balcony.


The day of my visit, accordionist Mike Bulboff of Liberty Bellows created an "aura of welcome" to passers-by, perching himself just inside the entrance to Brauhaus Schmitz, entertaining patrons with popular classics and special requests. Once inside, waitresses in dirndls, scurry about, serving authentic schnitzels and bratwurst, spaetzles, schweinshaxe, and salt-encrusted Bavarian pretzels, coupled with a draft list of 20 craft beers and a selection of German imports that may include Zum Urige, EKU, Schlenkerla, and Gaffel Kolsch.

Kelly Schmitz Hager and Doug Hager met while working at Ludwig's in Philadelphia. Although Doug was raised on the outskirts of Philadelphia, he had been born in Germany and was well aware of the beer culture that was a part of life there. He and Kelly moved to Cologne, Germany for two years, and returned with a genuine appreciation for German beer, Bavarian cuisine, and the Beer Hall camaraderie that is a part of daily life in Germany. With their imagination piqued, they converted an old furniture store into Brauhaus Schmitz.


Philadelphia, "The best beer-drinking city in America," has already accepted Brauhaus Schmitz into its strong beer culture. In 2010, Kelly and Doug Hager were chosen to deliver the ceremonial Hammer of Glory (aka, the HOG), Olympic-torch-style, to the Philadelphia Independence Center in the final leg of its journey through the neighborhoods of Philadelphia. For the event, the Hagers fashioned a chariot, decorated with the hostess station from Brauhaus Schmitz, and brought along a busty bevy of beautiful Frauleins in traditional German dirndls. With the HOG, Mayor Michael Nutter of Philadelphia tapped the first keg filled with a specially brewed collaboration-beer, signaling the start of Philly Beer Week.


Brauhaus Schmitz lustily holds events that focus on German craft beer. They sponsored Mike Gretz, aka Herr Bier-Mikester Gretz, as a Finalist in the 2010 Philly Beer Geek competition; presented a week-long Oktoberfest in September (an annual event); hosted a German Beer Seminar with Marnie Old at the German Society of Pennsylvania, complete with Gemütlichkeit in the outdoor Beer Garden during Philly Beer Week in June, 2010; were the un-official headquarters of the World Cup Finals, featuring Spaten and Franziskaner beers on draft; and present German Beer Dinners that have focused on world-renowned beers such as the Ayinger portfolio from Privat Brauerei Franz Inselkammer.

A taste of the authentic in Philly.

Cheers!

Photos are (from top): Brauhaus Schmitz in Philadelphia; Schloss Neuschwanstein in Bavaria; Interior of Brauhaus Schmitz; Doug Hager and Kelly Schmitz Hager with the HOG; Service with a smile at Brauhaus Schmitz

You Should Also Read:
Hulmeville Inn - Home of Philly Beer Geek 2010
Interview – Secrets Revealed - Steve Hawk 2010
Beer Snobs


Related Articles
Editor's Picks Articles
Top Ten Articles
Previous Features
Site Map





Content copyright © 2022 by Carolyn Smagalski. All rights reserved.
This content was written by Carolyn Smagalski. If you wish to use this content in any manner, you need written permission. Contact Carolyn Smagalski for details.