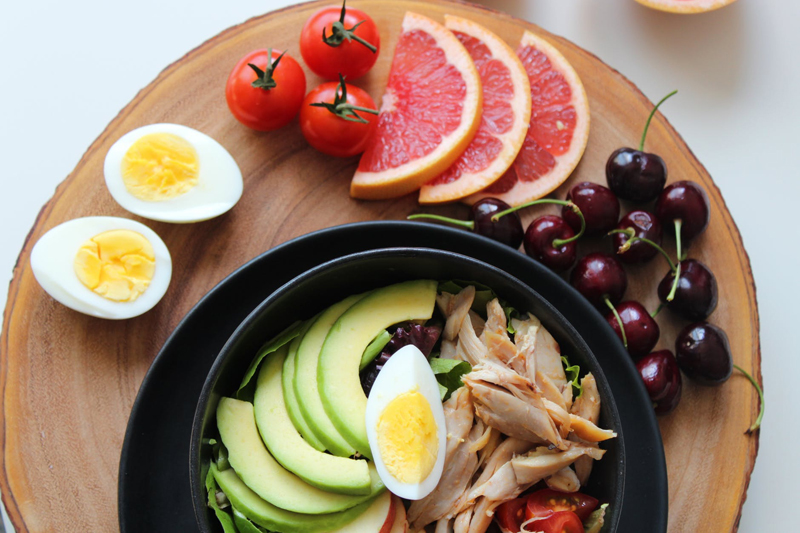 When many people think of diet, they think about changing the way they are eating. They realize that a healthy diet should be done in conjunction with healthy exercise - but they consider them two separate halves of a whole. The McDonald's Diet by Mark Austin is a very good book - but readers should know up front that only a few pages talk about eating choices or issues. A full third is spend on photos and descriptions of exercises. The next third is sixty (yes really) pages of his own diet and exercise log. Then there's another sixty pages laid out for YOUR diet and exericise log. Then a brief summary, and the book is done.
So with that in mind, what *does* the book say about diet and eating?
Clearly, for thirty days all he did was eat at McDonalds. He primarily ate multiple salads each day, combined with protein right at workout times. He drank a ton of water. Doing this he went from 166 pounds / 16% fat to 152 pounds / 9% fat. His cholesterol reduced from 234 to 147. The main point here is that you CAN find healthy foods at fast food restaurants, just as you can find wildly unhealthy foods at sit-down restaurants. It's not an excuse to say "I don't have time". If you have time to swing by a McDonalds, you can find a healthy choice there.
In general, aim for small, regular meals. Don't starve yourself and then gorge. You want to eat slowly if you can - it takes your stomach 15 minutes to register fullness. Give your body time to catch up with your eating. Enjoy foods which are water and fiber rich, to hydrate you, fill you up, and keep your systems running smoothly. Avoid foods with high Glycemic Index levels - sugars, starches.
Mark explains that 75% of overeating tends to be emotional. A good solution therefore seems to be to help soothe your emotions! Keep a daily gratitude journal where you focus on your successes, your goals, and your dreams. The tiny steps you take to improve your mood will reflect in your eating habits.
Did you know protein not only helps your muscles to rebuild, but also is good for low-calorie reasons? Just eating a serving of protein burns up a third of its calories in the process of digesting the protein. In comparison carbs only use 7% of their calories during digestion, and fats only 3%!
These are all great tips, but again, there is only a few pages of this content before we head into the giant block of exercises. So be aware that the "diet" portion of this book is extremely slim. Still, clearly he is providing exactly what he promised. A way to find healthy choices at a fast food restaurant, and a way to lose weight. I also want to comment that he states that people should not be eating out all the time! They should be eating home made meals that are fresh and healthy. His point here is if your excuse is "I Don't Have Time" that clearly even in that extreme case you could still be losing weight. You just have to make the right choices.
This book serves as a good response to all those shows and books which claim "fast food is killing us." It's not the fast food. It's the brains which choose to eat giant Cokes, giant french fry servings, and toss a chocolate shake onto that as well. We need to take ownership of the food we choose to ingest, find ways to stay active, and keep a daily log to keep us aware of what we're eating, on track with what we're doing, and grateful for the progress we are making.
Recommended.
Lisa Shea's Library of Low Carb Books


Related Articles
Editor's Picks Articles
Top Ten Articles
Previous Features
Site Map



Follow @LisaLowCarb
Tweet





Content copyright © 2022 by Lisa Shea. All rights reserved.
This content was written by Lisa Shea. If you wish to use this content in any manner, you need written permission. Contact Lisa Shea for details.