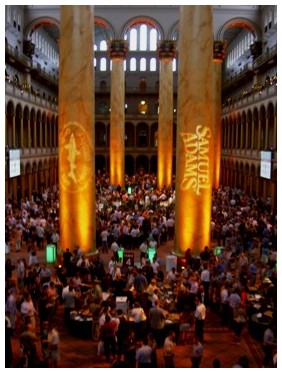 Have you ever luxuriated in pleasure to such a point that every semblance of thought gave way to your desire? Perhaps you stood on a hillside, sucking fresh air into your lungs, spellbound by a field of blond wheat dancing in the wind. In your mind, you imagined yourself as an anthropologist, noting the patterns, pondering what life was like in 3000 B.C.E., hypnotized by the moment.

Or perhaps you had a sexual encounter of such intensity that night fluxed into morning. Sensuality peppered your skin. Thoughts of sleep deprivation melted away like the Persistence of Memory in a Dali painting.

Or perhaps you reveled in the joys of victuals and comestibles at a Parisian restaurant, allowing each morsel to deliciously melt on your tongue; aroma exploded with each breath. Flavor was an indulgence to relish.

Savor the experience. Savor, derived from the Latin sapor, or more specifically, sapere … to taste, and therefore, to know … fluid considered vital to life and health … vigor, energy, vitality. What better word is there to describe the ultimate experience in beer and food?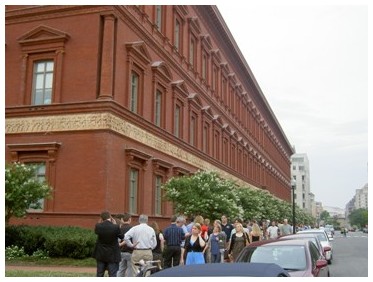 The Brewers Association brilliantly chose Savor: An American Craft Beer & Food Experience as the title for their most sophisticated beer event of the year. In 2010, Savor celebrated its third year, selling out approximately ten minutes after the tickets went on sale. It was a one-day event that took place on June 5th at the historic National Building Museum of the Smithsonian in Washington, DC, merging the artisanal talents of food and beer masters from 8 regions of the United States. One might call this a "couples" event, much more sophisticated than the many beer festivals in which men seem to dominate the population. Within the 19th Century architectural framework designed by General Montgomery C. Meigs, it was not unusual to see ladies in dresses of both street and evening length, escorted by well-heeled men in sport coats or dress shirts.

Within the grand hall, the lighting was dramatic and highlighted the prestigious nature of the event. Breweries who wished to participate were selected by lottery. Only eight from each region in the USA - Central, Great Lakes, Mid-Atlantic, Mountain, New England, Pacific, Pacific Northwest, and South - could win a place on the floor, making it a coveted privilege to be involved.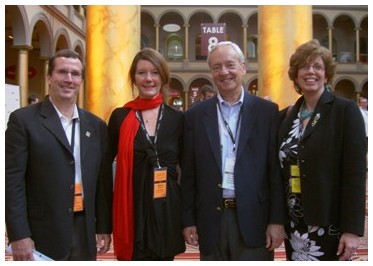 Bio-degradable and compostable serve-ware was used: 24,000 bamboo tasting plates; 4,000 sporks; and 200 bio-degradable trash receptacles. There were 37,450 savory pieces of food – including 1,500 choptank salts (oysters), 300 pounds of cheese and 9,800 chocolate bites - 10,000 bottles of 140 different beers that were served in 2 ounce pours … all this, for 2,000 attendees.

Salons that focused on rare-beer or educational topics were ongoing throughout the evening. Hosts included such illustrious beer celebrities as: Greg Engert - Beer Director of the Neighborhood Restaurant Group, who presides over the tasting menus of Rustico Restaurant & Bar and Birch & Barley/Church Key, elaborating on select beer paired with a 4-course tasting menu; Mike McMannus of Brewery Ommegang and Executive Celebrity Chef Teddy Folkman presenting Belgian Style Beers & Food; Full Sail Brewmaster Jamie Emmerson and CEO and Founder Irene Firmat presenting Bourbon Barrel beers and Bock styles paired with chocolated cherries and specialty cheese; and Brian Dunn of Great Divide and Brett Joyce of Rogue presenting special-release porters and stouts with cheese. There was a very rare beer tasting, presented by Anchor Brewing and an educational salon on the evolution of hoppy beer, given by Ron Lindenbusch of Lagunitas and Todd Charbonneau of Harpoon Brewing.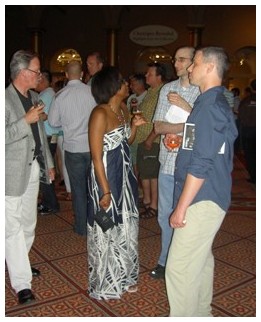 With so many beer and food opportunities in the Grand Hall, my taste-buds were working overtime. Deschutes Brewery Owner Gary Fish, Brewmaster Larry Sidor, and Director of Sales & Marketing Mark Hegedus were on hand to educate attendees on the nuances of flavor that could be enjoyed in the beers from their Bend and Portland Oregon breweries.

At 2 years old, Oak-aged Abyss 2009 Reserve smelled of molasses, licorice, and dark malts, and displayed a delicious dark, deep chocolate profile on the tongue. Paired with salty chocolate truffles, it was an earth-moving experience. Gary Fish spoke about how beer has evolved in gustatory circles: "Beer has depth … structure … complexity. The Beerdrinker is only now beginning to realize this," he said. "This is a wonderful culinary experience. We construct them [our beers] to be complex, complete experiences, not just beer."

Eleven percent Abyss is an American Double Imperial Stout, aged in bourbon and oak barrels. Flavors of licorice, cherry bark and vanilla beans dance in a bed of roasted grains, mocha, anise, and dark chocolate. Hop in the Dark Cascadian Dark Ale is a Black IPA (a misnomer, perhaps, but clearly defines this new style)
with a slam-dunk profile of earth and florals, dark coffee, chocolate, plums, and caramel, with a long, pleasant bitterness that whispers into the finish.

Deschutes has four brewhouses, they explained: two are located at pubs, while two others are dedicated production facilities. The Portland complex is German style with a unique hopback in it. Another is a traditional English brewhouse [in Bend]; two others are state-of-the-art, with 7 vessels and 600-700 barrels for aging - mostly wine barrels, with a few bourbon barrels, although French Oak and Oregon Oak, meant for the wine trade, are their preferred aging medium.

Deschutes greatly anticipated collaboration beer, in conjunction with Hair of the Dog, should be ready in March or April, 2011. This is a blend of two Deschutes brews and two Hair of the Dog brews. 100 % of these beers will be aged in Sherry, Oregon oak and Cognac barrels, only 25% of which will be new barrels. This will be an ultimate, master blend, suitable for even the finest white-hot restaurants.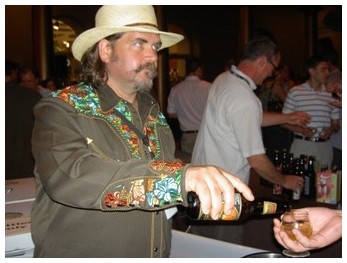 This in-depth coverage displays the breadth of tasting and information available at Savor. The atmosphere is more elaborate than most beer festivals - head brewers and brewery owners are accessible, beers are select blends or rare specialties, tapas are well paired with the beers, and the information passed on about collaborative beers, upcoming brews, and political talking points is astounding.

Savor: An American Craft Beer & Food Experience will expand for 2011 to two evenings – Friday, June 3 and Saturday June 4, 2011 from 7:30 to 11:00 p.m. at the National Building Museum, 401 F Street NW, Washington, DC 20001. Tickets go on sale beginning Thursday, March 3 at noon. For information, visit http://www.savorcraftbeer.com

Six Educational Salons will include special presentations by Charlie Papazian, Julia Herz, Chef Bryan Voltaggio of VOLT Restaurant, and more, while twelve Private Tasting Salons will feature such heavy hitting beer celebrities as the revered Ken Grossman of Sierra Nevada Brewing Company, Steven Pauwels of Boulevard Brewing with his Smokestack Series, Geoff Larson of Alaskan Brewing Company, Fal Allen of Anderson Valley Brewing, Cigar City's Joey Redner with the Breuery's Patrick Rue, and a cache of other icons in the beer community.

Cheers!

Photos are (from top): Interior of the Great Hall - The Smithsonian National Building Museum; Exterior line for Savor at The Smithsonian National Building Museum; Brewers Association CEO Bob Pease, BA Events Director Nancy Johnson, Nick Matt of F.X. Matt Brewing, Utica, NY, and Beer Fox Carolyn Smagalski; Savor: An American Craft Beer & Food Experience is a dressy affair; Deschutes Brewmaster Larry Sidor and DC Beerwriter Tammy Tuck; Fred Bueltmann of New Holland Brewing Company, Holland, Michigan

Marquis by Waterford Vintage Pilsner Glasses, Set of 4
- Something special to wrap up a great evening, these vintage pilsners are exquisite!

Personalized 23oz Pilsner Beer Glass
A special gift for a before the event drink - Personalized! Get one with your name or a whole set etched with the name of your home bar