Stillwater Artisanal Ales with Brian Strumke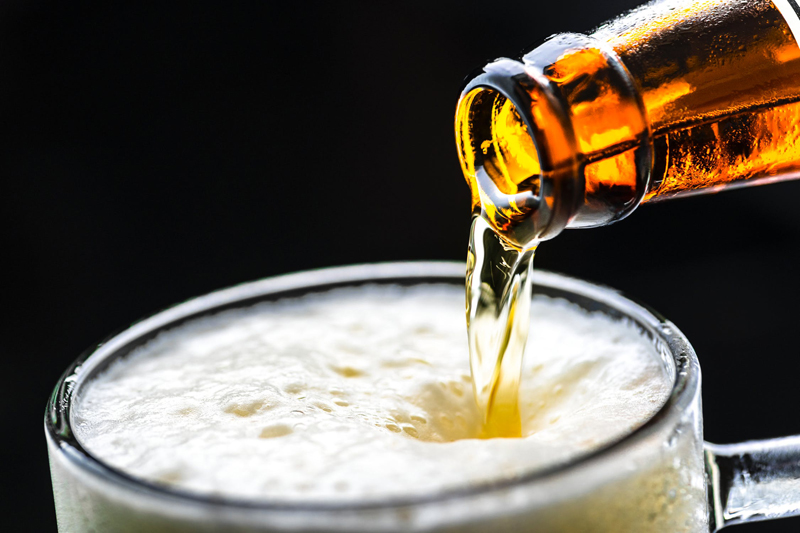 You can't be a techno DJ all your life, running around Europe, scraping for work, producing music in waves that come and go. At some point you have to come home and build something from your passion, if you can discover what that passion is. Hoofing it through Belgium, Germany, and the Netherlands exposes you to more than just window wenches in the red light district. You get to taste the terrior, reflected in waterzooi, spargel, bratwurst and krapfen or brewed into Abbey dubbel, gueuze, lambic, or Berliner weisse. Some of those traditions teeter on the verge of extinction until a curious seeker begs to take one home, whether in the flesh or as an unfailing memory. It never loses the magic.

For Brian Strumke, this description of life didn't stray far from reality. His own passions were born in the States, innocently emerging, bit by bit, in each hand-crafted Belgian beer he quaffed at Brewers Art in Baltimore, Maryland. In that exquisite Mt. Vernon townhome, he met up with friends, interspersed with trips to Europe, but always with thoughts of beer cemented in his psyche. Surfing the net, he eventually found a recipe he thought he could master Ea basic recipe for Pale Ale. For Strumke, it was time to become a homebrewer.


His first all-grain batch was a dark Belgian, made with molasses and ginger. He entered it into the Sam Adams Holiday Homebrew Competition and won a $2,000 trip to the Great American Beer Festival, one of only 4 people nationwide to win this honor each year. He almost missed the notification from Boston Beer. A form letter arrived after the competition, listing names of all the entrants, along with the styles. Strumke nearly tossed it away as Junk mail. As his curiosity took over, he scanned the page for winners, and was hit with confusion when his eyes fell upon his own name. He thought, at first, that it was a mistake.

He has a knack for the right blend in a recipe Efor the timing Ethe interfusion that makes it a living art form. Brenda Strumke, Brian's sister, elaborated on his brewing habits: "He had moved in with me for awhile, and brewed once a week or more. I've never had a beer of his that I haven't enjoyed.EAnd he has now broken into the life of a professional commercial brewer as Stillwater Artisanal Ales.


Strumke admits he has never made a lager. That's not where his focus lies. "It's important to know your strong points, to stick to your guns,Esays Strumke. "I'm better at making weird concoctions.E

On Saturday, February 13, 2010, Max's Taphouse in Baltimore hosted a Media Debut Party for Strumke and his first commercially available beer, Stateside Saison. Pulled together by Belgian Beer expert, Chuck Cook and supported by Brian Ewing of 12% Imports, the event coincided with Max's Annual 3-day Belgian Beer Fest, one of the most coveted events in the mid-Atlantic region, featuring rare Belgian beers on draft and in bottles.

Milling about the crowd, I ran into Jeannine Marois and Guillaume Bédard of le Mondial de la bière, Tony Forder of Ale Street News, Chris LaPierre of Iron Hill Brewery ENew Jersey, and Suzanne Woods of the Women's IPA Club of Philadelphia. This was a splendid excuse to enjoy both the distinctive qualities of Stillwater Artisanal Ales and to sample Belgian beers, seldom available in the United States.

Strumke has plans for creating a Stateside Series and an Import Series. Although he does not have his own commercial facility yet, he has secured brewing locations in both the USA and Belgium. For the Stillwater Import Series, he is developing a schedule of collaborative ales with brewers in other countries which will be released as Special Reserve beers or Seasonal batches.

Stillwater Artisanal Ales Preview

Fermented with farmhouse yeast, Stateside Saison glows as an unfiltered, golden ale bearing an ample white head. Drenched with a blend of three American hops and Nelson Sauvin hops from New Zealand, it has the aroma of white wine and gooseberries with assertive spiciness. As is the trademark of Stillwater Artisanal Ales, Stateside Saison strays a bit from the style guidelines, and asserts itself more subtly as a Belgian Strong Golden Ale in character and complexity.

Vinges Sauvges, or Wild Vines, was originally a finalist in the Sam Adams Longshot, and as such, won a certificate and came within a breath of winning the Longshot. It has a reddish body with a firm head and active effervescence. The nose is of fresh grapes and tart wild cherries. A superb Flemish Red, this complex sour wild ale bears a strong resemblance to New Belgium's La Folie.


Kriek Lambic is similar to a German Berliner Weisse, but with a tart, rather than sour, finish. Pink and hazy, this sweetheart has long legs, with virtually no head. Her floral, fruity nose is appealing. On the palate, lemons and wild cherries emerge with squinchy presence, dragging across the tongue but laying in the throat in a long finish.

Saison Spiced with Spring Botanicals is drenched with Chardonnay grapes and Brett, yielding a summery farmhouse ale of spot-on character. Its straw body has a tint of green, dressed in a delicate head and spotty lace. Strumke hinted that he may have cultured the yeast from a bottle of Jolly Pumpkin. The resulting brew is very dry and pinches the back of the throat in a pleasant, satiating finish.

Batch 5 Dark Saison with Hibiscus seems like it should bear the name Saison Noir Cinq. Black as night, this bad boy is not as tart as the others, but kicks up aromas of raisins, malt and florals. Within peppery carbonation, hints of light milk chocolate merge with sweet brown sugar and characterful maltiness. Strumke confesses that he used 7 different malts as the foundation for this beer.

Tattoo Artist Lee Verzosa, of Ghost Town Odditorium in historic Ellicott City, serves as label designer for Stillwater Artisanal Ales. A friend of Brian Strumke since the early teens, Verzosa merges formal graphic design training with his natural artistry and experience to produce labels that are works of art in themselves. Verzosa has paid his dues, working his way through the lower ranks before attaining a position as a serious studio tattoo artist, but asserts, "I am living the life I was born to live.Ebr>
Cheers!

Photos are (from top): Brian Strumke, Brewer/Owner of Stillwater Artisanal Ales; Belgian Beer Expert Chuck Cook, Beer Fox Carolyn Smagalski, and Owner of 12% Imports Bran Ewing toast with Stillwater Saison; Jeannine Marois President of le Mondial de la biere - Tony Forder of Ale Street News drinks Stateside Saison in the background (at the left of the photo); Tatoo and Label Artist, Lee Verzosa


You Should Also Read:
Beer Theme Movie Classics
Black Albert vs. Dark Lord
Oskar Blues - Leading Man of the Micro Can


Related Articles
Editor's Picks Articles
Top Ten Articles
Previous Features
Site Map





Content copyright © 2023 by Carolyn Smagalski. All rights reserved.
This content was written by Carolyn Smagalski. If you wish to use this content in any manner, you need written permission. Contact Carolyn Smagalski for details.