Decadent Beers for Fat Tuesday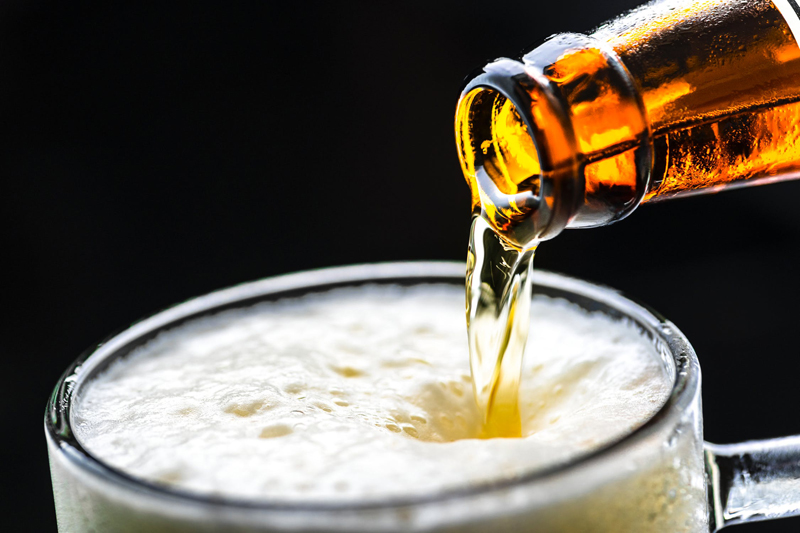 Get out your green, gold and purple beads. It's Fat Tuesday. Known by many as Shrove Tuesday, it is the last call of the Christian world before the period of fasting known as Lent in preparation for Easter. Time for decadence and revelry … excess … a celebration of life … Fasnachts, pączki, Kinklings, King Cake and BEER.

In 1872, the first King Cake made its appearance in New Orleans for the Mardi Gras celebration. King Cake is a yeasty, oval shaped bread, frosted or covered with sugar sprinkles of green, gold and purple. It had its origins in Western Europe, in answer to the spirit worlds of pre-Christian sacrifice. A coin was baked inside this early cake, as part of the Harvest celebrations. Whoever got the coin was celebrated as "king" for the following year until the next Harvest, when he was sacrificed - his blood, drizzled across the soil, ensuring that the next harvest would be bountiful.

As Christian religions swallowed up these Pagan rituals, they adopted some of the ceremony without the human sacrifice. The coin was replaced by a bean or a ceramic baby and represented the birth of the Christ child, savior of the Christian world. Hidden within the cake, its symbolism was associated with the three Kings who, guided by a bright star, searched for the newborn baby, also called the King of Kings.

Since we are celebrating life and revelry, Saison Du Buff would be a great place to start. This collaboration beer was a concept created by BUFF, the Brewers United for Freedom of Flavor. BUFF members are Sam Calagione of Dogfish Head Craft Brewery, Greg Koch of Stone Brewing, and Bill Covaleski of Victory Brewing who collaborated to formulate a 6% beer made using parsley, sage, rosemary and thyme. They would each brew at their own facility, using their house yeast and the foundation recipe to create three same, yet different, brews. All three are coveted beers, released in 2010, and appropriate for special celebration. They all have golden bodies that vary in clarity, with a nose of mint, sage and earth. The Stone version seems to be more malt forward, with a European earthiness. Dogfish Head is spritzy on the tongue with yeasty character and lots of herbal and floral prominence. Victory is lemony, honey touched, and tart, with a deep herbal background.

For a sessionable afternoon, Brawler Pugilist Style English Ale from Yards Brewing Company in Philadelphia, Pennsylvania is a dark mild with a low ABV of 4.2%. Soft and caramelly, with moderate carbonation, fresh breadiness, and hint of pear, this one is mellow enough to take you into early evening.

Flying Magic Zebras begin to come out at night. This is an edgy Black-and-Tan by Prism Brewing in North Wales, Pennsylvania. As a blend between Death March Hopless Porter, spiced with star anise, and T.E.A. Party Pale Ale, this coppery beauty lays on your palate in layers of licorice and dark fruit.

Move into Kilty Pleasure with a big Scotch Ale by Philadelphia Brewing from … guess where? Dark amber with a fluffy off white head, this bad boy is malt forward with flavors of roasted caramel, molasses, plums, earth, and vanilla. Available in 22 ounce bottles, at 8% ABV, you are well on your way to decadence.

When it comes to measuring excessive beers, Philly seems to have it all wrapped up. Top-off the evening with Sexy Beast Chocolate Stout from Dock Street Brewery in west Philadelphia. Velvety on the palate and influenced by Belgian style brewing, Head Brewer Ben Potts has blended 22 pounds of Belgian chocolate with select European malts; then, hopped it up with Sterling and East Kent Goldings. To highlight this crème de la crème of beers, he used a Belgian Abbey yeast strain, resulting in rich Belgian character, fullness in the mouth, and warmth in the throat at 8% ABV.

Cheers!

300 Beers to Try Before You Die!
- The inimitable Roger Protz leads you into the path of imbibable pleasure

The Naked Pint: An Unadulterated Guide to Craft Beer
- Undress the mystery behind beer with Christina Perozzi and Halle Beune's wonderful gem!


You Should Also Read:
Delicate Pairings of Beer and Cheese
Beef and Beer – Two Easy Classic Recipes
Black Albert vs. Dark Lord


Related Articles
Editor's Picks Articles
Top Ten Articles
Previous Features
Site Map





Content copyright © 2018 by Carolyn Smagalski. All rights reserved.
This content was written by Carolyn Smagalski. If you wish to use this content in any manner, you need written permission. Contact Carolyn Smagalski for details.