The Brewer's Plate 2011 - Cuisine a la Biére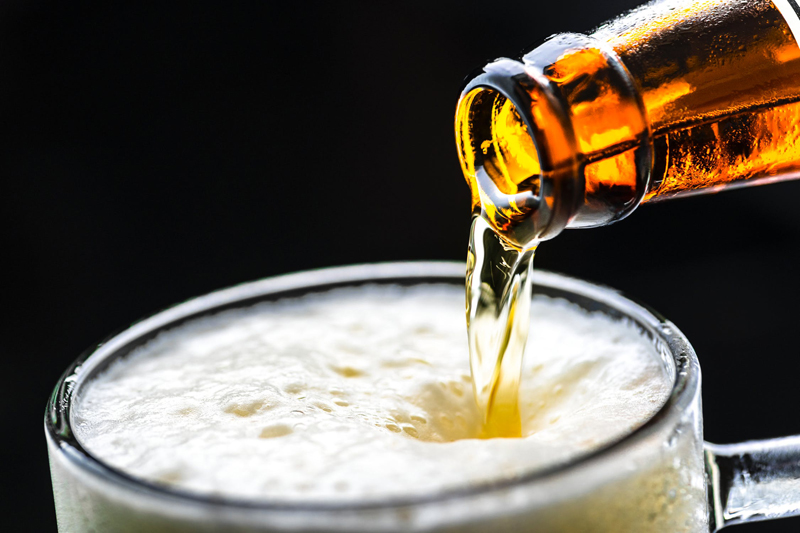 As March rolls around and the last of the snow melts into the earth, words like Certified Organic, Pasture-Raised, and Locally Grown begin to occupy my thoughts. Has writing about beer converted me into an advocate of good food, finely-crafted beer, artisanal restaurants, and local producers? Has the International Slow Food Movement, founded by Italian Carlo Petrini, become a part of my daily philosophy? Perhaps it is my awareness that the Brewer's Plate is on the horizon.

The Brewer's Plate is one of the most elaborate beer and food events in Philadelphia. Originally the brain child of Bill Covaleski, (Co-founder and Brewmaster of Victory Brewing Company of Downingtown, Pennsylvania), the Brewer's Plate sprang into action when Covaleski championed his idea to Judy Wicks, Owner of the White Dog Café and Ann Karlen, Executive Director of the Fair Food organization. Fair Food launched the Brewer's Plate in 2004 with a display of beer and food at the Reading Terminal Market. At the time, it included only 15 brewers matched with 15 city restaurants. It was a forward-thinking concept that needed to mature, like full-strength winter ale.


Ann Karlen explains, "This year [2011], tickets sold out a week before the event, and we sadly had to turn away several restaurants from participating because we simply ran out of room."

The Brewer's plate was no slouch, either. The venue of choice this year was the University of Pennsylvania Museum of Archaeology and Anthropology, on South Street in Philadelphia. The main event occupied the Upper Egyptian Gallery and the Chinese Rotunda, with a Speakeasy set up in the Lower Egyptian Gallery that opened an hour earlier for VIP ticket holders.


Outdoors, in the Warden Garden, a Statue of the Greek god Pan watched over two enclosed, heated marquees that marked an additional, exclusive oasis for VIP participants. Pan, half-man and half-goat, seemed the appropriate greeter for spring festivities that featured Boak Beer, Hop Devil, and Dark Philosopher.

The main halls featured 22 breweries and brewpubs and 27 restaurants from the greater Philadelphia region. Brewers were paired with specialty foods designed to complement and echo the flavors of each. The Restaurant School at Walnut Hill College featured a Passion Fruit Gelée paired with Hop'solutely, an American Imperial IPA at 11.50% ABV, crafted by Beau Baden at Fegley's Brewworks of Allentown and Bethlehem. The delicate notes of my passion-fruit dessert echoed the tropical flavors in the IPA, while an assertive hopping in the beer drew back sweetness in a long satisfying finish.


The Restaurant School also served Beef Stew in a Paté à choux pastry, served with Fegley's Insidious Bourbon Barrel Aged Stout, a Russian Imperial Stout with 9.0% ABV and rich with aromas of coffee, raw chocolate, roasty molasses and hints of anise. The highly credentialed [CSW, WSET Advanced Certificate, ISG Advanced Certificate] Philippe McCartney - who set up the wine program at Walnut Hill College and teaches most of the wine classes there - was on hand, as was Alex Crowe, Instructor of the Beer Program and one of the first Certified Cicerones in America.

Andrea Luca Rossi, Executive Chef and Owner of Cichetteria 19, located at 267 South 19th Street in Philadelphia, commanded attention with his Vienna tea sandwiches on brioche bread in three varieties: hearts of palm, egg and anchovies, or artichoke mousse. These European delicacies from Cicchetteria 19 were married up with the gold-medal winning Saison Vatour from McKenzie's Brewhouse of Malvern and Chadds Ford. The hazy, golden body and voluminous head of the Vatour emitted the earthy fruit-profile that so clearly sets-the-bar that defines the Saison style. McKenzie Brewers Nate Walter and Jared Olson were also pouring McKenzie's Belgian IPA. Both of these McKenzie Beers were able partners for the European flavors of Chef Rossi's tapas.

Rembrandt's Restaurant & Bar of 741 North 23rd Street in Philadelphia presented a lamb ragout soaked in Sly Fox Gang Aft Agley Scotch Ale, a 7.5% cask conditioned wee heavy crafted with pale malts that lay sweet on the tongue, with a touch of smoky peat.


In every corner, culinary masterpieces that either used beer as an ingredient or were matched with beer as the fulcrum, created a sense datum upon the palate. Brewmasters, Head Brewers, Executive Chefs and Restaurant Owners spoke passionately to attendees of their products, emphasizing the importance of the local aspect and the artisanal magic they infused into their victuals and libations.

Casey Hughes of Flying Fish Brewery in Cherry Hill, New Jersey, gave me the details of the newest member of the Flying Fish Exit Series: Exit 9 Red Ale, a 9% ABV American Red Ale, crafted as a tribute to Rutgers University, the Alma Mater of Flying Fish Owner Gene Mueller. Exit 9 uses Pale malt as a base, with Medium Crystal and Cara Red to infuse maltiness and color into the body. A touch of chocolate malt adds a mild roastiness. A banquet of six hops – Columbus, Centennial, Chinook, Sorachi Ace, Simcoe, and Amarillo – add satisfying bitterness. Then it is dry-hopped with Citra, Chinook and Centennial for added aroma. The bitterness satisfies a hop-head's fantasies and lasts into a very long finish. With Pork Belly Bruschetta, this beer was a stimulating mirage-come-to-life.


Brian and Jan Boak of Pompton Lakes, New Jersey presented a portfolio of five Boak's Beers: Boak's Double BW, a Belgian Witbier with gentle lemongrass subtlety; Two Blind Monks Belgian Double with a 'brown ale' nuttiness, and brown sugar and molasses profile; Abbey Brown Ale, a 7% Belgian Strong Dark Ale with a noticeably sweet nose of honey brown sugar, raisins and candied plums; Boak's Wooden Beanie, a Belgian Dubbel aged in Jack Daniels bourbon barrels, with a rich nose of warmed plums, spice, vanilla bean, fruitcake, and hints of heat in the throat; and Boak's Monster Mash, a Russian Imperial Stout of 100 IBUs crafted with 5 malts and molasses. Monster Mash is over-the-top with complex flavors of burnt char, molasses, dark fruit, earthiness, cocoa, licorice, and ash – a full-bodied RIS with an impressive hop-handedness.

Great pairings could be found between Southwark Restaurant Bar and Nodding Head; London Grill and Weyerbacher Brewing; MidAtlantic Restaurant Tap Room and Stoudt's Brewing Company; Marathon and Crickett Hill Brewery;
and Khyber Pass Pub and River Horse Brewing. Eye-catchers and palate pleasers were also presented by Dock Street Brewery, Cantina Dos Segundos, Dogfish Head Brewery, Royal Tavern, Tria, the White Dog Café, Biba Wine Bar, Fair Food Farmstand, Troegs Brewing, Yards, JG Domestic, Abbaye, The Belgian Café, Mango Moon, Southampton Publick House, Varga Bar, Triumph Brewing, Philadelphia Brewing, SPTR, The Bookstore Speakeasy, and Brauhaus Schmitz … the list goes on and on.  Even Steve Hawk, the 2010 Philly Beer Geek, was bedecked in royal red robes and crown, with sequined scepter and a barrel aged throne, while Mat Falco, publisher of Philly Beer Scene Magazine encouraged comments and questions from attendees.

Highly exclusive one-off beers and artisanal gustatory treats were on display in the VIP tents, as patrons swayed to the soothing jazz of the Hoppin'John Orchestra. Oyster shuckers prepared fresh delicacies from the Oyster House at 1516 Sansom Street in Philadelphia, served with exotic Victory Belgian Ale and Limited Edition Beers. Gabrielle Carbone, owner of the Bent Spoon of Princeton, New Jersey, shared three beer-infused ice creams in a rainbow of eggshell, coral and sepia-toned color: Golden Honey Monkey, Peachy Nugget Nectar Sorbet, and Dark Philosopher, icy treats using Victory Golden Monkey, Troegs Nugget Nectar and Ommegang Three Philosophers.

Éclat Chocolate and John & Kira's showcased the high-end purity of 'real' chocolates. Bobolink Dairy & Bakehouse served slices of cranberry herbed bread slathered with farm-fresh cheeses, while Subarashii Kudamono introduced beer drinkers to Asian Pear Wine. Doe Run Dairy sliced bits of local cheeses while Lolita zapped the tastebuds with Mexican heat.
Philadelphia Authors Marnie Old and Lew Bryson presented a salon on ales and lagers; and Drew Lazor of City Paper introduced Terence Feury of Fork and Marcie Turney of Barbuzzo, Lolita and Bindi.

In the Speakeasy, the Gregory Matthews Trio massaged their tunes amidst the dramatic lighting of ancient Egyptian artifacts while many - mildly delirious from beer, booze, and food - sipped on absinthe or vodka from Philadelphia Distilling while discussing the Slow Food Movement amidst the joy of unbridled celebration.

Cheers!

Photos are (from top): Penn Museum; London Grill & Weyerbacher; Southwark & Nodding Head; The Bent Spoon; Hoppin'John Orchestra; Steve Hawk, Philly Beer Geek 2010; Bobolink Breads
 
You Should Also Read:
Tapas and Beer - Tasty Food Pairings
Beer & Cheese : Do you know this cheese?
Creating Desserts With Beer


Related Articles
Editor's Picks Articles
Top Ten Articles
Previous Features
Site Map





Content copyright © 2023 by Carolyn Smagalski. All rights reserved.
This content was written by Carolyn Smagalski. If you wish to use this content in any manner, you need written permission. Contact Carolyn Smagalski for details.