Tapas and Beer - Tasty Food Pairings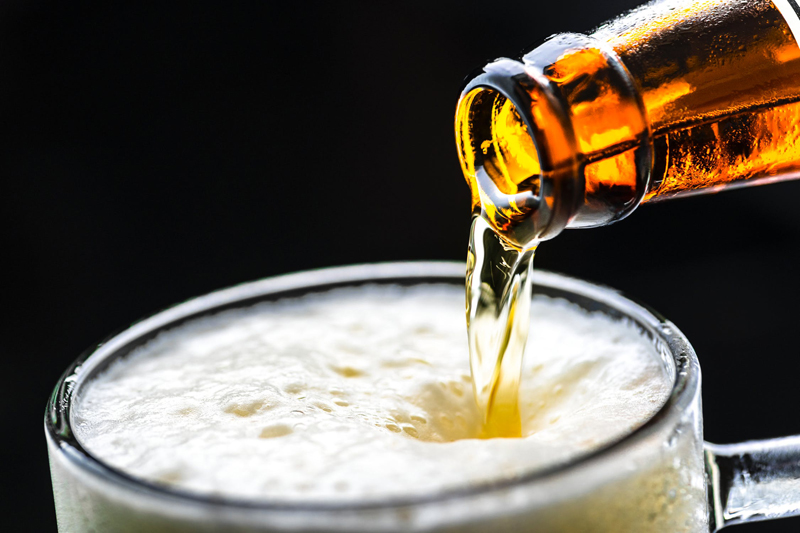 Your week, by the natural course of events, is filled with womanly chores, changes and challenges, while thoughts of relaxation linger at the edge of your imagination. As the weekend hours roar past like a raging mountain lion, the normal Saturday dinner hour is already on the wane. Late night snacking appears to be the order of the day.

Grateful for the Spanish tradition of tapas, you slide your feline hips into a pair of sexy, low-slung jeans, slather on a bit of Burberry and shake your hair to fullness on the way to your local brewpub. Once there, you can revel in variety between tasty tapas morsels and flavorful beer, while commiserating with your spirited soul-mates.

Tapas was first served in the southern region of Andalucia, Spain, in the early 19th century. The original "tapa" was a crusty flat of bread or a card that was used to cover a glass of sherry to protect it from fruit flies. Topping this "flat" with a salty snack of manzanilla olives, Serrano ham or chorizo sausage became a welcome treat among bar patrons who typically staved-off hunger until the traditionally-late ten o'clock dinner hour. Foods that were salty or highly spiced had the added marketing advantage of stimulating thirst.

These bite-sized portions are particularly attractive to women, who often enjoy the diversity of complexity, without the chore of eating huge portions late in the day. Although they were originally associated with sherry, the Tapas and Beer Bar has become part of the chic American social landscape.

Tapas and Beer Combinations

Allioli – Strong garlic paste on bread
Beer matches: Saison, Witbier, Pilsner, Helles Bock

Almonds fried in olive oil, topped with salt, pepper and paprika
Beer matches: Flanders Red Ale, German Pils, Dunkelweizen, Witbier

Bread with tomato and garlic
Beer matches: Weissbier, Blonde Ale, Kolsch, Belgian Tripel

Champinones al aj illo – aj illo mushrooms with olive oil, garlic and dry Spanish sherry
Beer matches: American barleywine, Biere de Garde, Old Ale, Saison

Chorizo al Vino – Chorizo sausage cooked in wine
Beer matches: Extra Special Bitter, India Pale Ale, Saison, English Barleywine

Cured cheese topped with anchovies
Beer matches: Pilsner, English Bitters, Dry Stout, Belgian Golden Strong Ale

Gambas a la Plancha – prawns sautéed in salsa negra or garlic
Beer matches: Saison, Pilsner, Dry Stout, Weissbier

Mariscos – anchovies, sardines, squid or mackerel in olive oil
Beer matches: Gueuze, Weissbier, Dry Stout, Saison

Olives – manzanilla or arbequina olives
Beer matches: Weissbier, Belgian Pale Ale, SpiceHerb/Vegetable Beer

Patatas bravas – potatoes with mayonnaise, herbs and garlic
Beer matches: Witbier, ESB, Altbier, American Wheat Beer

Rajo – pork seasoned with garlic and parsley
Beer matches: IPA, Saison, Weissbier, Schwarzbier

Red onion and orange salad
Beer matches: Weissbier, Witbier, Belgian Tripel, Fruit Lambic

Zorza – rajo with paprika
Beer matches: Russian Imperial Stout, Robust Porter, IPA, English Barleywine

Tapas may also be more Americanized or international in character:

Pancetta, prosciutto di Parma, Beluga caviar, Moroccan lamb, classic cheddar, aged Gruyere, Goat cheese, Stilton Cheese, oysters, calamari, escargot, stuffed grape leaves with merguez sausage, slices of bratwurst, mussels, Gallina Blanca Shrimp, crudités, smoked salmon, lobster, spring rolls, egg whites filled with salmon pate, Spanish ham croquettes, toasted breads topped with pork, ham or sausage, wrapped water chestnuts, Spanish omelets.

Beer matches: Saison blends well with most foods. Lighter foods generally merge well with Wheat Beers. IPA, Barleywine, and Bitters can carry foods heavier in fat. Gueuze, Weissbier and Pilsners marry up well with seafood, egg and vegetable dishes.


Tapas are treats that favor diversity, flexibility and freedom of lifestyle. With the many styles of beer available, you may wish to do your own experimentation to discover the flavors most appealing to your tastebuds.

Cheers!

 
You Should Also Read:
The Grand Embellishment of Food with Beer
Gluten Free Beer & Party Food for Celiacs
Delicate Pairings of Beer & Cheese


Related Articles
Editor's Picks Articles
Top Ten Articles
Previous Features
Site Map





Content copyright © 2023 by Carolyn Smagalski. All rights reserved.
This content was written by Carolyn Smagalski. If you wish to use this content in any manner, you need written permission. Contact Carolyn Smagalski for details.