National Liberty Museum Beer Tasting and Glass Art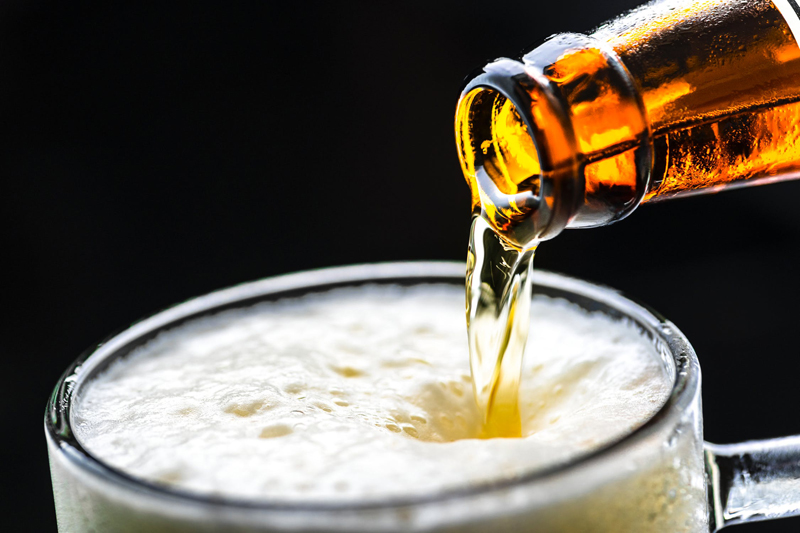 Beer is not what many would expect at the opening event of a showing of exquisite glass sculptures at the National Liberty Museum in Philadelphia, Pennsylvania, USA. Generation to Generation, a glass show that runs from March 24 to April 30, 2011, celebrates the fragile traditions, values, skills, leadership and love that are passed from parent to child – an art form to be preserved, commemorated and explored. Would these artists really want people exposed to eighteen beers while walking around their masterpieces, some valued at $18,000 and others, priceless pieces?

Steve Hawk, Philly Beer Geek 2010, has no problem with it, and neither did the artists on display in the Lenfest Liberty Hall. As a celebration of these traditions, beer also reigns as mastery of art, and it blended well with the theme.

Amidst these world renowned artisans were patrons of the arts and of the museum, art students, and fellow artists. As Steve Hawk stood to speak, many were exposed to a world they didn't know existed – the world of craft beer.



Five Exhibiting Families of the Glass Arts
Harvey Littleton, the Father of the Studio Glass Movement, with son John Littleton and Kate Vogel, who work in cast and blown glass
Paul Marioni, who creates glass themes based on human nature, with son Dante Marioni, whose blown glasswork lives on the cover of the White House Collection of American Crafts
Nancy Current, who fuses glass with lithography, with daughter Theodora Jonsson, maker of glass sculptures that fuse scientific technology with life forms, inspired by native themes
KeKe Cribbs, master of the glass mosaic, with daughter Alicia Lomne, whose stunning artworks arise from the glass kilning technique of Pate de verre
William and Katherine Bernstein - aka Billy and Katie – Billy, one of the founders of the Glass Arts Society, whose glassware was influenced by Scandinavian and American glass design, and Katie, who casts in crystal and melted glass with son Alex Gabriel Bernstein, an artist of cast and cut glass sculptures, exhibited and collected from New York and Toronto, to Chicago, Germany, and Palm Beach.
Hawk, whose parents Bob and Sherry Hawk are employed at the National Liberty Museum, echoed the generational theme with his presentation of fine beers. Aware that this was a new experience for many, the Philly Beer Geek tutored the audience on how to taste beer – to see, swirl, smell, taste, and feel the experience. He spoke of the Philly Beer Geek Competition and his sponsors at the Hulmeville Inn, a 200-year-old inn with a history as a stagecoach stop along the road from Philadelphia to Trenton.

Hawk introduced the ALEiens Homebrew Club and his Local Nano Brewery, both which he co-founded, before acquainting his audience to the beers from Great Lakes Brewing of Cleveland, Ohio; Magic Hat Brewing of Burlington, Vermont; the Boston Beer Company of Boston, Massachusetts; and Brooklyn Brewing of Brooklyn, New York. ABC's Channel 6 of Philadelphia, was filming Hawk and panning the room of attentive faces.

Hawk's List of Beers


Great Lakes Brewing Company:
Dortmunder Gold, Dortmunder Export, 5.8% ABV
Burning River Pale Ale, American Pale Ale, 6.0% ABV
Eliot Ness Amber Lager, Vienne Lager, 6.2% ABV
Edmund Fitzgerald Porter, American Porter, 5.8% ABV (Hawk's personal favorite of this group)


Magic Hat Brewing Company:
Blind Faith, English India Pale Ale, 6.2% ABV
Single Chair Ale, American Pale Ale, 5% ABV
#9 Not Quite Pale Ale, Fruit/Vegetable Beer with Apricot extract, 5.1% ABV
Wacko Liquid Song of Summer, Fruit/Vegetable Beer, 4.5% ABV (Hawk's personal favorite of this group)


The Boston Beer Company:
Samuel Adams Boston Lager, Vienna Lager, 4.9% ABV
Samuel Adams Noble Pils, Czech Pilsner brewed with 5 Noble hops, 4.9% ABV (Hawk's personal favorite of this group)
Samuel Adams Scotch Ale, Scotch Ale/Wee Heavy, 5.4% ABV
Samuel Adams White Ale, Witbier, 5.2% ABV
Samuel Adams Irish Red, Irish Red Ale, 5.8% ABV
Samuel Adams Revolutionary Rye Ale, Rye Ale, 5.5% ABV (also notable in Hawk's opinion)


Brooklyn Brewery:
Brooklyn Lager, American Amber/Red Lager, 5.2% ABV
Brooklyn Brown Ale, American Brown Ale, 5.6% ABV
Brooklyn Pennant Ale '55, English Pale Ale (Hawk's personal favorite of this group)
Brooklyn East India Pale Ale, English India Pale Ale, 6.8% ABV


As he spoke, you could see excitement building in the crowd – the shifting of feet, eyes on the beer table, the licking of lips. They were anxious to see the artwork, but even more eager to taste the beer as Hawk transferred his enthusiasm by making them wait. As he invited all to taste, they crowded the table in orderly fashion, aware of the glass artwork around them. They sniffed the beer, viewed its clarity, and rolled it in their mouths. Steve Hawk's wife, appropriately named Crystal, fit well with the event and assisted Hawk in pouring and explaining the characteristics of all the beers.

"This isn't Coors," one said with satisfaction. At one point, there were people all bent at the waist. They were reading the promo signs, and sniffing the beer, but to anyone who entered the room, it would appear they were bowing to fine craft beer.

As it should be.

Cheers!

Photos are (from top): National Liberty Museum, Philadelphia; Flame of Liberty by Dale Chihuly, on permanent exhibit in the National Liberty Museum; Museum attendees at the Generation to Generation Glass Sculpture Opening and Beer Tasting; Steve Hawk initiates many to craft beer; Crystal Hawk pours beer during Glass Exhibit Opening Night

If you love beer and artistic conversation pieces, you'll catch attention with these beautiful personal works of art:

MELINDA MARIA "Goddess Collection" Beer Quartz Grecian Ring, , Size 7

from the Goddess Collection
Sterling Silver Celtic Design Amber Ring, Size 9

- The color of amber ale!
 
You Should Also Read:
Mensa Menu - Upscale Beer & Food Pairings
Garrett Oliver - Brooklyn Brewmaster of Beer and Food
The Grand Embellishment of Food with Beer


Related Articles
Editor's Picks Articles
Top Ten Articles
Previous Features
Site Map





Content copyright © 2023 by Carolyn Smagalski. All rights reserved.
This content was written by Carolyn Smagalski. If you wish to use this content in any manner, you need written permission. Contact Carolyn Smagalski for details.