Miracle Lox Turns Water into Beer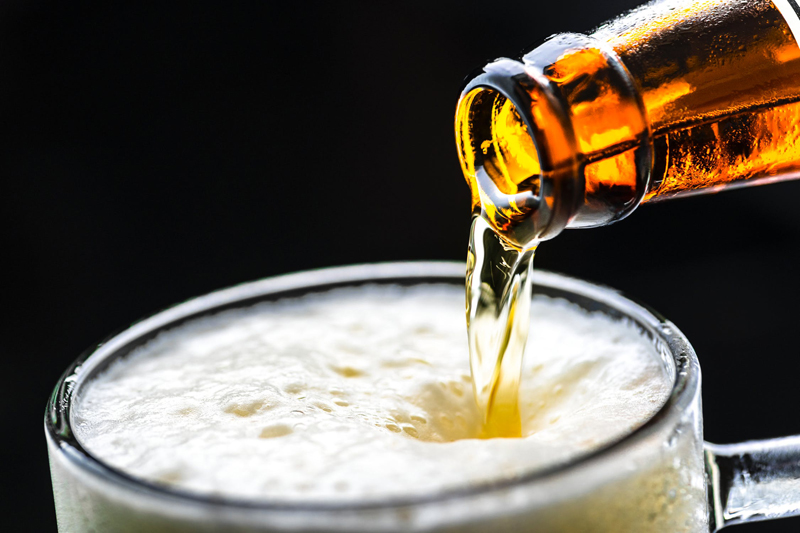 NALLA, the National Ale Lager and Lambic Association, has been granted a temporary patent on a breakthrough product called Miracle Lox, designed to turn water into beer. Dr. Heasbach Ihavporter, 85, Professor Emeritus of the Institute of Fermentable Potables in New York, has researched the stabilization of beta particles in beer for more than a decade. Dr. Ihavporter, founder of NALLA, applied for the patent through Power of Legal Guardianship for the association, specifying that all proceeds from the sale of the invention be distributed as scholarships for continuing education of craft brewers through the foundation's Professional Benefactor Program.

Through the application of subatomic sunscreen, Dr. Ihavporter discovered that kegged water, when placed in a specially designed compression chamber and subjected to light rays of different lengths, can be transformed into several styles of beer without the use of barley, yeast, or hops. Spectrophotometric analysis of the beer and wort has confirmed that the refractive index, through dispersion and absorption, stabilizes within the spectrum of limitations.

Proponents of Reinheitsgebot, the German Beer Purity Law of 1516 that requires beer be made with three specific ingredients, i.e. barley, water and hops, have taken samples to the Sensory & Analytical Laboratory of Summ Bhiershop in Germany for examination.

The compression chamber looks much like a metal filing cabinet. It has a tiny computer chip embedded into a simple control panel that regulates the temperature of the water until conversion into beer has been accomplished. Dr. Ihavporter affectionately calls this chamber the Miracle Lox Box.

Thus far, Sensory Specialists have been unable to detect any organoleptic difference between the beer produced by Dr. Ihavporter and those crafted by world-class brewers in the United States and abroad. Data Analysts examining the beer have found similar chromatographic profiles to beer made by traditional methods. In addition, pH, alkalinity, and water hardness is remarkably similar to that used for specific styles – high sulfate, low carbonate (Burtonized) for India Pale Ale; alkaline for Russian Imperial Stout; moderately carbonate water for Düsseldorf Altbier; soft water with low mineral content for Bohemian Pilsener; and low sulfate, low to moderate carbonate for California Common styles.

Isomerisation of humulones seems to appear through unexplained amalgamation, thus the word "Miracle" in the product name. Dr. Ihavporter intends to keep specific secrets under wraps until the permanent patent is granted.


The NALLA research is being conducted in an undisclosed high security compound. Both Federal and State tax authorities are perplexed about how to treat the new "beer," since it does not fall under any of the parameters that actually define beer. According to the Alcohol, Tobacco Tax and Trade Bureau (ATTTB), beer is defined under the 1991 United States Internal Revenue Code as follows:

"Beer, ale, porter, stout and other similar fermented beverages (including sake or similar products) of any name or description containing one-half of one percent or more of alcohol by volume, brewed or produced from malt, wholly or in part, or from any substitute thereof."

Whether water exposed to light rays can be defined as "any substitute thereof" has yet to be determined.

If this sounds too good to be true, you are right. The National Ale Lager and Lambic Association does not exist as of this writing; nor does Dr. Heasbach Ihavporter (pronounced: He has bock I have porter). Miracle Lox, the Miracle Lox Box, Institute of Fermentable Potables, and the Sensory & Analytical Laboratory of Summ Bhiershop (pronounced: some beer shop) are a figment of my imagination. Happy April Fools' Day!

For those not familiar with cultural celebrations in the United States, let me explain: April Fools Day is recognized on April 1st each year. It is a day of tomfoolery and the playing of pranks. The idea is to fool someone with a story or situation that seems real; the prank is then revealed to the recipient for a hearty laugh among friends.

Cheers!

Photos are (from Top): Lox Box Beer (not!); Lox Box Compression Chamber; Undisclosed high security compound

Man Walks into a Pub: A Sociable History of Beer
- Pete Brown, winner of the first Michael Jackson Gold Tankard award, is a delight.

Three Sheets: Seasons 1-3
- Zany Zane Lamprey takes you on his international pub crawl for laughs and learning.

You Should Also Read:
Miracle Fruit and Beer Tasting
Olives in Beer
Beer Lovin' Party Animals in the Wild


Related Articles
Editor's Picks Articles
Top Ten Articles
Previous Features
Site Map





Content copyright © 2022 by Carolyn Smagalski. All rights reserved.
This content was written by Carolyn Smagalski. If you wish to use this content in any manner, you need written permission. Contact Carolyn Smagalski for details.