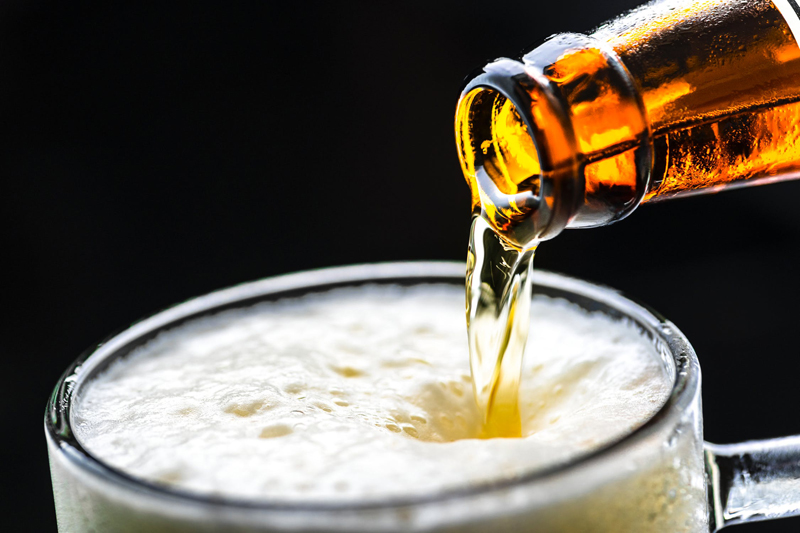 Samuel Smith's Old Brewery Pale Ale shone with a coppery body in my glass. An ample head of caramel-white foam sat thick and creamy above, while aromas of 12 grain bread, earth and citrus danced in the air. I had just removed the pimentos from three dark green olives, and prepared to plunge my naked olives into the effervescent liquid.

When I initially heard olives in beer was a common practice in the Midwestern part of the USA, tiny hairs stood up on the back of my neck. That bittersweet malty profile, violated by a Pit Junkie! I reasoned that the producers of tasteless macro-lagers had removed so much character from the common lager that olives, undoubtedly, added flavor. Nevertheless, I was curious about the effects, especially when using a full-flavored beer.

The olive is a fruit, structured the same as coffee, peach, mango, date or coconut. An inner pit that holds a seed is surrounded by fleshy pulp. This type of fruit is known as a "drupeEor stonefruit. Most fruit of this type has pulp saturated with water, but olive pulp is rich in oil. When picked directly from the tree, olives have an extremely bitter profile that must be altered if they are to become a palatable part of the gustatory experience.

In the first stage, they are cured by soaking in a solution of water, vinegar, or food-grade lye (followed by a three-day regimen of soaking in water to negate the harmful, caustic agents in the lye). Olives may also be cured using the dry method of covering with salt. After 4-6 weeks of curing (less with the lye-method), a fermentation process may follow in a mother brine of vinegar, brine, oil, or similar liquid, infused with herbs and spices. "Is this so different from beer?EI thought.

Green olives and black olives come from the same tree, but are picked at different stages. Pale green to dark green olives have a sharper flavor. As they darken from purple to black, the mellower profile emerges in a soft and savory presence.

Whether you place olives in martinis or beer, the flavor profile of the liquid will be slightly altered due to the natural salts and oils in the fruit. English Pale Ale draws its characteristic complexities from burtonized water Ewater with ions similar to that found at Burton-on-Trent. This water is rich in calcium, sulfates, magnesium, sodium, and chloride. With the addition of olives, the chemical profile may be enhanced by the brine that has percolated into the olives during common processing. A small amount of olive oil is often used by brewers to give yeast unsaturated fatty acids to feed on, rather than introducing oxygen into beer that can cause flavors of wet cardboard or old sherry. With that in mind, it almost seems normal to throw a few olives into the finished beer.

In addition to the slight flavor enhancement, olives add an entertainment value. Olives may seem heavy, but because beer is carbonated, bubbles adhere to the surface of the olives as they lay in the bottom of the glass. When a sufficient army of air accumulates on the olives, they act like mini-helium balloons and carry the olive to the surface of the beer. As the olives come in contact with your upper lip, the bubbles are interrupted, and the olives tumble to the bottom of the glass until they have attracted yet another swarm of airy bubbles.

If the idea of entertainment and flavor alteration has little appeal to you, you may wish to nosh on your olives as a tapas treat, paired with beer. Labneh, a Middle Eastern cheese with a yogurt base, pairs well with olives and Weissbier, Strong Belgian Ales, or Herb/Vegetable Beers. You may also wish to stock your shelves with E. Waldo Ward's Imported Beer Olives, an unpitted variety flavored with beer.

For your creative moments, save room for a beer martini, complete with olive garnish. I would recommend that you choose an American or English Pale Ale. India Pale Ales are also ideal for this fine libation. Good choices would be Sierra Nevada Southern Hemisphere Harvest Fresh Ale, Ipswich Original Ale, Meantime India Pale Ale, Three Floyd's Blackheart, Great Lakes Burning River Pale Ale, Two Hearted Ale, or Hop Rod Rye. Take care to select one that has a slight fruity profile with firm bitterness. Avoid using a lager, because the flavors are less pronounced and will not blend as well.

Into a cocktail shaker pour: 1 oz. of pale ale and 3 oz. of gin. Add ice cubes, shake and strain into a martini glass. Garnish with two pierced olives on a cocktail pick. You may prefer to stir with your finger rather than shaking. For a two-person serving (or a big thirst), use 2 oz. of pale ale and 4-6 oz. of gin.

Cheers!
 
You Should Also Read:
Tapas and Beer - Tasty Food Pairings
Delicate Pairings of Beer and Cheese
Miracle Fruit and Beer Tasting


Related Articles
Editor's Picks Articles
Top Ten Articles
Previous Features
Site Map





Content copyright © 2022 by Carolyn Smagalski. All rights reserved.
This content was written by Carolyn Smagalski. If you wish to use this content in any manner, you need written permission. Contact Carolyn Smagalski for details.