Did Big Beer Get Brew Masters Canned ?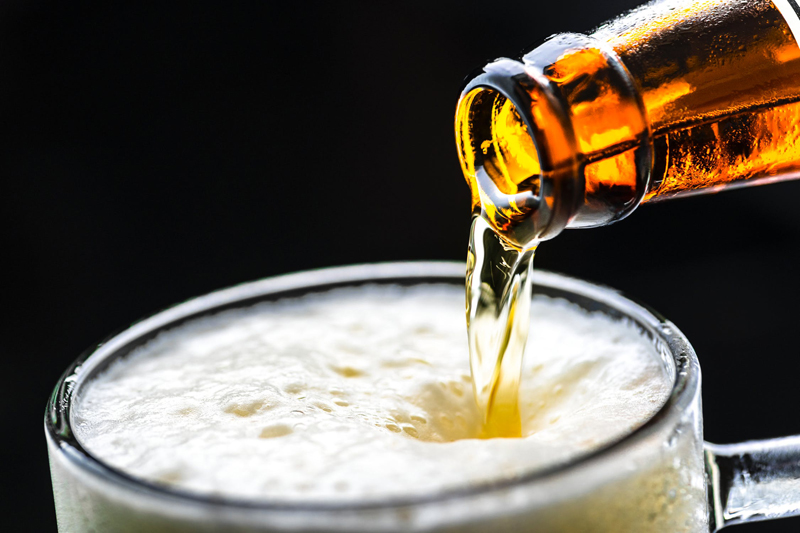 Don Younger used to say it right. It's not about the beer. It's about the beer, and the Discovery Channel Brew Master's Series, starring Sam Calagione, is about the beer, but it's also about world culture, man's discovery of food and drink, and beautiful exotic locations. Calagione, Owner and Founder of Dogfish Head Craft Brewery in Milton, Delaware, is the one to watch when it comes to beer, whether it be exotic or extreme. Beer Hunter Michael Jackson (1942-2007) was famous for pulling crowds into beer events, but no one pulls in the crowds with such magnetism as the handsome Calagione. Jackson always said he wished he had Sam's good looks.

Charismatic onstage, with an easy connection to his audience, the star of the Discovery Channel TV show opened the world of craft brewing to many who drank macros or micros but wanted to know more about artisanal brewers. With his DFH crew and such personalities as Dr. Patrick McGovern, archaeo-anthropolist from the University of Pennsylvania Museum of Archaeology and Anthropology in Philadelphia, he presented a smart, yet fun, series of beer shows to an audience that is hungry for nourishment on TV. He took his viewers to exotic locations and introduced them to the cultural practices that make life so different in other parts of the globe.


It wasn't junk food and it wasn't junk beer.

Now, word on the street is that the show, which premiered November 21st in 2010, is being cancelled, with the last episode – the 5th of 6 that were filmed – being in May 2011, coinciding with the opening of Eataly's La Birreria in New York City. The details are sketchy, with the leak credited to a tweet by Anthony Bourdain of No Reservations, produced by Zero Point Zero, the same producer of the Brew Master's series.

Bourdain's tweet let the floodwaters out of the gate before any word of the cancellation was on the streets: "See what happened to Dogfish/Discovery deal. Big beer threatened to pull ads." The Discovery Channel, in response to inquiries by Andy Crouch, admitted to the cancellation, but alleged it was due to poor ratings.

I find that as hard to swallow as a glass of macro lager. Sam's ratings were well into the one-million per episode range, but Discovery wants more. Discovery has not become the #1 nonfiction media company by staying with their 1990s philosophy of "helping viewers learn about the world around them." Although Discovery was accused of creating "tatoo TV" with its American Chopper Series in 2003, they began to come back to more traditional shows focused on history, geography, and science in 2005, but made a commitment in 2007 to win in the big league ratings race.


With a focus on "quality content that satisfies curiosity," as CEO David Zaslav defines it, the Discovery Channel rocked the world with adrenaline-rich reality TV with a twist. Shows having attention-getting titles demand recognition and pull huge ratings from the desirable 25-54 year-old male audience. Gold Rush Alaska pulled in 2.9 million viewers in their premier showing and has hit 4.03 million per telecast. American Chopper yields 3.16 million, An Idiot Abroad gets 4.3 million, and Deadliest Catch had the distinction of being the #1 non-sports program in prime time among those coveted male viewers for 6 weeks in a row.

Bourdain's tweet may have been true, but Crouch's information may also be true. Big beer wants to advertise to huge audiences (does anyone remember the Super Bowl?) and they have the fat purses to play at the high stakes Baccarat tables, so-to-speak. After all, why should big beer advertise to one-million people when they can reach four times that number? In reality TV, throwing up roadblocks to a rock star craft brewer is just an added bonus.


Sam and craft beer will survive. After all, according to stats kept by the Brewers Association, "Growth of the craft brewing industry in 2010 was 11% by volume and 12% by dollars," while "overall, U.S. beer sales were down an estimated 1.0% by volume in 2010." That speaks well for the health of the craft beer community as a whole.

Discovery may decide to make Brew Masters available through more targeted niche outlets. After all, if the opportunity arises to recoup their investment, they will want to capitalize on that. Series sales, subscriptions, iPad apps, DVDs, and podcasts are still a part of the media mix available to those who are selective enough to care about brain food.

Craft beer drinkers care enough to not accept the status quo of the big beer world. As for Sam Calagione, he's much too focused on the big picture to get tripped-up by a crack in the road. He has authored 4 books – Brewing Up a Business; He Said Beer, She Said Wine; Extreme Brewing; and The Beer Book, brought the first brewpub to the state of Delaware, introduced Randall the Enamel Animal, and is a household word in the world of off-centered beer. After all, he knows how to turn lemons into lemon-flavored beer.

Cheers!

Photos are (from top): Sam Calagione of Dogfish Head Craft Brewery; Standing room only crowd at Sam's show at the Great American Beer Festival; Askinosie and Calagione at the Beer & Food Pavilion of the GABF; Fans crowd the stage for pictures of Sam Calagione

The Beer Book
- Sam Calagione's newest book for your beer library!

Extreme Brewing: An Enthusiast's Guide to Brewing Craft Beer at Home
- Maximum guidance for those who like to push the limits of beer.

You Should Also Read:
Easter Beer - Hoppy Treats in the Easter Basket
The Bronze Chicken of Beer
Gourmet Haus Staudt Gets Sudden Exposure


Related Articles
Editor's Picks Articles
Top Ten Articles
Previous Features
Site Map





Content copyright © 2022 by Carolyn Smagalski. All rights reserved.
This content was written by Carolyn Smagalski. If you wish to use this content in any manner, you need written permission. Contact Carolyn Smagalski for details.