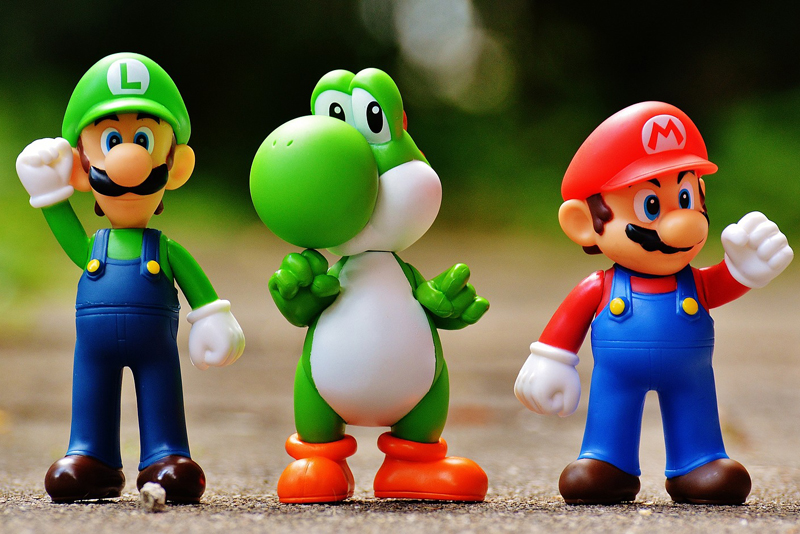 Carnival Games Wii is a collection of typical carnival games - shooting ducks, skee-ball, knocking over bottles, and even testing your love potential. It's fairly easy, mindless fun.
You can customize your character - boy, girl, man, woman - with different facial looks, clothes, shoes, and so on. As you earn tickets and prizes throughout the games you unlock new decorations for your person.
The games are divided up into small groups. You can toss footballs into tires, softballs into baskets, or rings over bottles. You can inflate balloons over a clown's head or toss darts at balloons. In each case the hand movements are fairly simple. Throw the ball. Toss the dart. Underhand-throw the skee-ball.
There are also games that seem to be just for fun. There's a love-o-meter where all you do is hold the controller against your heart and you're told you're passionate or a cold fish.
In each of the games there's a set limit. X number of darts, Y number of seconds. This can be annoying if you're playing on your own - the re-load time for the game involves buttons and waiting. But on the other hand if there are other people sharing with you, it's good to keep people in the sharing mood.
Some of the games are fairly easy. The skee-ball for example you draw your arm back and throw the ball just like you would in real life. It's fun and almost addictive to keep playing and getting the ball into the hole.
Other of the games are maddeningly annoying. Making the frog hop into the lilies in the pond more than once, or the wiffle-ball skitter onto the right plastic cup, seems nearly impossible. You could certainly argue that these games are just as impossible in real life :) And I suppose since there's a mix of these games in with the other actual-skill games, players can choose to attempt or not attempt these as they wish.
A good side of these games is that anyone can play, and everyone can relate to them. Tossing balls at clown faces or tossing basketballs into hoops make sense to eight year olds and eighty year olds. It's a family game in a "comfortable" atmosphere. Non-gamers don't have to figure out boards or spacings or strange games, everything feels natural.
On the down side, even though you know *what* to do in pretty much all of these games, in a number of them it's very challenging to actually do that. You try and fail to get the right amount of movement of the arm. Because you only get a few tries each time around, it can take a long, frustrating time to figure it out.
So kudos for hitting on a fun theme that everyone can relate on. Some games are great fun because they are based on skill and logical thought. Some games are frustrating because they are much more like random chance. Again, though, that's true to the carnival experience. Parents just need to guide their kids on which ones they shouldn't worry about as much.
I'll give it 4/5 for a great idea and reasonable implementation.
Buy Carnival Games Wii from Amazon.com


Related Articles
Editor's Picks Articles
Top Ten Articles
Previous Features
Site Map





Content copyright © 2022 by Lisa Shea. All rights reserved.
This content was written by Lisa Shea. If you wish to use this content in any manner, you need written permission. Contact Lisa Shea for details.