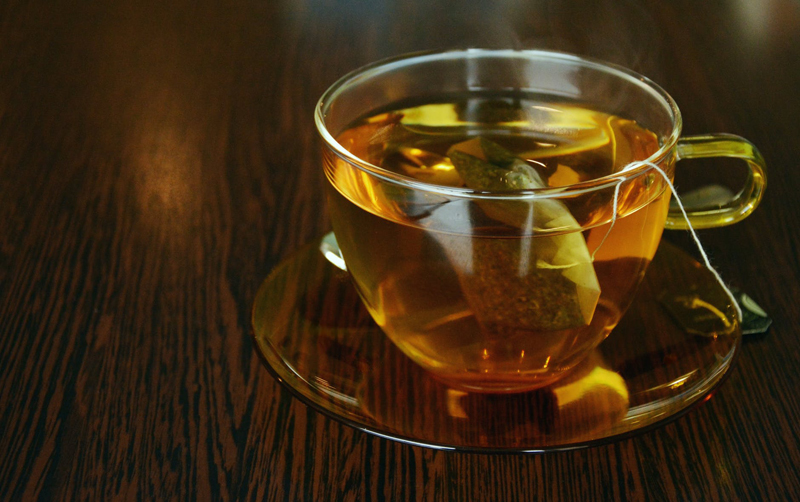 Summer Tea Splash

Water is said to replenish the body and add essential fluids to the body. Tea also can add essential fluids to the body.

It was long considered that if anything contained any amount of caffeine that it could not be proven a hydrator. It was considered a de-hydrator!

Many studies have been done that show that tea is considered a hydrator. It contains more than just the essential body fluid hydrators; it also contains antioxidants that help to fight free-radicals and boost different levels of cell activity with-in the body.

The studies reflect that the levels of caffeine are so low that dehydrating levels do not exist. For instance, in coffee comparatively, the concentrations are high and antioxidants are low or not present, thus causing dehydration to the drinker.

The medical field has also continued with tea studies. They have widely broadened the benefits offered to the body as a result of drinking it.

For us; just the person seeking to cool off on a hot summer's day, iced or hot tea drinks, is not only a refreshing way to cool off it is also a healthy way too!

Tea is beneficial for the heart, body, mind and soul. Here are three summery tea recipes that are easy to make, sure to please and can be served at your next party! Enjoy!


Fruit Splash Tea!
This recipe yields 2 gallons


Equipment needed:

One very large mixing bowl or a punch bowl
One large saucepan
Funnel for dividing up
2 gallon container (or) 2 one gallon containers (ex. Milk jugs) or your favorite individual
Containers.

*Note if you are using a glass container please make sure that this is a tempered one! Adding boiling water to a container not for that will cause breakage!

Ingredients needed:

Black tea bags (I use 10 bags per gallon) (this can be adjusted to your taste preference)

1 ½ quarts of boiling water
2 cups of sugar
1 large can (48 oz) pineapple juice (this is not a frozen juice)
1 regular can (12 oz) of frozen orange juice
1 regular can (12 oz) of frozen lemonade

Step 1)
Put your tea bags into your big (2 gallon) container (pitcher)

Step 2)
Pour 1 ½ quarts boiling water over the tea bags. At this time also add the 2 cups of sugar. Stir this with the bags to dissolve the sugar. DO NOT REMOVE THE TEA BAGS!

Step 3)
Steep this in the refrigerator for several hours or overnight.

Step 4)
When ready to serve, remove from refrigerator and discard the tea bags.

Step 5)
Now pour steeped tea into the large bowl or punch bowl.

Step 6)
Now add all remaining juices and stir well.

Step 7)
Can pour into your chosen container(s)

*Notes-
Can always adjust sugar to taste, and can use a sugar substitute as well.
Can break down mixture into 2 One gallon jugs, or any individual drink containers or can serve ladled out of the bowl.

Yummy and refreshing!

Summer Mint Tea

Equipment needed:

1 large saucepan & lid
2 quart pitcher

Ingredients list:

Approx. 8 sprig fresh mint
¾ c. of lemon juice
¼ c. of orange juice
1 ¼ c. of sugar (to taste can use sugar substitute)
3 c. of hot water
4 black tea bags
4 cups boiling water

Step 1)
Bring 4 cups of water to boil in a large saucepan. Now add tea bags and mint leaves. Cover this and let steep for at least 15 minutes.

Step 2)
Remove bags and pour into a 2 quart container/pitcher.

Step 3)
Now combine the remaining juices, sugar, and hot water to mint tea. Stir this well. Chill in refrigerator.

*Serve over ice w/sprig of mint or lemon slices
Can substitute using mint tea bags but this may not have as intense of flavor as using the fresh mint. If the lemon and/or orange juices you are using are overly sweet you may have to adjust the amount of sugar used in the recipe. Please adjust to your taste.

And now one tea drink for those over 21 years old!

Sangria Tea

Equipment needed:
1 large saucepan
2 quart pitcher or punch bowl
A blender or some type of food processor

Ingredients list:

4 of your favored black tea bags
2 cups or 16 oz bottle lemon-lime soda
2 cups favored red wine
2 cups water
¾ cups of sugar
1 lemon sliced
1 orange sliced
1 pkg. frozen strawberries (about 10 oz.)

Step 1)
Put strawberries into blender and puree` them.

Step 2)
In a saucepan combine the water and sugar, bring this to a boil. Stir until sugar is dissolved.

Step3)
Now add fruit slices, boil this for one minute.

Step 4)
Remove saucepan from heat; add in the tea bags. Cover this and let steep for 5 minutes.

Step 5)
Remove tea bags, let cool uncovered for at least 1 ½ hours.

Step 6)
In your pitcher (punch bowl) combine your tea mixture, red wine, and strawberries. Stir through and chill in the refrigerator.

Step 7)
When ready to serve: top off with the lemon-lime soda and gently stir.

*Serve in special glasses with garnish of orange slices.


Enjoy!

You Should Also Read:
Rehydrate With Tea
Mom,Sun Tea,and Barbeques


Related Articles
Editor's Picks Articles
Top Ten Articles
Previous Features
Site Map





Content copyright © 2021 by Mary Caliendo. All rights reserved.
This content was written by Mary Caliendo. If you wish to use this content in any manner, you need written permission. Contact Mary Caliendo for details.