Philly Beer Geek 2011 Natalie DeChico Sounds Off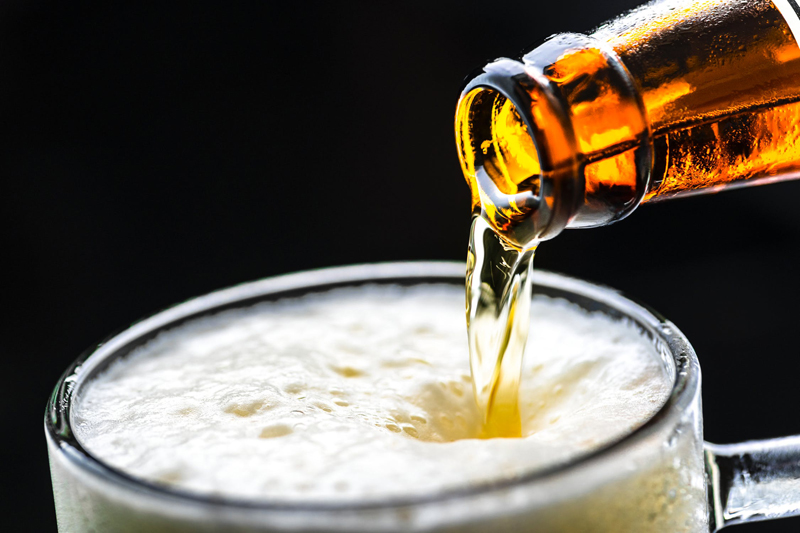 Natalie De Chico, Philly Beer Geek 2011, Shares Her Opinion and Beer Geek Choices


Carolyn Smagalski, Beer Fox and Co-Founder of the Philly Beer Geek Competition, drills down to the heart of Philly Beer Geek 2011, Natalie DeChico:  her opinions and the choices she makes about beer.
Carolyn Smagalski: What part of the beer world would you change, and how?

Natalie DeChico: I would like the people that don't drink micro brews to stop telling me that craft beer is a fad. There is no way I am going to wake up one day and start drinking yellow fizzy macro beer. My taste buds will not allow that to happen.

Drinking a well crafted, complex beer will not fade away. Take a look at Europe and the beers they have been drinking for thousands of years. Still think it's a fad? Beer is one of the earliest beverage's known to man and the first beers drank were not light beers. The macro beer that the majority of people drink now is the fad. That light beer will hopefully fade out to make room for the wonderful micro brews being thought up today.

C: What's your biggest gripe about beer places?

N: My belly really appreciates it when a great beer bar has an equally great food menu also. I don't need bells and whistles or $30 dishes; just simple, in-house, hand-made, well-crafted food.

It is awesome to see the direction that beer bars are taking to improve their food menus. They understand that a full flavored brew deserves a better partner then a bag of chips. Beer has such wide varieties of flavor, which allows vast opportunity for pairing with food (and desserts)!! Kudos to all the wonderful bars and restaurants out there cooking up a mean menu.

C: You've talked about brewing? How often do you brew?

N: My dad and I brew about every two to three months. Our busy schedules don't really allow us to get to brew more often than that, unless needed for an ALEiens competition. We started all-grain brewing a little bit over a year ago.

C: How did you get involved with Weyerbacher? What do you do?

N: The chance to work for Weyerbacher was a case of the "right place, right time." After substitute teaching for four and a half years, I was struggling with not getting a teaching position this year. While discussing my lack of a teaching job with Jeff Lavin at The Hulmeville one night, Weyerbacher's Philly rep, Mike Lubieski, came over to say "Hi." He asked me if I knew that Weyerbacher was hiring a New Jersey Representative and then told me I should apply.

I already had met our National Sales Representative, Bob Fauteux, at an ALEiens meeting, so I contacted him the next day. After two interviews, some Imperial Pumpkin cookies for Dan Weirback, and some homebrews for the brewers, I was hired.

I was so excited to finally land a job with a company that was just as excited to have me as an employee! I spent my first week working in the brewery helping to brew, bottle, stuff variety packs, and clean. So far, it has been a dream-come-true.

I am still getting used to the fact that I get to talk about beer everyday instead of teaching, but I look at it as I am educating the masses about great beer. "Spreading the good word of the Ale" is what I do now.

I am Weyerbacher's New Jersey Sales Representative. I spend my days covering the whole state of NJ and meeting great people. Most days I make numerous stops at liquor stores and a few bars and restaurants checking on their Weyerbacher stock. At night I host liquor store tastings and "Meet the Brewery" nights.

All in all, I talk about beer all day, everyday. Love it. I get to go up to the brewery a couple of times a month for meetings and to pick up samples. I really enjoy seeing the guys in action and smelling the wort boiling. I wish I could spend more time at the brewery, sampling Insanity fresh out of the barrels, yum!

The group of guys and Barb we have at the brewery are the hardest workers. Everyone needs to know how much hard work really goes into his or her beer. I always try to make sure I let people know just how much time goes into hand crafting their delicious brew.

C: Do you maintain a beer cellar? If you do, what are you in the process of maturing?

N: YES! I've recently drunk numerous bottles out of my stock and they were all wonderful. My friends all have a pretty sick collection also. I love getting a small group together. Everyone brings a couple bottles, and we make a great evening out of it.

1993: (I was 9)!!
Samuel Adams Triple Bock

2000: I was 15 (she laughs)
Weyerbacher Quad, Imperial Stout

2001:
Weyerbacher Blithering Idiot

2002:
Sierra Nevada Big Foot Barley Wine
Weyerbacher Imperial Stout;Quad

2003:
Weyerbacher Raspberry Imperial Stout, Blithering Idiot

2004:
Dogfish Head Old School Barley Wine

2006:
My first homebrew, Kings and Barne's IPA, just to have, not to drink
Dogfish Head World Wide Stout

2007:
JW Lee's Harvest Ale

2008:
Brother Wheel's and Brother Benny's Homebrewed Barley Wine
Stone Vertical Epic 08-08-08
Thomas Hardy's Ale
Green Flash Barley Wine
Boulder Killer Penguin barley wine
Weyerbacher Insanity; Blasphemy; Prophecy
Fuller's Vintage
Southern Tier Back Burner Barley Wine
Goose Island Bourbon County

2009:
Bill School's Homebrewed Barley Wine
Weyerbacher Imperial Pumpkin; Riserva
Dogfish 120 Minute
Cantillon Rose de Gambrinus

2010:
Weyerbacher's 15th Anniversary; Imperial Pumpkin
Homebrewed Belgian Grand Cru
Mikeller Barrel-aged Breakfast

2011:
Captian Lawrence Rosso e Marrone Batch #3
Samuel Adam's Utopias
Weyerbacher Blasphemy
The Bruery's Marron Acidifié
Founders KBS
Lost Abbey Deliverance; Red Poppy
Westvleteren 12, not sure of it's brew date

C: How geeky are you? Do you grow hops or wrangle yeast?

N: We've tried growing hops for the past two years but our bamboo is quickly taking over everything in the back yard. That's something else to blame on my father.

C: What's your favorite beer and food combination?

N: Beer and desserts!!! I love cooking beer into my desserts. I have made cakes that have Southern Tier Crème Brulee soaked into them. Steve Hawk's cake, last year, had Framboise and Ballast Point Victory at Sea soaked into it. There's also the beeramisu, Blithering Idiot brownies, Merry Monks sugar cookies, World Wide Stout cupcakes, Imperial Pumpkin cookies, and Love Stout peanut butter cookies. Besides desserts, I am enjoying the brews from Italy paired with rustic dishes. I have been waiting for the perfect beer to accompany my favorite food.

C: Okay. Let me torture you: Name your favorite brewery.

N: Really? That's like asking what my favorite song is or even worse, beer. Depends on the year, season, week, food I'm eating, and the weather. I'm currently digging my homebrewed Rye Pale Ale, anything from 21st Amendment, Weyerbacher (duh), Yard's, Ballast Point, and everything local! Too many to list, which is a good thing!

C: What's so special about Hulmeville Inn?

N: Steve Hawk goes there. He's so groovy. Take a look at last year's and this year's Beer Geek BBQ beer list. Jeff Lavin is nuts. No further explanation needed.

P.S. It survived prohibition.

The Hulmeville has such a wonderful group of craft beer regulars. It's a meeting point for our ALEiens homebrew club, brewers, and everyone else. You always feel welcome and there's always a new beer geek to meet.

Cheers!

Photo: Philly Beer Geek 2011 Natalie DeChico with her headwear made of hops. In the competition, Natalie claimed her 5 karat "hop ring" was given to her by her 1st spouse, Newcastle Brown Ale.

Jealous of Natty's Hop Ring? Make your own, or just brew!
Cascade Leaf Hops 3 oz



If you don't have a flat bottle opener, you are missing one of the greatest designs around: Sleek, opens bottles without bending the caps, very cool!
Tablecraft S/S Bartenders Friend - Flat Pocket Opener
You Should Also Read:
Natalie DeChico Philly Beer Geek 2011 - Interview
Natty Eisbock Beer Geek '11 Talks About Beer
2011 Philly Beer Geek Finals Highlights


Related Articles
Editor's Picks Articles
Top Ten Articles
Previous Features
Site Map





Content copyright © 2022 by Carolyn Smagalski. All rights reserved.
This content was written by Carolyn Smagalski. If you wish to use this content in any manner, you need written permission. Contact Carolyn Smagalski for details.