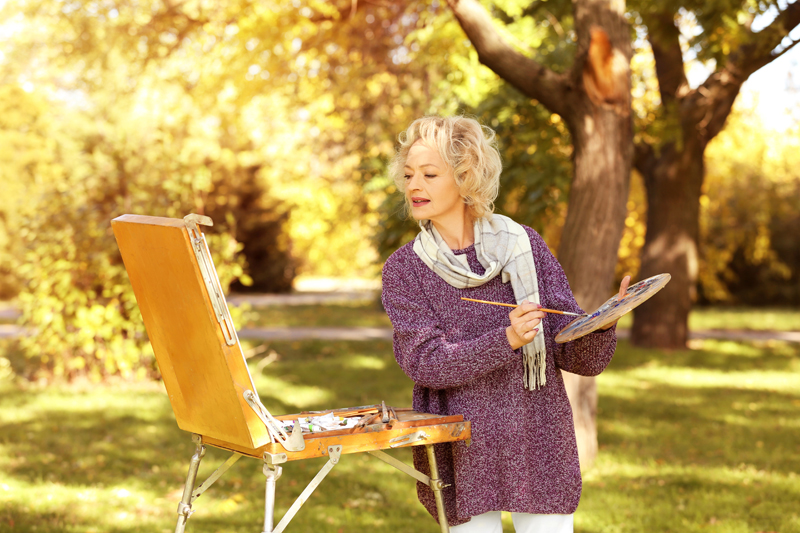 Planning for our retirement years takes on a new dimension when we can accept that we haven't even begun to tap our creative potential. As author and researcher Gene Cohen, MD, MPH (1944-2009,) noted in his book, The Creative Age, "The new juncture we have reached is one in which we move beyond studies of what aging is to what is possible with aging."

Understanding the enormity of the creative contributions older adults make to society enables us to accept our potential in later life, and encourages young people to think about possibilities in later years differently. We have to disregard the ageist notion that not working in a paying job means we are not contributing to society in a meaningful way. Creativity can be a means of making a significant social contribution and can become a very personal addition to our life satisfaction – and we can take this step at any time in later life.

Many creative artistic projects can be shared. A local woodworker in Laurel makes quality whirl-a-gigs and birdhouses out of wood and his wife paints them. Quilting and needlepoint projects often have more than one contributor. Videos, collages, cookbooks, calendars, and other artistic projects that have several components lend themselves to joint creative participation.

There are thousands of individuals through the ages who have made monumental creative contributions in older age. A few examples that represent the tip of the iceberg follow:

•Gertrude Jekyll, the English landscape architect and advocate of the natural garden, published two important books on gardening at age 75;

•Theodor Seuss Geisel, also known as "Dr. Seuss," and author of The Cat in the Hat, wrote You're Only Old Once at age eighty-two;

•Imogen Cunningham was still teaching art at the Art Institute of San Francisco in her early nineties – new photographs were published the year after she died, at age ninety-three.

An interesting approach to begin tapping into and enhancing our creative side is to begin writing an autobiography – we can write about our lives from various perspectives through the years: including historical events, inventions, health care evolutions, styles of clothes and hair, cars, and so much more, and link our surrounding environments to our life experiences through the decades. We can make our story as personal as we wish and share it with our friends and family as we go. Starting a writer's circle with some of our friends is a great way to begin and enjoy this project.

If we are spending the bulk of our time at home as a result of disabilities in older age, we can link to all types of inspiring lessons on line or through the library, e.g., music, writing, art, poetry, and begin collecting ideas and experimenting with a creative endeavor. There are other avenues for exploration -- studies have found that if we write in a daily journal and express our attitudes, feelings, and perceptions about all that we encounter each day, we will feel liberated; the process can bring immense satisfaction and feelings of accomplishment from honest and candid self-expression we may never have experienced before.

I've decided to take guitar lessons, and of course I love to write. I also love to garden. It's important to have balance as we age and tap into our creative potential. Our mental health improves as we begin to understand that creating a more beautiful world and making our interactions with others healthier we are contributing to a better quality of life for ourselves and others!



Related Articles
Editor's Picks Articles
Top Ten Articles
Previous Features
Site Map





Content copyright © 2022 by Patricia Villani, MPA, PhD. All rights reserved.
This content was written by Patricia Villani, MPA, PhD. If you wish to use this content in any manner, you need written permission. Contact Patricia Villani, MPA, PhD for details.