2011 Philly Beer Geek Bar-B-Q Photo Gallery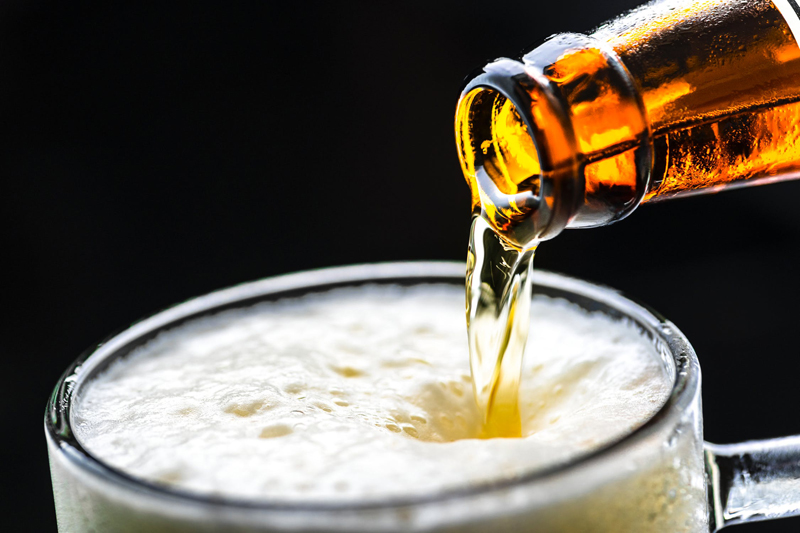 Natalie DeChico wanted to wear a hop crown to the Philly Beer Geek competition, but the vines weren't quite ready in early June of 2011. By July 10th, little cones of Willamette Hops hung thick on the vines, and her friends were happy to celebrate her victory as Philly Beer Geek 2011. Jeff Lavin, owner of the Hulmeville Inn, hosted a Beer Geek Bar-B-Q in honor of Natalie, and the crown of Hops added color to her beaming face.

"The Hulmeville has a BIG EGO and we like it that way," said Natalie. "E-GO! E-GO! E-GO! E-GO!" could be heard, chanted from the next room.

Jeff Lavin, owner of the Hulmeville Inn, dished out free hot dogs, burgers, and all the trimmings before bringing out a cake with the famous photo-shopped image of Natalie, Tom Kehoe of Yards, and a keg of Old Bart on it – the image used in one of her posters for her final Beer Geek presentation.

Natalie made her own beer-infused cake for the occasion and happily dished it out to hoardes of celebrants. As is tradition at the Hulmeville Inn, her visage on the cake was wrapped in plastic wrap to be kept in a cryogenic state until the next year's winner claims a new victory.

True to form, the Hulmeville Inn served the good stuff, including VooDoo Black Magick Imperial Stout at 15% ABV, Weyerbacher Hops Infusion on Cask, and Ovila Abbey Dubbel from Sierra Nevada Brewing Company.

If it is true that a picture is worth a thousand words, this 2011 Hulmeville Inn Philly Beer Geek Bar-B-Q gallery says it all:


Natalie DeChico and her Hop Growing Friend
Philly Beer Geek 2011 Natalie DeChico celebrates her victory at a Beer Geek Bar-B-Q, hosted by Jeff Lavin, Owner of the Hulmeville Inn.


Philly Beer Geek Champions
Philly Beer Geek champs Steve Hawk (2010) and Natalie DeChico (2011) celebrates Natalie's victory.


Philly Beer Geek Finalist Andrew Pope with Steve Hawk
Philly Beer Geek Finalist and veteran competitor Andrew Pope hangs with Steve Hawk, Philly Beer Geek 2010.


Neil Harner of Philly Beer Scene Magazine
Philly Beer Scene Magazine Publisher Neil Harner is on the scene.


Mat Falco of Philly Beer Scene Magazine
Philly Beer Scene Magazine Publisher Mat Falco is on it, too.


Steve Hawk, Jeff Lavin, and Natalie DeChico
Hulmeville Inn Owner Jeff Lavin is flanked by his famous duo of Philly Beer Geeks – Steve Hawk 2010 Champ on the left, and Natalie DeChico 2011 on the right.


Philly Beer Geek 2011 Natalie DeChico
"It's all about YOU!" says Philly Beer Geek 2011 winner as she dishes out cake to scores of celebrators.


Philly Beer Geek 2011 Natalie DeChico and her dad, Joe DeChico
Natalie and her Dad, Joe DeChico, brewed beer together for years, inspiring her to go after the title as Philly Beer Geek.


Philly Beer Geeks Take the Cake
The traditional cake will be saved for next year's celebration.


NatalieDeChico on the back patio
Hulmeville Inn's rear patio is the perfect place for grilling and chilling!

Cheers!


You Should Also Read:
PBG 2011 Natalie DeChico Future Ambitions
2011 Philly Beer Geek Finals Highlights
Beer Trivia for Beer Geeks


Related Articles
Editor's Picks Articles
Top Ten Articles
Previous Features
Site Map





Content copyright © 2022 by Carolyn Smagalski. All rights reserved.
This content was written by Carolyn Smagalski. If you wish to use this content in any manner, you need written permission. Contact Carolyn Smagalski for details.