London Grill of Philadelphia Celebrates 20 Years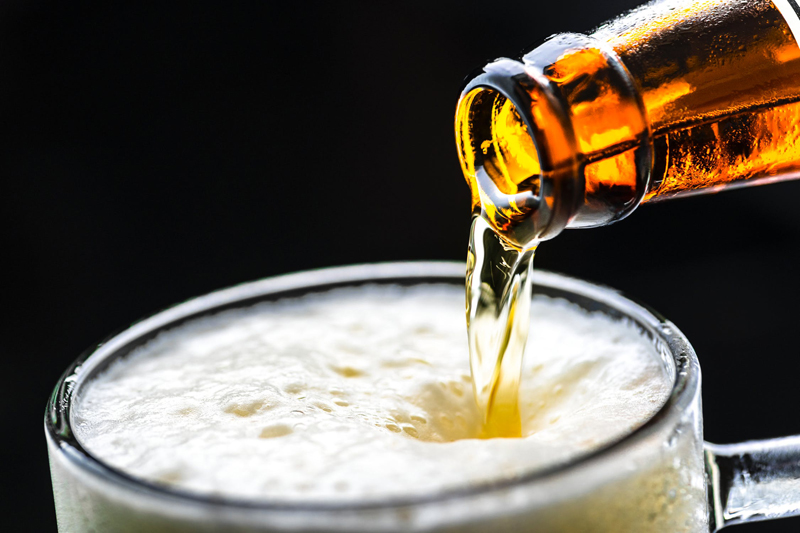 London, the word, glows bright neon red against a background of classic American Bond brickwork in this Fairmount Philadelphia neighborhood. In the early days, this location was known as McMenamin's Tavern, long before it gained its neon name through owners Peter and Melinda Coughlin. In 1991, Michael and Terry Berch McNally took over as proprietors and renamed it London Grill.

London Grill has stood the test of time. You can see it in the eclectic look of the bar and dining areas. In early evening, large arched windows, accented with brick soldiers on the exterior, cast soft shadows across the interior of its rich carved wood and brass bar. The hammered tin ceiling echoes a 1900s, turn-of-the century feel, while hi-def screens keep Philly sports fans on the edge of their seats. Located in the heart of the Philadelphia Museum district, the walls of London Grill are filled with original works of art – bulbous blue breasts on one wall, contrasted by a Abhau painting of greys, labeled with pensive humor, "At 1:30 in the morning, Kafka confesses that he's always wanted to be a bartender."


Consistently nourished by the warmth of Terry McNally's gregarious personality and the culinary skills of Chef Michael McNally, London Grill has just celebrated its 20th Anniversary. Charged with the excitement of a brewers' duel, the partners challenged each other in an American Craft Beer Battle to create collaborative brews for the occasion. The battle, held Monday, September 19, 2011, pitted Chef Michael McNally and Head Brewer Gordon Grubb of Nodding Head in Philadelphia against Partner Terry Berch McNally and Head Brewer Brett Kintzer of Stoudt's Brewing in Adamstown, PA.

The battle was validated by a team of judges, all well-known names in the Philadelphia beer world. Among those sharpening their pencils to assess the qualities of the collaboration beers were: Tom Peters, owner of Monks Café and the Belgian Café; Tom Kehoe, owner of Yards Brewing Company; Jeff Keel, owner of The Bishop's Collar and St. Stephen's Green; Casey Parker, Co-owner of Jose Pistolas; Casey Hughes, Head Brewer of Flying Fish Brewing Company of Chery Hill, NJ; George Hummel, Owner of Home Sweet Homebrew and author of
The Complete Homebrew Beer Book; Marnie Old, co-author of He Said Beer, She Said Wine; and Carolyn Smagalski, Beer Journalist of BellaOnline and co-founder of the Philly Beer Geek Competition.

The Nodding Head collaboration, Heaven & Hell, was crafted with a complex malt bill, one that included Brown malt, Munich malt, Maris Otter, Rye malt, and a touch of Chocolate malt. As a result, the body of this beer was a seductive ruby with brilliant orange highlights. Darjeeling tea and Hallertauer Hops served as secret ingredients of parallel flavor profiles, imparting an herbal, yet super-clean mouthfeel to their entry.


The Stoudt's Collaboration was no less creative. This London Grill Peach Porter glowed with royal purple intensity, the brilliance of an amethyst gem. The nose was resplendent with vanilla and amaretto nuttiness, layered with flavors of dark fruit, peaches and a firm malty foundation. Reminiscent of Berch's Beer Drinks, which were recognized by the New YorkTimes, this distinctive beer went beyond the limits of the horizon, but just couldn't overcome the competition.

In the final stretch, Heaven and Hell seized the winner's crown, but both collaboration beers made savory pairings with cheeses selected from DiBruno Brothers of 1730 Chestnut Street in Philadelphia. An elaborate dinner was served in conjunction with the 20th Anniversary celebration, showcasing a number of ambrosial dishes from Chef McNally's stunning new menu. Like manna from heaven, flavors of crispy Pork Belly with watermelon, sesame seeds and cilantro melted on the tongue. Foie Gras Tuna Tartare echoed London Grill's traditional line of gourmet fare, coupled with bacon-wrapped figs stuffed with bleu cheese and arugula, and grilled Octopus with chorizo and salsa verde. Pastrami Duck with violet mustard and Marsala braised veal cheeks paired with smoked mushrooms paired stunningly with Protos Tinto Fino 2009, a highly-prized, world-famous wine of 18% ABV from the Ribera Del Duero region of Spain.


London Grill's taps flowed with exotic beers for the occasion. It could have been touted as a Rare Beer tasting, as the seductive Abyss by Deschutes of Portland Oregon flowed from the taps. Yard's George Washington Porter Aged in Bourbon Barrels, Beer Camp Beer brewed at Sierra Nevada and aged in DuMOL Pinot Noir barrels at Russian River, Flying Fish Exit 16, Victory Brewing CBC Pils, and Life &Limb, a collaboration beer created between Victory Brewing and Dogfish Head Craft Brewery were all on hand.

Throughout their 20 years at the London Grill, the McNallys have shaped the face of Philadelphia's restaurant community. In 1994, they established the Art Museum Restaurant Association, and were one of the first restaurants in Philadelphia to showcase local craft beers served at a dozen taps.

Memorable celebrations from nearly 20 years ago included their nationally-acclaimed Bastille Day - combining London Grill's Marie Antoinette (Terry McNally) with the imposing Eastern State Penitentiary as its backdrop Bastille. Chef Mike and son Jake McNally established the London Grill Kid's Cooking class; Mike continued on with his home-cured charcuterie, house-made ice creams and sorbets, and a meatball menu that gained international acclaim in Bon Appétit Magazine.


The James Beard Foundation recognized the McNallys with a commemorative membership fortheir work with the culinary foundation. Over the years they have hosted Brewer's Plate Dinners, book signings in conjunction with Philadelphia's Book and the Cook event, earned the title of Best Neighborhood Restaurant from Philadelphia Magazine, and became a key player in the 20th Anniversary Dining Out for Life dinner, supporting nutrition programs throughout the community.

As icing on the cake, Terry Berch McNally twisted her ankle just hours before the 20th anniversary celebration party, but the smile never left her face. Bliss is like that.

Cheers!

Photos are: (from top) London Grill in Fairmount, Philadelphia; Interior of London Grill; Judges for the American Craft Beer Battle: Carolyn Smagalski, Jeff Keel, Casey Parker, Tom Peters, George Hummel, Tom Kehoe(out-of-sight), Casey Hughes, Marnie Old; Chef Michael McNally; Terry Berch McNally; and DiBruno Cheese selection

You Should Also Read:
Beer Inspired by Tradition
Saison & Biere de Garde at Farmer's Cabinet
1st Women's Collaboration Beer - Project Venus


Related Articles
Editor's Picks Articles
Top Ten Articles
Previous Features
Site Map





Content copyright © 2022 by Carolyn Smagalski. All rights reserved.
This content was written by Carolyn Smagalski. If you wish to use this content in any manner, you need written permission. Contact Carolyn Smagalski for details.