1st Women's Collaboration Beer - Project Venus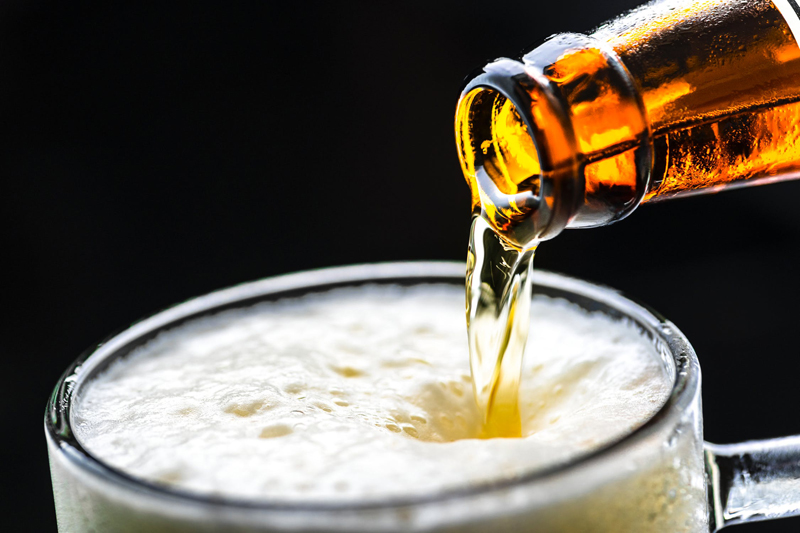 Women brew … Women brew … Women brew. Listen as the echo reaches your ears, like an ancient chant from the lips of Ninkasi, Isis, or Tjenenet - goddesses who inspired the brewing of ethereal beer, hypnotizing warriors who succumbed under such seductive power. These women, these brewers became high priestesses in their eyes, and eventually their queens and objects of their adoration. Eventually, the Industrial Revolution, the patriarchal Churches, the world at war, and Prohibition in America all worked to wrest brewing from the hands of women. But like flowers in the field that blossom eternally, women brewers keep rising by virtue of their innate abilities – their sensory perception, their ease and comfort at the grill, and their artistic sensibilities. Once again, their numbers are growing within the world of commercial brewing, and they are taking hold as a force to be recognized.

As members of the Pink Boots Society, Megan Parisi of Cambridge Brewing, Laura Ulrich of Stone Brewing, and Whitney Thompson of Victory Brewing are experienced artisans whose time has arrived. Inspired by a conversation they had at the 2010 Great American Beer Festival, they acknowledged the popularity of collaboration beers in the brewing world. Collaborative beers had brought a lot of attention to the "Brett Pack" - Sam Calagione of Dogfish Head Craft Brewery, Rob Tod of Allagash Brewing, Vinnie Cirluzo of Russian River Brewing, Tomme Arthur of the Lost Abbey, and Adam Avery of Avery Brewing. The male rockstars seemed to be joined at the hip, making hip brews, and gaining monumental attention in the world of beer. Now, it is the women's turn to collaborate, in their latest venture called "Project Venus."


The women were well aware of the numerous award winning brewers among their own ranks: Tonya Cornett of Bend Brewing, Jenny Talley of Squatters Pub, Carol Stoudt of Stoudt Brewing, Liz Laughlin of Rock Bottom College Park, Jamee Parsons at Moon River Brewing, Lori Wince of Weasel Boy Brewing, Kelly Rabjohns of Snake River, Teri Fahrendorf, Road Brewer and founder of the Pink Boots Society, and many more. "So, we decided to throw our own party," said Megan Parisi. She continued, "People hear about Carol because her name is on the brewery, but who knows Jen Talley? Teri? And so many others? They should know our names. Now, maybe they will. I just want people to recognize once and for all that we are, in fact, equals. We're a heck of a lot cuter in most cases, too."

On Friday, January 21, 2011, the three brewing mavens joined together in making the 1st all-women's collaborative brew at Cambridge Brewing in Cambridge, Massachusetts. Laura had arrived from Escondida, California, and Whitney had arrived from Downingtown, Pennsylvania just before snowflakes began to fall. They had decided to create their initial brew as a small 10 BBL batch that would be distributed in the Boston area, since Cambridge does not currently have a bottling line.
But, they all agreed that they would be receptive to any offers from their male counterparts "to pick it up for bottling," extending their welcome across lines that had no need for gender bias.

This first collaboration is a Belgian Dubbel, with flavors of Curacao oranges and tropical tangerines, orange blossom honey and Asian saffron, the most expensive spice in the world. It is fermented using Cambridge Brewing Company's house Belgian yeast strain, the very same yeast used in CBC's Weekapaug Gruit, a Scottish Herbed Ale with biscuit earthiness and spice-cake sweetness.

Will this collaborative brew expand to include a trip to Belgium, invitations to a Hops Farm, or a "Project Venus" tour across the country? In the words of Alexander Pope:

"A straggling few got up to go, leaving there the rest,
With that hope which springs eternal within the human breast."

Cheers!
Photos are (from top): Whitney Thompson of Victory Brewing Company; Brewers Tonya Cornett of Bend Brewing and Teri Fahrendorf, Founder of the Pink Boots Society; Megan Parisi of Cambridge Brewing and Laura Ulrich of Stone Brewing Company

Fun stuff for women who love beer:

Zable(tm) Sterling Silver Beer Mug Bead / Charm
- Charm them with a beer mug of shiny sterling silver

925 Silver CZ BEER CHARM BEAD fits European Charm Bracelet
- Attract attention with this lovely little conversation piece

 
You Should Also Read:
Carol Stoudt & Stoudts Brewing Company
Pink Boots Society - Women in Brewing
A Super Bowl Message to All Women from The Beer Fox


Related Articles
Editor's Picks Articles
Top Ten Articles
Previous Features
Site Map





Content copyright © 2022 by Carolyn Smagalski. All rights reserved.
This content was written by Carolyn Smagalski. If you wish to use this content in any manner, you need written permission. Contact Carolyn Smagalski for details.