Cookie Recipes Pumped Up with Seasonal Beer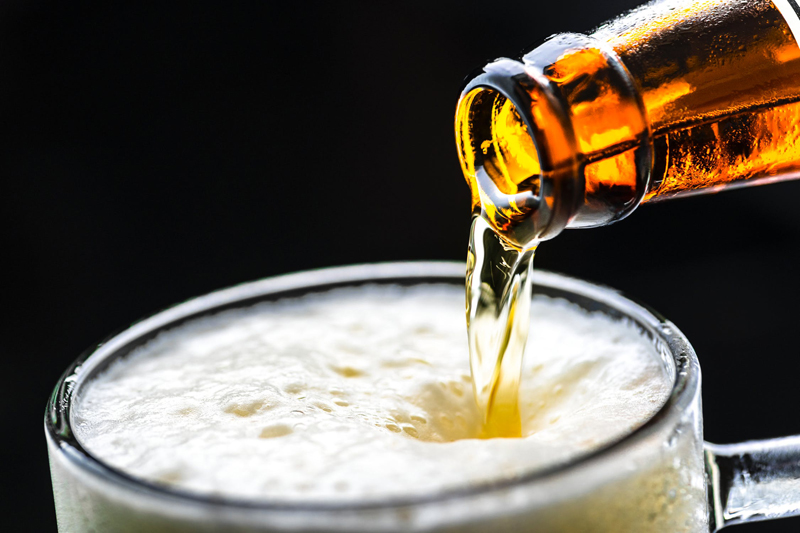 To a true connoisseur of happiness, nothing resonates with as much gusto as a holiday. The spirit is unleashed, opening new avenues of creativity. For a brewer, Thanksgiving provides the opportunity to produce pumpkin ales loaded with cinnamon, clove and allspice. Christmas is even better – a forum for Winter Warmers, doubled-up with complex malts and gently aged in Bourbon barrels or smoked over wood chips of alder. And for the New Year, twelve Days of Barley Wine doesn't seem over-the-top.

For the self-appointed holiday chef, the kitchen is full of rattle-and-hum. Pies of pumpkin, pecan and apple puff up in the oven like dancing ladies, while the sizzle of stuffed figs and bacon releases waves of lustful desire. A cornucopia of fruit, nuts and cookies makes a welcome conversation piece. With beer as a secret ingredient, traditional cookie recipes achieve lighter crispiness, are less sweet, and marry to a digestif with remarkable zest.

During the Great American Beer Festival in Denver Colorado, the Craft Beer and Food Pavilion presents foodies with powerful ideas for beer and food pairing, managing a beer-chef kitchen, and baking with your favorite brew. In 2011, Philly Beer Geek Natalie DeChico and Beer Fox Carolyn Smagalski presented Weyerbacher beer paired with a sweet bar of handcrafted goodies: simple, elegant cookies, sugar drenched peanuts, and Spicy Chex Mix all crafted with beer.

The most delicate treats showcased were Weyerbacher Imperial Pumpkin Cookies and Merry Monks Sugar Cookies. Using a boldly spiced, seasonal beer with 8% alcohol in the pumpkin cookies releases assertive flavor, while adding a crisp finish to this confectionery. The sugar cookies achieve a light edge from the Belgian yeast in Merry Monks, while the beer's fruitiness emerges in layers of subdued sweetness.

Weyerbacher Imperial Pumpkin Cookies

Ingredients

2 ½ cups all-purpose flour
1 teaspoon baking soda
1 teaspoon baking powder
1 teaspoon pumpkin pie spice
½ teaspoon salt
1 cup granulated sugar
½ cup light brown sugar
½ cup butter (1 stick), softened
1 cup LIBBY'S® Pumpkin Pie Puree (not pure pumpkin)
1 large egg
2 teaspoons vanilla extract
½ cup Weyerbacher Imperial Pumpkin Beer

Glaze (recipe follows)

Directions

PREHEAT oven to 350° F. Grease baking sheets or line sheets using parchment paper.

COMBINE flour, baking soda, baking powder, cinnamon, nutmeg and salt in medium bowl. Beat sugar and butter in large mixer bowl until well blended. Beat in pumpkin, beer, egg and vanilla extract until smooth. Gradually beat in flour mixture. Drop by rounded tablespoon onto prepared baking sheets.

BAKE for 15 to 18 minutes or until edges are firm. Remove cookies off pans and cool on wire rack. When cookies are cool, dip each top of the cookies in beer glaze and sprinkle with decorations while wet.

Natalie's Beer Glaze: 1 cup powdered sugar, a dash of pumpkin pie spice, and 1 tablespoon pumpkin beer to make a consistent glaze. Add more or less powdered sugar to make a smooth glaze.

Merry Monks Sugar Cookies


Ingredients

2 ¾ cups all-purpose flour
1 teaspoon baking soda
½ teaspoon baking powder
1 cup butter, softened
1 ½ cups white sugar
1 egg
1 teaspoon vanilla extract
1 bottle Weyerbacher Merry Monks Belgian Style Tripel
Parchment Paper

Directions

REDUCE Merry Monks Ale to a syrup by simmering in a pot until the beer coats the back of a spoon and resembles honey or maple syrup. The bubbles will become glossy and look bigger than they did during the beginning of the reduction process. The beer syrup with be bitter. That is okay.

Preheat oven to 375° F (190° C). In a small bowl, stir together flour, baking soda, and baking powder. Set aside.

IN A LARGE BOWL, cream together butter and sugar until smooth. Beat in egg and vanilla. Gradually blend in the dry ingredients.

After the batter is made, fold in ¼ cup of the Merry Monks syrup. Continue to fold batter until its looks marbled. Feel free to add more Merry Monks syrup if needed. Do not mix completely in as you want the marbled look. It should look sloppy and resemble cottage cheese. Using a spoon, scoop out tablespoon-sized portions, and place onto parchment paper-lined cookie sheets.

BAKE 8 to 10 minutes in the preheated oven, or until golden. Let stand on cookie sheet two minutes before removing to cool on wire racks.

Beer Alternatives: Blithering Idiot, Old Heathen, Framboise, Nutbrown Ales, and fruit beers.

Cheers!

Photos are (from top): Natalie DeChico, Philly Beer Geek 2011, Weyerbacher Ambassador at the Great American Beer Festival; Merry Monks Sugar Cookies

It's hard to find a great cooling rack for cookies. this one really works:
Professional Cross Wire Cooling Rack Half Sheet Pan Size


The perfect spatula:
Wusthof Gourmet 4 1/2" Turner
You Should Also Read:
Ten Tips for Cooking with Beer
Witch's Brew Spice Cake Recipe
Sean Paxton - Homebrew Chef Shares Beer Recipes


Related Articles
Editor's Picks Articles
Top Ten Articles
Previous Features
Site Map





Content copyright © 2022 by Carolyn Smagalski. All rights reserved.
This content was written by Carolyn Smagalski. If you wish to use this content in any manner, you need written permission. Contact Carolyn Smagalski for details.