Ten Tips for Cooking with Beer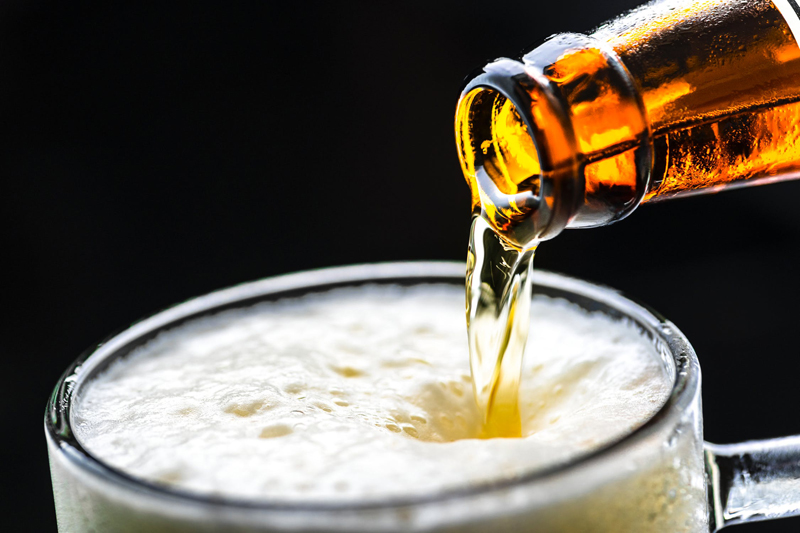 As the Beer Fox, my dedication to beer is expansive, encompassing the history and development of beer, brewing, beer styles, brewmasters and their methodology, beer judging, festivals, taste, and of course, beer with food. Cuisine a la Biere is one of my favorite fields of focus. Although Belgians and Germans have been cooking with beer for centuries, America's chefs have featured wine or whisky in gourmet dishes with much greater prominence. This seems to have created a knowledge gap in the world of flavorful cuisine. Beer Chefs who feature beer in food do so with great passion, but fine dining establishments have invested beaucoup bucks in wine lists, and find it difficult to transition into the newly emerging excitement of beer-dressed dishes.

Kudos must be given to the beer chefs who champion the cause of creating delectations with beer. Bruce Paton, Brian Morin, Rick Martin, Jorge de la Torre, Mark Morrocco, Lucy Saunders, Lisa Morrison, Dave Lieberman, Teddy Folkman, Sean Paxton, the Trappists of Chimay, Ted Reader, John Schlimm, Adam Glickman (and more) belong to this growing nucleus of Executive Chefs who have mastered the art of infusing flavorful foods with just the right touch of beer. Cookbooks dedicated to cuisine a la biere are growing in popularity, and will continue to do so as more restaurants feature craft beer on their menus.

As a Craft Beer Enthusiast, you may find it exciting to experiment. With a few bits of guidance, you can be off-and-running as a master of beer cuisine.

Ten Tips for Cooking with Beer

Tip #1: As a beer cook, you need to be able to quickly pinpoint the profiles of each style of beer to create harmonious flavors in each dish you add beer to. Garrett Oliver has a perfect "cheat sheet" in the "Brewmaster's Table." For each style of beer, he gives a brief one-liner that targets the main points beautifully. You might even wish to transfer this information onto a set of recipe cards - laminate them, attach a ring to hold them together, and hang them on a hook where you cook for quick reference

Tip #2: Use sour styles of beer as an alternative for vinegar in vinaigrette salad dressings. Berliner Weisse is quite acidic and will work well. Although Lambic is rare (normally only on draft), you can find fruit lambic or gueuze at your fingertips. These substitute well for raspberry vinegar. Rodenbach Grand Cru has enough acidity to carry the flavors through well. When making these dressings, use Olive Oil for successful blending. Lighter oils are too thin to mix well with beer.

Tip #3: Dry, hoppy IPA works well in dishes with oily fish, such as salmon, or with mussels. Use a light touch. For stews made with meat, (particularly beef, pork, or lamb) use Scottish or Irish Ale, Bock, or Belgian Ale. Chicken, turkey and Cornish Game Hens work well with Saison or French Biere de Garde.

Tip #4: Deep frying in beer batter can add airiness and a delicate profile to chicken, veggies, shrimp, or seafood. Be careful not to choose a beer that is highly hopped because it can add bitterness to the food. Watch the color, too. Food that looks burned (from using a dark beer) is unappetizing...so, choose light beer with low hoppiness.

Tip #5: Using Rauchbier in a marinade for grilled salmon imparts a similar flavor as cooking it between planks of wood over hot embers, as in the traditional grilling methods in Alaska.

Tip #6: When adding beer to a sauce, be sure to add it when the sauce is very hot, but not boiling. This will reduce the alcohol in the beer, while allowing the malty and/or fruity flavors of the beer to shine through. Hoppy beers can be used in very spicy sauces and can add a distinctive zest that wows the palate. Malty beers work better with meaty dishes, while lighter wheat beers add zing to seafood and poultry.

Tip #7: When curing foods with beer, use one that has characteristics you want to impart in the food. Examples: Hefeweizen has flavors of clove and fruit - you want to give these flavors to ham, so this is a perfect match. Kriek, with its cherry profile, and peche, with its peachy flavors, blend well with chicken - they tenderize and add flavors that go well with fruity sauces you may wish to use as a garnish. Chocolate Stout is a perfect addition to a chocolate cake - It adds moisture and a richness that can't be beat!

Tip #8: When making fruit pies, you may use up to 4 oz. of beer, but add an additional tablespoon of flour to the filling. Choose a beer that will enhance the flavor- lambic for tartness; kriek or framboise to blend with cherry, apple, or peach; scottish ale for pecan pie. Avoid heavily hopped beers.

Tip #9: As we gently roll into early fall, thoughts of spiced cake with cream cheese icing start titillating our brain. Consider the benefits of choosing the right beer as an ingredient in the cake. Beer can be used as a substitute for water or milk or as a supporting flavor-additive (substituting half of the liquid with beer). Oatmeal stout adds a creaminess to the cake. Russian Imperial Stout will paint a profile of fruit drenched in burnt brown sugar. You may even want to use a spicy beer - Verboden Vrucht (Forbidden Fruit), Allagash Odyssey, or St. Peter's Spiced Ale - for that blast of exotic stimulation on the tongue.

Tip #10: When working with chocolate and beer, Belgian chocolate has the most delightful flavors. Unlike other chocolate that may come from South America, Belgian chocolate is typically made with African chocolate beans - a robust flavor that stands up well with a strong malty beer. Use Baltic porters, Quadrupels, Dark Wheat Beers, or Dark Abbey Beers. Stir the chocolate constantly when adding beer, and don't allow the chocolate to reach the boiling point. If it does, it will coagulate and lose its soft, amorphous body. Once this happens, the chemical action that occurs is impossible to reverse, and you will need to start over.

Cheers!
 
You Should Also Read:
Grilling With Beer Workshop - Marinades - Recipes
Creating Desserts With Beer
Beer Float Recipes - Sweet Seduction


Related Articles
Editor's Picks Articles
Top Ten Articles
Previous Features
Site Map





Content copyright © 2022 by Carolyn Smagalski. All rights reserved.
This content was written by Carolyn Smagalski. If you wish to use this content in any manner, you need written permission. Contact Carolyn Smagalski for details.