Robin Worley Boozey Bat Contest, Austin, Texas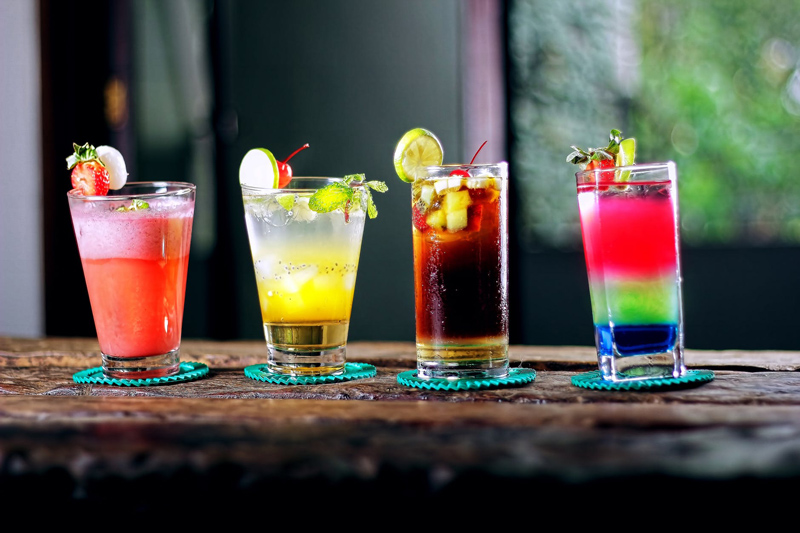 My friend, Robin Worley, is a liquor merchandising artiste extraordinaire! She's been setting up eye-popping displays of dozens of major brands of liquor and other spirits for more years than I'm at liberty to disclose. She has loads of ghoulishly clever fun on the job at Halloween. My current favorite is the creepy black bat display she just created for holiday Bloody Marys, here in the "Bat Capital of the World." If you're the first person to locate this bat, I'll give you $31.

Robin, a merchandising specialist at Republican National Distributing Company, is just an all-around artistic person. Even when she's sitting still at home watching TV at night, she's usually busy working on some art form or another, just for the heck of it. It's often more entertaining watching Robin work than watching whatever it is she's watching on TV. It's usually more educational, too. I love that about her. And she never leaves home without a camera.

Liquor laws vary from state to state; here in Texas, we rely on licensed liquor distributors to deliver liquor and liquor-based products from warehouse to store. Once it gets to the store, Robin makes sure it's set up in a way that will catch the eye of every consumer who walks in the door. She's really good at it. The liquor industry is highly competitive (Al Capone, bootlegging, NASCAR, and all) and Robin's created an avid fan base for doing what she does.

The liquor business here in the Lone Star State is very much a man's world but Robin has been able to overcome the gender barrier with grace, charm, and a talent for the job guys just don't seem able to duplicate. Republican National is the second largest alcohol distributor in the US, crowded with macho men around every corner, and Robin is doing just fine there.

Every time I go into a liquor store in the greater Austin, Texas, area, I look around for her magic touch. If she ever retires, liquor stores in Austin will look like too many of its suburbs - every unit the same, no character, no personality. Que lastima.

The liquor store owners love having her around. Her displays make great conversation starters and people like to shop where they can chat with the people working there. Makes us go back for more. Robin makes that easy. And profitable, I'd imagine. And she's certainly doing her part to keep Austin weird.

You could profit, too, by finding Robin's bat at a liquor store somewhere within the Chiroptera-crazy Austin city limits. Which bat? Follow the link below to my BellaOnline Cocktails forum and the post titled "Robin and the Halloween Bat Contest."

The first person to make this creepy find will get $31 off their next liquor purchase at the mystery store. Ask someone at the store how to claim your prize.

You must be at least 21 years old to enter my contest, just as you must be 21 years old to enter all Texas liquor stores. Only one prize to one winner and the contest ends when liquor stores close on All Hallow's Eve. Winner will be announced in this column immediately and mystery store location will be revealed. Send me a photo of you and the boozey bat and I'll include it when I announce the winner. (Wait'll you see what Robin's planning for Thanksgiving!)

Why $31? It's Halloween - trick or treat, y'all!

You Should Also Read:
Robin Worley Boozey Bat Contest, Austin, Texas


Related Articles
Editor's Picks Articles
Top Ten Articles
Previous Features
Site Map



Follow @drinkandbemerry
Tweet



Content copyright © 2021 by Sandy Hemphill. All rights reserved.
This content was written by Sandy Hemphill. If you wish to use this content in any manner, you need written permission. Contact Sandy Hemphill for details.