In my Microwave Low Carb Recipes Book, I provides practical information and tasty recipes that solely require the use of a microwave oven.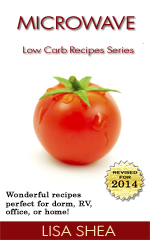 In the years that I've been writing about low carb, the top issue I've heard from my visitors is that they simply don't have time to cook healthy meals. They are too busy with work, with family, and with other activities. The result is that we eat junk food at home, and when we go out to eat we often settle for unhealthy fast food restaurants.
Every day we end up damaging our own health!
This 76 page print book presents easy ideas for preparing quick, healthy meals that you will love. Every recipe can be made with just a microwave. Even if you're at an office, even if you're in a college dorm, you can make these healthy foods and keep your body energized and happy.
From from spaghetti squash to teriyaki chicken, this book provides a variety of options to keep your palate tantalized. Get the perfect idea for your meal tonight and all month long!
All four of my low carb books provide core background information on how to successfully manage a low carb diet, in addition to the specific recipes which are the featured topic for that particular book.
Note: This book was written by me, so clearly my review is a little less than unbiased :) However, you can examine my writing style and recipes throughout this site, to know what type of information you will be getting in my book. Also, all proceeds from my book sales go to charity. You're helping a good cause, and helping yourself to become more healthy!
Buy Microwave Low Carb Recipes from Lulu.com
If you'd rather have an ebook version, I do offer an ebook version of this recipe book as well -
Microwave Low Carb Recipes ebook
Low Carb Books
- full listing of Lisa Shea's book library