Good Chinese food is a must over the two week period of the Chinese New Year celebration which is usually held starting in late January or early February, depending on the Chinese calendar. When planning a Chinese dinner, especially a celebration, several dishes are called for, including several vegetable dishes. One dish that is especially good and authentic is
Brown Door Chinese Broccoli
, which is a clone of a favorite dish served at the Brown Door Restaurant in Beijing, China. Chinese Broccoli, available at most Asian groceries and some well-stocked larger grocery stores, is also knows as Gai Lan, Gai Larn, Kai Lan, or Chinese Kale. A member of the same family as broccoli, it is high in nutrition (especially Vitamins A & C), and is absolutely delicious. Unlike regular broccoli, the stems and leaves are used, as well as the tiny flowerettes.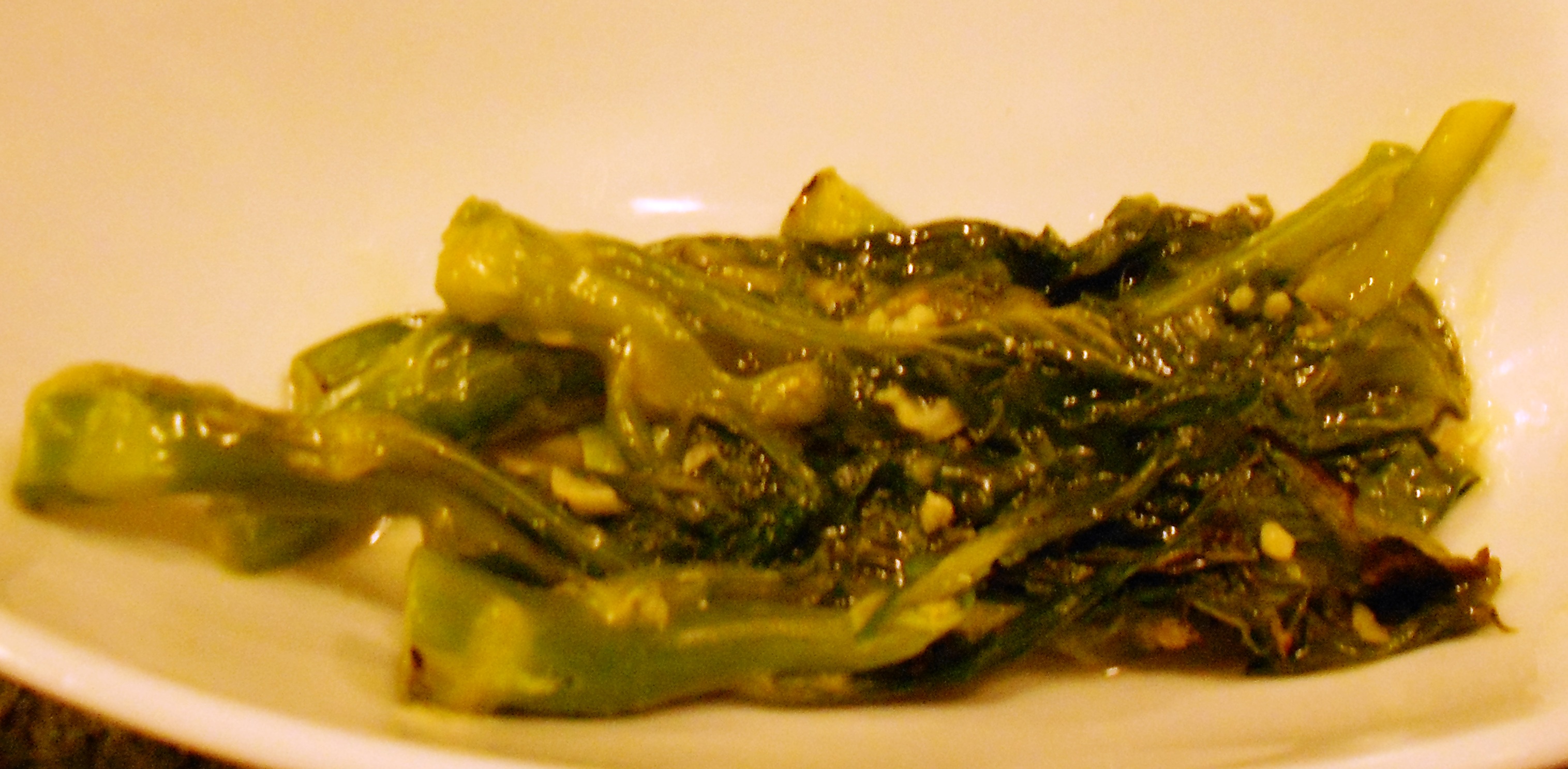 Brown Door Chinese Broccoli is quick to make, and requires a minimum of chopping. It is sure to become a favorite vegetable, and you'll want to make it all year long.
6 Servings
1 pound Chinese broccoli
1 cup chicken broth
2 cloves garlic, coarsely chopped
1/4 cup chicken broth, mixed with 1 teaspoon cornstarch
Wash the Chinese broccoli thoroughly, remove any yellow or damaged leaves, and cut a small portion of the stem end off.


Heat a large frying pan or wok over high heat; add the 1 cup chicken broth and garlic; lay the Chinese broccoli in the broth mixture.


Partially cover and let cook over high heat until the stems are crisp tender and at least half of the broth has evaporated.


Stir the chicken broth/cornstarch mixture in; when clear and slightly thickened, transfer to a serving platter and serve immediately.
Amount Per Serving
Calories 33 Calories from Fat 4
Percent Total Calories From: Fat 13% Protein 31% Carb. 55%
Nutrient Amount per Serving
Total Fat 0 g
Saturated Fat 0 g
Cholesterol 0 mg
Sodium 325 mg
Total Carbohydrate 5 g
Dietary Fiber 2 g
Sugars 0 g
Protein 3 g
Vitamin A 182% Vitamin C 118% Calcium 0% Iron 4%