Beer Glassware for American Beer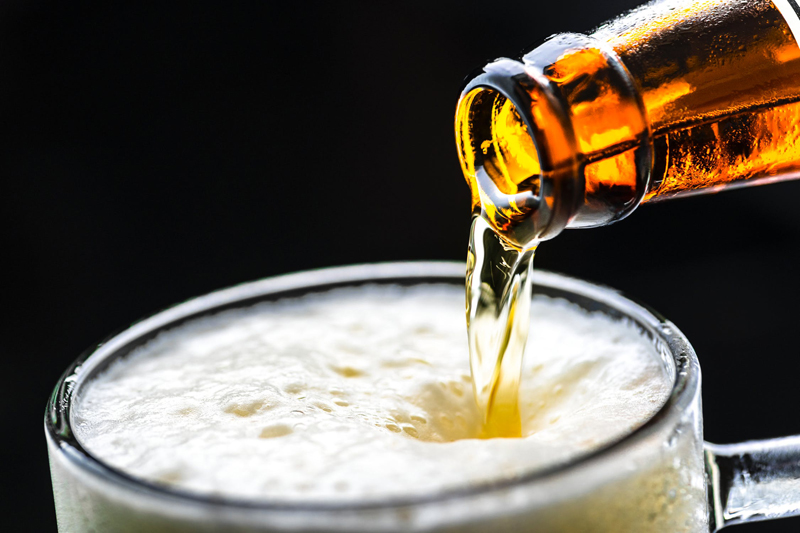 An Evolving Tradition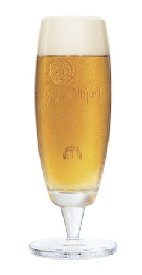 You could tell it was a fine piece of crystal. Holding it by the base, I tapped gently with my fingernail. The sweet ringing of a European bell resonated throughout the room, clear and lilting as the sound trailed off into a whisper. Thoughts of Josef Groll ran through my head, the Josef Groll of 1842. Only 29-years-old, but a genius in his own rite, responsible for the development of Pilsner Urquell, the imperial, golden, clear style of beer that revolutionized an industry. Stories abound about the monk who secretively smuggled the pedigree yeast strain from a monastery to pay off a debt to Groll. One can only wonder why a monk would be indebted to the likes of Groll, but the payment he returned was priceless to beer lovers for generations to come.
A beer like Pilsner Urquell needs to be displayed in such a work of art as this specially designed Pilsner Urquell glass…tall, tapering, with thin walls and a slight narrowing at the top. The body is displayed on a short stem with a substantial base that has raised lettering on the outer edges, "THE ORIGINAL PILSNER SINCE 1842 PLZN CZECH." The Pilsner Urquell logo is etched on the front side, with the gates to Plzensky Prazdroj (Pilsner Urquell Brewery) making a subtle statement in gold on the back. This pilsner glass channels the aromatic florals of Saaz hops to the nose, and displays the golden, clear body beneath a creamy, elegant head. A feast for the eyes that builds anticipation and initiates desires of the palate!
In our American culture, the idea of using proper glassware is often viewed as arrogant…uber geekish….snobbish…snotty. In the opinion of many, beer is meant to be served in red plastic cups at picnics, and clear plastic cups at ballparks. In the average sports bar, beer mugs are even made of heavy gauge plastic. In a culture that accepts Styrofoam dinnerware and wax-coated cups, plastic is a step up. Can't beer drinkers just stay with the status quo?
You would be hard pressed to find a restaurant serving wine in a plastic cup. Somehow, beer drinkers are expected to accept this as a fact of life. We do not.

According to Michael Jackson's New World Guide to Beer (published in 1988) there were "fewer than 40 brewing companies on the eve of the 1980s…" Current figures released by the Brewers' Association set the number of breweries in operation in 2007 at 1,442. The US beer industry produces 6,512,418,000 gallons of beer per year, generating $94 billion annually…and beer drinkers aren't even worth a glass?
Serving Beer & Cleaning Glassware
I do want my beer served in a glass, but I don't want a frosted glass. A frosted glass creates ice crystals that dissolve in the beer – ice crystals that were not intended by the brewer – and changes the body and temperature of the beer. Although drinkers of lite beers and mass-produced macros may want their beer served just this side of frozen, micros, including Belgians, European and English style beers, develop flavor and complexity at temperatures well above 32° Fahrenheit (0° Celsius).

Beer glassware should always be hand washed, preferably using a three-sink system. The first sink washes, the second rinses, and the third one sanitizes. Left-over, excess liquid should be dumped into an open drain, away from the sanitary conditions that have been set up for glassware…never into any of the three sink system. The washing sink should contain warm water and a solution of odorless, low-sudsing, non-fat, cleaning compound. A nylon brush should be used to wash all surfaces, both inside and outside, as well as the bottom of the glass.
The rinse sink should be filled with hot rinse water. Glasses should be rinsed "heel-in, heel out" for complete assurance that all parts of the glass are well rinsed. In this method, the glass is completely submerged into the rinse water by placing the glass in, bottom first. You then remove it from the water bottom first. This method prevents the formation of air pockets that may otherwise prevent the glass from being completely rinsed.
The sanitizing sink is the third step. This sink is filled with hot water and a sanitizing chemical that is specifically designed for beer and bar glasses. The same "heel-in, heel-out" method that was used for rinsing should be used for sanitizing.

As a final step, glasses should be allowed to air-dry, upside-down, on a stainless steel or plastic corrugated drain rack. Towel drying may spread germs to freshly sanitized glassware, and can leave lint residue that interferes with the head of the beer.
It is not uncommon for breweries throughout Europe to serve beer in glassware that has been specifically designed for their beer. The glassware is engineered to enhance the appearance, aroma and flavor delivery of the beer.
US beer companies are beginning to embrace this custom, as well. Jim Koch of Boston Beer Company released a beautifully designed glass by Rastal Glass in Germany, with a three tiered shape, for serving Sam Adams Boston Lager. Midnight Sun in Anchorage serves ales in a footed pint glass and Brooklyn Brewery in New York offers a footed pilsner, similar to the Pilsner Urquell glass.

Heartland Brewery in New York delivers their Berry Champagne Ale in a custom-designed flute. Anheuser-Busch recommends its Brewer's Reserve beers be served in pilsner flutes. In classic Belgian tradition, New Belgium Brewing in Fort Collins, Colorado uses beautiful barware, and Brewery Ommegang of Cooperstown, New York, has an entire series of glasses designed to deliver a complete beer experience to its customers. It adds a layer of sophistication to the world view of American beer.
Cheers! 

This is a great starting point for classic beer glassware. You may wish to scan the Spiegelau collection for a variety of other suitable glasses. Don't avoid wine glasses - you can appreciate the aromas in beer from these as well. You may also wish to seek out Stemmed Pilsners or Wheat Beer Glasses before expanding to Champagne Flutes, Wine Glasses, Water Goblets, or Digestive Glasses.
Spiegelau Barrel Beer Classics Lager Glass, Set of 6 in Barrel Gift Tube


Spiegelau Beer Classics Ultimate Beer Glass Set 6-pc.
You Should Also Read:
Eight Essential Beer Glasses for Your Bar
A Classic Beer Guide for Women
Beer for Women - Belgian Biere Babes


Related Articles
Editor's Picks Articles
Top Ten Articles
Previous Features
Site Map





Content copyright © 2018 by Carolyn Smagalski. All rights reserved.
This content was written by Carolyn Smagalski. If you wish to use this content in any manner, you need written permission. Contact Carolyn Smagalski for details.