Cigars and Beer - Beer Fox Pairings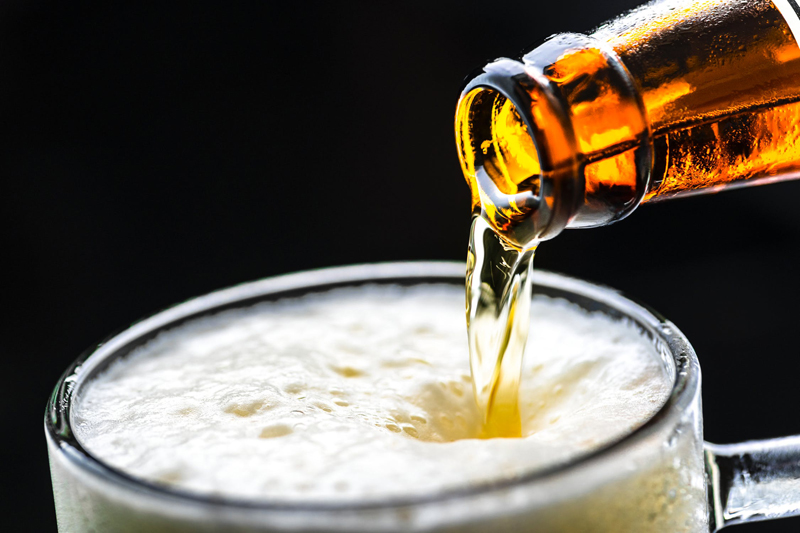 Supple brown leather chairs and cherry wood draw you into hallowed chambers, a room resplendent with the eclectic mix of Wall Street opulence and Georgian luxuriance. There is a sexual power here, one that speaks silently of alpha-male smugness, money and confidence. A domain that was once strictly male, but one in which the door is ajar for those self-assured ladies who dare to set foot upon such sacred ground.

This is the imaginative World of the Cigar, that prop of power so closely associated with Capitol Hill, wealth, Hollywood, and success. Among Cigar Aficionado's Top 100 Cigar Smokers of the 20th Century, there are three women – Whoopi Goldberg, Demi Moore and Marlene Dietrich - a testimonial to the fact that cigar appreciation is not a matter of gender, it is a matter of taste.

The aromas and flavors inherent in a finely crafted cigar can be appreciated and evaluated as effectually as the profile of a luxuriantly designed microbrew. When the two merge in harmonious coupling, the results can be Olympian. If the finer nuances of flavor, aroma, texture and style are ignored, however, the fury of hell can become unleashed on your delicate palate, a Stygian curse that can linger for hours and cast you into temporary misery.

A little education on the finer points of the cigar can serve you well. In its most basic form, a cigar consists of fillers, binders and wrappers of carefully selected tobaccos that have been dried and fermented for the smoking pleasure of the enthusiast. The etymology of the word swings from cigarro, or the Mayan word sikar, meaning tobacco to the Spanish cigarra or cicada for the shape. It has also been called puro cigarro, or pure cigar, from which the term puro is derived.

The highest quality cigars are made by hand, bearing the words "Hecho a Mano" or "Made by Hand." They are often box pressed, and may have rough or bumpy wrappers and prominent veins. Color varies from Double Claro, (DC, AMS or green), through Colorado Claro, (Natural, CC, English Market Selection, or medium brown) to Maduro, (double Maduro, Ma, CM, Cameroon, or very dark brown), and finally to Oscuro (Os or black). Generally, darker wrappers are sweeter, lighter and more neutral.

Cigar tobaccos are commonly grown in the Dominican Republic, Honduras, Nicaragua, Brazil, Cameroon, Indonesia, Mexico, USA, and Cuba. The microclimate of the Vuelta Abajo region in the Pinar del Rio province of western Cuba is the most coveted in the world for the cultivation of tobacco, and the quality yielded from this Eden is unsurpassed.

Although flavor profiles can vary within a particular brand, similar to the fluctuation experienced by vintners, there are characteristics that are associated with the geographic locales from which the tobaccos derive. Mexican is grassy, with an earthy tonality. Honduran maduro is characteristically smoky and sweet, and the classic Cuban cigar is rich with complexity and full flavors of leather, chocolate, coffee and spices.

Many cigar producers protest when aficionados insist that a period of stabilization is required for proper aging and merging of flavors. Common sensibility supports the aficionado – marinades, sauces, desserts and rye or anise-infused breads and cookies all benefit from a period of stabilization. Although the tobaccos used in cigars have been dried and fermented, the aging period allows the merging of tobacco oils and aromas between the different ligero, seco and volado leafs to merge harmoniously and reach a plateau of enriched flavor. Each type of cigar has an optimal peak for aging, after which the flavors become overly pale, mellow, and tasteless.

As an aging guide, the experts recommend the following:

For a "fresh rolled" or "chincales" type of flavor, smoke them within a few weeks of being rolled. Otherwise, allow to age for one year – no exceptions!
Hondurans, Habanos, Dominicans and light bodied cigars should be smoked between the first and second year.
Full bodied cigars are best with two to five years of stabilization.
Strong Cubans, vintage, and anniversary-series cigars age beautifully in seven to ten years, but should not be aged beyond the 10-year mark.

Beer Fox Recommended Cigar and Beer Pairings

Cohiba (Cuban) Edicion Limitada 2001 Piramides – 6.125 x 52

These are among the most coveted cigars in the world – tobacco hails from the Vuelta Abajo region in the Pinar del Rio province, where they are hand-rolled in classic Cuban style. Flavors of South American coffee, bittersweet chocolate and cedar wood merge with toasted coconut, nutty overtones, and spiced herbs. Cedar wood and leather linger in an enduring chocolaty aftertaste.

Beer Match - Samuel Adams Utopias 2005 – Boston Beer Company (Samuel Adams), Boston, Massachusetts, USA – Much like a cognac with 25.6% ABV, this American Strong Ale is reminiscent of a fine scotch whisky, without the burn. Complexity of raisins, toffee, molasses and caramel merge with spices of cinnamon and oak.

Sancho Panza Honduran Double Maduro Quixote – 4.5 x 50

A neatly box-pressed cigar with a rough, bumpy Connecticut Shade wrapper and prominent veins, this cigar is crafted by Honduran Cigar-Master Estelo Padron. It draws its namesake from Miguel de Cervantes' famed character, manservant to Don Quixote, a symbol of trust, dedication and reliability. A blend of Cuban-seed filler tobaccos and Connecticut Broadleaf binder, flavors of nutmeg and coffee emerge, as a peppery finish lingers on the tongue.

Beer Match – The Czar – Avery Brewing Company, Boulder, Colorado, USA – Blood red Russian Imperial Stout feeds the nose with aromas of chocolate, dried dark fruit, molasses, toffee and anise. Thick, chewy malts yield to a spicy hop bite.

Hoyo de Monterrey Corona Maduro – 5.625 x 47

Smugglers delight, of sorts, this handmade Honduran was originally sourced from Cuban seed, artfully exported in a diplomatic sack. Tobaccos are medium to heavy in flavor, blended from Cuban-seed Honduran binder and Sumatra-seed wrappers from Ecuador. This became known as Red Auerbach's cigar of choice. Sweet, earthy, smooth and peppery.

Beer Match – Anchor Old Foghorn – Anchor Brewing Company, San Francisco, California, USA – The creamy body of this American Barley Wine merges with spectacular grace with the rich flavors of a Hoyo. Malt and sweetened berries sit quietly, while the alcohol warms from the bottom. A tart, citrus profile arises, with a pine-like dry finish.

Oliva "O" Classic Ole – 4.75 x 50

This finely crafted Nicaraguan cigar rated 92 from Cigar Aficionado Magazine, the voice of cigar experts throughout the world. Built of all Nicaraguan tobaccos, this baby sports a medium, well-rounded body, rich with creamy espresso tones, and glazed with oaky character and peppery, subtle spice. The silken, Nicaraguan Colorado wrapper makes this a deep brown beauty to the eyes.

Beer Match – Oak Aged Yeti Imperial Stout – Great Divide Brewing Company, Denver, Colorado, USA – Sweet fruits meet forward malts and fresh espresso beans in this American Double Stout, dashed with vanilla, chocolate and coconut. Oak lends smoothness, but does not emerge in the flavor profile itself. Bitter Hops rise in the finish.

Cusano 18 Robusto – 5 x 50

Smooth, velvety, and earthy, Dominican Oro filler, harvested 18 years ago, is blended with Cuban Piloto and San Vicente Olor. The harmony between tobaccos create cedar and nut tones that are spicy and strong. Creamy Connecticut Shade binder leaf and Connecticut Shade wrapper add to the velvety finish.

Beer Match – Allagash Curieux – Allagash Brewing Company, Portland, Maine, USA – Nothing less than Allagash's Bourbon Barrel-Aged Tripel will do! Whisky wisps of sweet malt, oak, apricots and vanilla take you to a land of unearthly delights. Citrus, coriander, cloves and pepper add to the complexity, and blend in mellow harmony with the creamy profile of the Cusano.

Punch Premier Gran Cru Britannia – 6.25 x 50

Handmade in Honduras using Cuban-seed tobaccos grown in Honduras, Nicaragua and the Dominican Republic. Sumatra-seed, Ecuadorian grown wrappers and Connecticut Broadleaf are used in Double Maduro shapes. Gran Cru is natural, pyramid, and a medium to strong cigar for the experienced palate. Nuts, herbs and spices prevail.

Beer Match – Fantôme Black Ghost – Brasserie Fantôme, Soy, Belgium – The rich complexity of this ruddy Belgian Strong Dark Ale fills the surrounding air with aromas of black cherry, toffee, chocolate and pepper. Flavors of thick, sweet malt, dark fruits, cocoa, and spice bite the tongue in the end with a peppery overlay. A superb coupling to a superb cigar!

More Cigar and Beer Pairing Tips

Rocky Patel Vintage 1992 Torpedo – 6.25 x 52
Spicy, smooth, complex dark chocolate flavors, dense
Beer Match – Dark Lord Imperial Stout – Three Floyds Brewing LLC, Munster, Indiana, USA – American Double Stout

Royal Jamaica Gold Churchill – 7 x 54
Complex, creamy, earthy, strong, sweet and nutty
Beer Match – Oaked Arrogant Bastard Ale – Stone Brewing Company, San Marcos, California, USA – American Strong Ale

Padron Series 1926 Cigars No. 1 Maduro – 6.75 x 54
Leather and bitter dark chocolate with robust cream and pistachio flavors
Beer Match – Bourbon Barrel-Aged Porter – Cambridge Brewing Company, Cambridge, Massachusetts, USA – Baltic Porter

Cohiba Red Dot Robusto Fino – 4.75 x 47
Tangy and rich, spicy cedar woodiness, cocoa, and hints of pepper.
Beer Match – Insanity – Weyerbacher Brewing Company, Easton Pennsylvania, USA – American Barleywine

Onyx Reserve #4 Petit Corona – 5 x 44
Nuttiness, blended with Sumatra roast coffee and subtle rose and cucumber and a touch of spice.
Beer Match – Pliny the Elder – Russian River Brewing Company, Santa Rosa, California, USA – American Double IPA

Cigar.com Cuban Label Churchill – 7.5 x 50
Leathery, pleasant woody flavors, with peppery complexity
Beer Match – Shakespeare Stout – Rogue Ales Brewery / Brewers on the Bay, Newport, Oregon, USA – American Stout

Cheers!

You Should Also Read:
Delicate Pairings of Beer & Cheese
The Grand Embellishment of Food With Beer
Beer Breath - The Ultimate Challenge


Editor's Picks Articles
Top Ten Articles
Previous Features
Site Map





Content copyright © 2023 by Carolyn Smagalski. All rights reserved.
This content was written by Carolyn Smagalski. If you wish to use this content in any manner, you need written permission. Contact Carolyn Smagalski for details.