One of the most romantic movies of all time might well be The Perfect Storm with the Clooney man himself. Yes, I am referring to George, that virile, yet vulnerable, sex symbol who could only be defeated by Amphitrite, goddess of the Sea, a power beyond the reach of mere mortals. Does that make Clooney god-like in our minds? Perhaps.

But the allure of The Perfect Storm does not really hinge on Clooney as Billy Tyne, but on the romance of the story itself. Long before Billy Tyne and the crew of the Andrea Gail graced the Hollywood screen, I had fallen in love with Sebastian Junger's description of the Gloucester community and The Crow's Nest, the unpredictable convergence of triple weather systems, life's passion versus human passion, and helplessness in the face of fate. A fictionalized story based on a real-life event, The Perfect Storm is mixed with emotion, hinting of all we celebrate on Valentine's Day – the ambiguity of life and love.

And since love is as ambiguous as life, I choose to celebrate that passion with a bouquet of intriguing Craft Beers. How many of these world-class wonders make up your Valentine's Perfect Storm?

Two Hearted Ale – Bell's Brewery, Inc., Kalamazoo, Michigan – American India Pale Ale, 7.00% ABV

As a classic in the world of beer, his hazy golden-orange body supports a substantial eggshell head, while aromas of citrus and flowers permeate the air. Flavors follow with a full mouth of grapefruit and lemon zest that lasts long into the finish.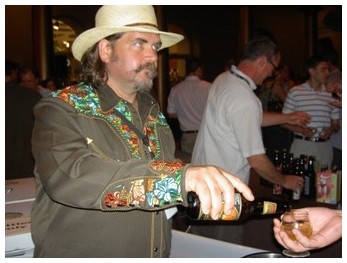 New Holland Black Tulip Trippel Ale – New Holland Brewing Company, Holland, Michigan – Belgian Tripel, 9.00% ABV

Superb aromas sink you into captivity as her light straw body lures you deeper. A thin, moussy head scatters lace all over the glass, while tart flavors of pineapple and orange lead you astray. A floral aura lingers, while squinchy satiation keeps you focused.

Tramp Stamp – Clown Shoes, Ipswich, Massachusetts – Belgian IPA, 7.00% ABV

A hazy coral body is the order of the day, loaded with citrusy orange aromas and Belgian yeastiness. This little tramp emerges from New England as a light, clean, and well balanced lady.

My Bloody Valentine – Alameda Brewhouse, Portland, Oregon – Saison, 5.50%ABV

Presentation is the first impression and Alameda does it well with their seal of red wax. On the pour, his body shows dark copper, as oranges and spice, lactic creaminess, plums, and yeast fill the air. Flavors echo the aroma, dressed with a touch of tanginess.

Seduction – Brewery Ommegang, Cooperstown, New York – Belgian Dark Ale, 6.80% ABV

Deep mahogany with a creamy tan head, this lady drenches the palate with semi-sweet chocolate and dark fruit, cherries, plums, raisins and figs, with a gentle, warming finish.

The Abyss – Deschutes Brewery, Bend, Oregon – American Imperial Stout – 11.00% ABV

Larry Sidor's world-class creation spotlights a body as slick and dark as obsidian. His "Best After" date speaks volumes about its assertive flavors of coffee, chocolate, licorice, cigar ash, vanilla, and treacle, that linger with intensity in its smooth-as-silk finish.

Mother of All Storms (formerly The Perfect Storm) – Pelican Pub & Brewery, Pacific City, Oregon – English Barleywine, 13.50% ABV

Sealed with gold foil, this powerful mother beckons urgently for your attention. Her deep brown body coats the glass with legs, and follows with caramel, figs, vanilla, molasses, brown sugar, earth, and currants that submerge the tongue in pleasure. Booze drenches the mouth. Warmth coats the throat and spreads outward.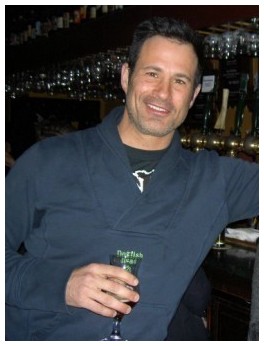 Bad Boy – Alpine Beer Company, Alpine, California – American Double IPA, 9.00% ABV

His deep copper body glistens in the sun, emitting tropical fruits of papaya, orange and grapefruit, blended with pine needles that scream of the Pacific Northwest. An underlying malt base merges with earth.

Stone Sublimely Self-Righteous Ale – Stone Brewing Company, Escondido, California – American Black Ale, 8.70% ABV

Depth of purpose glows within this deep walnut, nearly black, body, covered in a mocha head that leaves rings of lace with every swallow. Pine, malt, citrus and chocolate blend in his satin creaminess.

Red Velvet – Dogfish Head Craft Brewery, Milton, Delaware – Fruit Beer – 18.00% ABV

Golden red and champagne-like, her appealing grace lies in flavors of tart raspberries followed by a dry finish. The high alcohol will sneak up on you like enduring love.

Lips of Faith Biere de Mars – New Belgium Brewing Company, Fort Collins, Colorado – Biere de Garde, 6.20% ABV

Orange, lemon, caramel, cardamom, and hints of farmyard cross your lips, with a touch of cinnamon, clove, flowers and Brett.

Abandon Ship Smoke Lager – Ballast Point Brewing Company, San Diego, California – Rauchbier, 6.10% ABV

Reminiscent of a Scotch Ale, this clean lager has smoke up front in the nose, followed by a light toasted bread-and-toffee profile and soft smokiness in the finish.

Cheers!

Photos are (from top): Fred Bueltmann of New Holland Brewing Company; Sam Calagione of Dogfish Head Craft Brewery