A Must Have Experience at City Tap House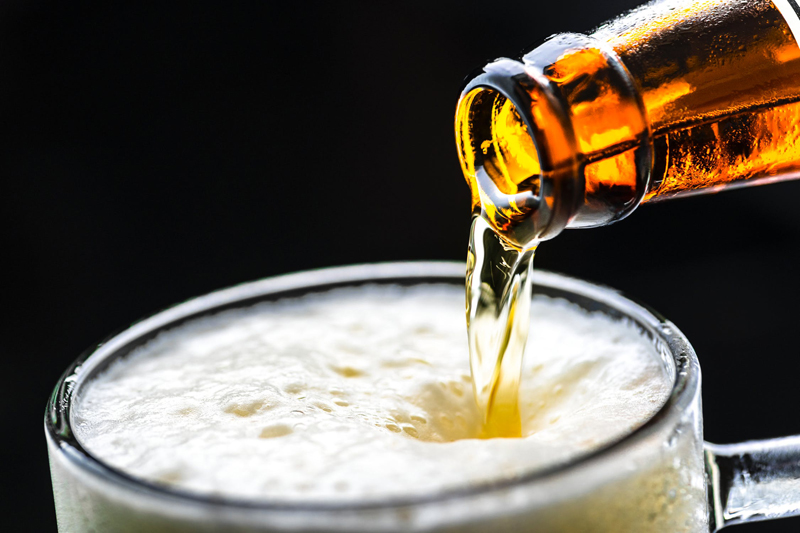 He was a seductive sort. Fresh from Germany, he arrived surrounded by aromas of smoke and sourdough bread. I gazed at him, thinking how much he appeared to be made of gold, softened by a layer of mist. He touched my tongue with a gentle swirl, drenching it with equal portions of tartness and smoke. His head was creamy and rich, settling in a lean layer on his glowing body. "I could stay with you all night," I whispered, knowing how easy it would be to forget his power over me. At only 4% ABV, he could easily hypnotize me into gentle oblivion.

They called him a forgotten style, resurrected from a historic recipe that was re-engineered by Dr. Fritz Briem of Doemans in Munich, Germany. Dating back to the 15th century, this archival beer, Piwo Grodziskie, echoed the name of the Polish town Grodzisk Wielkopolski which popularized the original classic, brewed in East Prussia in the early 1900s. Currently brewed at the Schlossbrauerei Au-Hallertau in Germany, he is brewed according to Reinheitsgebot, delicately balanced between smoky, sour wheat mash and barley malts. Hopped with Perle and Saaz, this gentle-giant is aged for three months before he is primed for his opening act. I could keep this one around for a very long time.

A religious experience gripped me next with Dock Street Born Again Tripel from Philadelphia, Pennsylvania. The 10.2% alcohol by volume was craftily hidden, lying softly beneath the cover of his blushed-golden body and frothy white head. He danced with effervescence on my tongue with a citrusy profile and a touch of malty sweetness, earth and spice. Head Brewer Scott Morrison brewed this Trappist style with an adept hand, presenting a darling, flooded in malts, but echoing a spiciness that feathered through layers of flavor. This was like drinking water of the gods … so tasty … quenching the heat of peppers and the fire of spice wings.

Daisy Cutter APA from Half Acre in Chicago, Illinois then painted my mouthwith citrus tones of grapefruit, pineapple, and orange. Biscuity and fresh, this lover dominates, asserting itself as a close cousin to an IPA, roiling with pleasant carbonation and a touch of earth.

Lastly, the grand Grey Lady sauntered in from Nantucket. Perhaps she should be introduced as the silver fox, her straw-colored body standing with sophistication beneath a fluffy white head. Her aromas were herbal, intense with coriander, basil and flowers. She was unique unto herself, the finish to a flight of beers that introduced me to a light sprinkling of the 60 beers offered on tap in this classic social haven.

City Tap House in Philadelphia sits like an eagle overlooking the streets of University City from her second story nest. Classy wood-and-iron décor reverberate inner warmth within two huge dining rooms and a welcoming bar, made grander with high ceilings and foxy fire-pits that glow deliciously on an outdoor terrace. Chef Ralph Kane has reinvented his menu of gustatory delights, adding "Themed Suppers" with a focus on quality and seasonal ingredients.


For six days of each week, City Tap House serves upscale, perfectly seasoned specials. "Daily Suppers makes for an exciting atmosphere for myself, my culinary team, and our entire staff, as well as our guests," said Kane. "The use of local seasonal ingredients is always a must."

Wednesday's "Weekly Roast" is the most popular evening theme with Saturday's "CTH Steak" coming in as a close second. Menus change from week to week, based on the changing array of seasonal ingredients available. Monday's Southern Cooking may feature Fried Catfish Jambalaya, Spicy Tasso Ham, Jumbo Shrimp and Smoked Andouille Sausage one week; then, switch it up with Chicken-Fried Sirloin and Sharp Cheddar Biscuits with Anson Mills Herb Grits the next. Occasionally, guests ask for a favorite dist to return. "This enables us to have a direct connection with our guests and helps us to figure out their wants and needs," explained Chef Kane. "These dishes are then considered for the a la carte menu."

Focused on true American cuisine, Kane grabs the attention of the unsuspecting with seasonal foods and sides that add a splash of flavor to each meal – purple Peruvian potatoes, tart cranberry relish, creamy sunchokes, or leek white truffle bread pudding.

"Game Night" on Tuesdays is not about trivia or Jeopardy, but centered on duck confit, goose, lamb or other delicacies. Thursdays are reserved for "Homesick Texans," those hearty souls who love the smell of barbecued and smoked meats, accented with grilled veggies. Friday's "On the Hook" pulls in the big ones with fresh catches from local fisheries.

With the rich flavors of roasted suckling pig, my accompanist was Widmer Spiced IPA from the Rotator Series. This quencher arrived with a gorgeous copper-orange body, emitting aromas of toasted caramel, with the esters of cherries in fruitcake. Merging with the tart cranberry relish and lush flavors of herb-infused pork, she blew-in like a leveche, scrubbing the palate with layers of sweetness, and leaving with spicy- heat in the finish.

As a grand finale, I linked-up with Sly Fox O'Reilly's Stout on nitro, satiating with the full-flavors of imported coffee. The nitro infused creaminess into the beer, while the head retained its mousse-like feel on the tongue.

Chef Kane's experience speaks loudly within his Mecca at City Tap House. After graduating in 2001 from the Culinary Institute of America, he continued his training at Commanders Palace, New Orleans, Louisiana, as well as Fork and Bistro 7, both top-notch Philadelphia restaurants in southeastern Pennsylvania where he fell in love with French technique and bistro style. His esteemed kitchen choreography gathers all the right elements together in a gastropub setting for an overall superb experience.

Cheers!


You Should Also Read:
Come - Sit - Stay - at Blue Dog Tavern
Jeremy Cowan and Shmaltz Brewing Company
Flying Dog Mural in Gonzo Doggie-Style


Related Articles
Editor's Picks Articles
Top Ten Articles
Previous Features
Site Map





Content copyright © 2023 by Carolyn Smagalski. All rights reserved.
This content was written by Carolyn Smagalski. If you wish to use this content in any manner, you need written permission. Contact Carolyn Smagalski for details.