Atlantic City Rocks with Beer & Music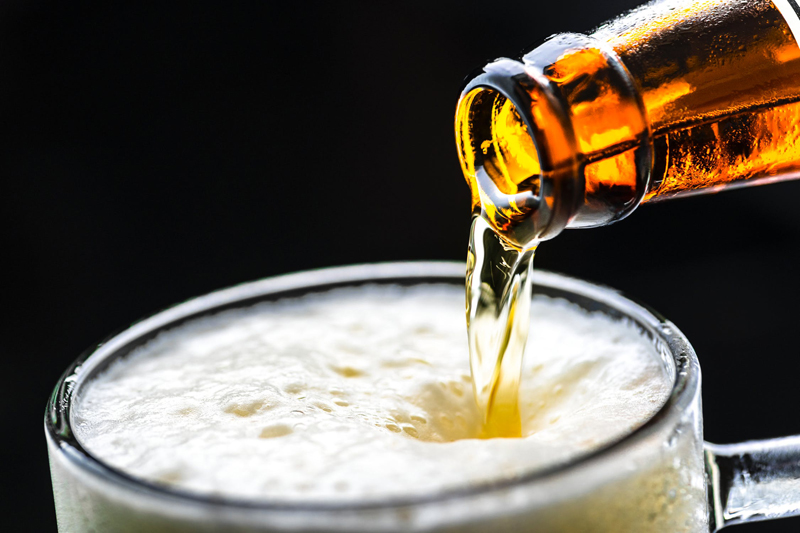 Matt Deibert of Smithville, New Jersey doesn't look like a twenty-year career firefighter who has doused Atlantic City hot spots all his adult life; nor does he have the haggard look of many fathers with six children. When I met him at the 2012 Atlantic City Beer & Music Festival in the Convention Center on Miss America Way, this trim alpha-male was focused on his work-in-process, holding a square trowel in one hand with joint filler "on deck." One could hardly imagine that this craft could take him to the sands of Normandy in France, appointed to the White House Commission on Remembrance for the 60th Anniversary of D-Day "Sands of Remembrance" tribute.

Deibert is the award-winning Sand Sculptor of Sandcreation, and has won North American & World Championships in Maine, Quebec, British Columbia, Virginia, and Florida. Commissioned by AC Beer Fest Founder and Producer Jon Henderson, Deibert created sand art for the festival, building beer bottles, musical notes and logos from nothing more than dampened sand. "This sand is different and not as structurally sound as some I've worked with," said Deibert. "I can't do tall bottles because they crack and fall due to the vibration of the skid trucks and music."


And that tells just how big this festival has become. Although live music was always a part of the festival, it became a greater focal point in 2012 with the addition of a grand, back-to-back stage in the center of the festival floor. Solid music was a constant throughout the duration of the festival, with fifteen musical acts performing throughout the weekend, highlighted by Marky Ramone's Blitzkrieg on Friday night.

Skid movers worked frantically to keep the beer flowing. The festival, which featured 120 breweries and 30 food vendors, entertained more than 20,000 attendees over three sessions on March 30 and 31. Henderson required every brewery involved to have a qualified representative of the brewery on-hand to answer the many questions asked by beer drinkers, expanding this festival from a "drink fest" to a bona-fide beer festival with substance. Diversity was the key, with a line-up of interactive activities scheduled to keep the festival alive.


A Cooking Stage featured demonstrations by the charismatic Rocky Fino and Geoff Johnson, "to show you … you can not only drink beer," said Fino, "you can eat it too!" Rocky is the author of "Will Cook for Sex: Again, Again … and Again." Geoff, who was a personal chef to Jon Bon Jovi, is currently Chef/Owner of the celebrated Copper Fish Restaurant in Cape May, NJ. Their presentations were entertaining as they bantered with enthusiastic fans masquerading for attention, and titillated the taste buds with Cheeseburger Soup made with Goose Island 312 Urban Wheat Beer.

A Seminar Stage highlighted such beer experts as author Gary Monterosso, web-host of Still Crazy after All these Beers and TV personality on the History Channel documentary, "The Epic History of Everyday Things." Speakers from New Jersey Craft Beer talked of the growing landscape of beers in New Jersey. Beer Fox Carolyn Smagalski, collaborative author featured in Beer Hunter Whiskey Chaser and the Brewing History Journal, (yours truly)presented Beer Camp for Women: Ten Secrets for Bustin' Out with the Beer Fox, with segments on super foods, beer flights, beer & health, and social groups for beer-lovin' women.


Gary Monterosso and Rocky Fino played dual roles by signing their books at two booths on opposite ends of the grand hall. Lucy the Elephant, famous icon from the beaches of Margate, New Jersey was represented, too, while participants danced in her shadow in the Silent Disco, posed for a photo shoot, or got tossed from the mechanical bull. Beneath the surface, a commercial beer competition, organized by Beer-man Rob Christopher, awarded trophies during each of the three sessions.

With 120 breweries participating, more than 100 volunteers assisted in pouring beer alongside brewery reps and brewers. Jennifer Dickey, Mid-Atlantic Sales Manager of Shmaltz Brewing Company poured Coney Island and He'Brew Beers from Jeremy Cowan's massive portfolio of Chosen Beers and Freak Show Craft Lagers. Bernard Johnson of Unibroue fielded questions as he poured generous glasses of Ephemere, Maudite, La Fin Du Monde, and 17 Grande Reserve.


The range of selections on the floor was vast, including 21st Amendment Brew Free or Die, Back in Black, and Monk's Blood, Samuel Smith's Oatmeal Stout, Allagash White, Hop'solutely from Fegley's BrewWorks, and beers from dozens of companies including Blue Moon, Flying Dog, VooDoo, Harpoon, Boulder, Stoudt's, Ithaca, Tommyknocker, Blackthorn, Elysian, Victory, 16 Mile, Old Dominion, Uinta, and a cache of Belgians, like the coveted Kwak from Brouwerij Bosteels and Timmermans Framboise Lambic from Brouwerij Timmermans-John Martin.

The Atlantic City Beer & Music Festival, formerly listed as Celebration of the Suds, has enjoyed massive growth since that first festival in March, 2006. Project Director Lauren D'Ambra put a lot of soul into organizing an event with explosive energy. With so much that went right, prospects look great for future growth and success.

Cheers!

Photos are (from top): Atlantic City Beer Festival 2012 Sand Sculpture by Matt Deibert; Sand Artist Matt Deibert of Sandcreation; Authors Rocky Fino and Gary Monterosso; Sizzlin' Sales Rep Bernard Johnson of Unibroue shows off a fine cast of beers; Sales Rep Jen Dickey of Shmaltz Brewing (on right) serves beer with brewfest volunteer


You Should Also Read:
Beers That Make You Phat
B. Nektar Meadery Showcases Ultra Premium Meads
Ancient Ales for Modern Man


Related Articles
Editor's Picks Articles
Top Ten Articles
Previous Features
Site Map





Content copyright © 2023 by Carolyn Smagalski. All rights reserved.
This content was written by Carolyn Smagalski. If you wish to use this content in any manner, you need written permission. Contact Carolyn Smagalski for details.