Ancient Ales for Modern Man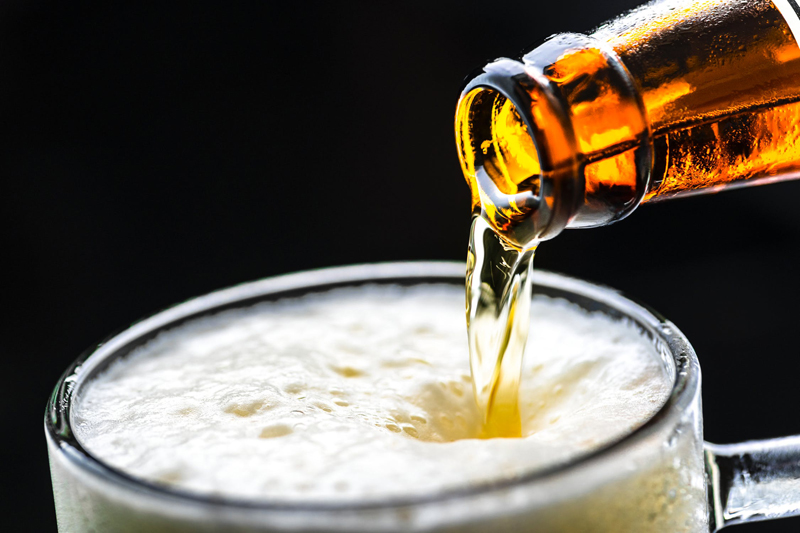 Upon my return from recent down-time in Nova Scotia, I observed a copy of Patrick E. McGovern's new book, Uncorking the Past: The Quest for Wine, Beer, and Other Alcoholic Beverages, protruding, quite dramatically, from my sizeable pile of unopened mail. Carmen Sze from the University of California Press had contacted me in late December 2009, offering me a copy for review. Upon leafing through this drama of man's immersion into alcohol, my thoughts turned to our modern treasure trove of ancient ales. Discoveries within academia by such stalwart names as McGovern, Scientific Director of the Biomolecular Lab at the Pennsylvania Museum of Archaeology & Anthropology in Philadelphia; Professor Solomon Katz, also of the Penn Museum; Professor Miguel Civil of the Oriental Institute at the University of Chicago; Raul Cano at Cal Poly in San Luis Obispo, California; and numerous others across the globe have inspired impressive beer reproductions based on ancient ingredients and anthropological evidence.

Chief among these brewers is Sam Calagione of Dogfish Head Craft Brewery in Milton, Delaware. Although not the first to seize the baton in crafting beers based on antiquity, Calagione has illustrated a dedication to ancient ales  that is unsurpassed in the brewing community. He first worked with Dr. McGovern just before the dawn of the new millennium. The two met at an anniversary dinner held for world-renowned beer author Michael Jackson in Philadelphia's Penn Museum. McGovern had performed an analysis of residue found in a 2700-year-old Turkish tomb that, in all probability, was the final resting place of King Midas. Anxious to bring the past to life, McGovern discussed the possibility of re-creating ancient ale with Calagione, and a series of "ancient ales" was born, the first one being Midas Touch Golden Elixir, crafted with honey, saffron, and Muscat grapes.

Although not actually part of the "ancient ale series," but of notable importance, Pangaea emerged from Dogfish Head as a globe-inspired ale made with Australian ginger, Antarctic water, Basmati rice from the Asian continent, Quinoa from South America, maize from North America, Muscavado sugar harvested in Africa, and European yeast. Next in the ancient ale series was Chateau Jiahu, which has its roots in 9000-year-old Neolithic pottery from China. Re-created with hawthorn fruit, rice, chrysanthemum flowers, wildflower honey, barley malt and Muscat grapes, it was fermented with Sake yeast to achieve an ABV of 8.0%.


Third in the series, Theobroma's formulation mimicked ingredients analyzed in Honduran pottery from 1200 B.C. and includes Aztec cocoa powder and Philippine cocoa nibs, honey, chiles, and annatto seeds. Beers from more modern times were also crafted by Dogfish Head brewers: Sah'tea, from a 9th century recipe using hot river rocks and rye, juniper berries, and a bouquet garni of black tea, cardamom, cinnamon, ginger, cloves, and black pepper; and Chicha, using traditional Peruvian methods to create a South American-style beer from organic pink Peruvian pepper corns, yellow maize and organic Peruvian purple maize. Tradition dictates the grain be milled by mouth – that is, chewed in the mouth, where ptyalin enzymes in human saliva break down the starches into simple sugars for fermentation. This chewed product is molded into corn cakes and dried in the sun before being added to the brew kettle. Boiling in the kettle sterilizes the corn, making it safe for consumers. The addition of strawberries and tree seeds add to the complexity.

This was not the first time McGovern had observed a brewer igniting the past. In 1989, Professor Solomon Katz worked with Fritz Maytag of Anchor Brewing in San Francisco, California, to formulate an ancient ale recipe based on a hymn to the Sumerian Goddess of Beer. Found on clay tablets (circa 1800 B.C.) in ancient Mesopotamia, (present-day Iraq), they called their beer Ninkasi. McGovern recalls tasting two formulations: the first, at the Penn Museum during a Michael Jackson Beer Tasting Event. This first example had "champagne-like quality, with a hint of added dates." The second was unveiled at an event held by Archaeology Magazine in New York City, and observably had a "more toasty, caramelly, and yeasty character…"

In 1994, Scottish & Newcastle created 1,000 bottles of ancient ale inspired by Barry Kemp of the University of Cambridge and Delwen Samuel of the McDonald Institute for Archaeological Research. Excavations in el-Amarna unearthed evidence from a bakery and brewery in the sun temple of Pharaoh Akhenaten, circa 1350 B.C., and analysis led to the formulation of a beer made of emmer wheat, barley malt, juniper, coriander, and nabach berry. They called it Tutankhamen's Tipple and Nefertiti's Nip, marketing it through Harrod's of London for about $75 per bottle. However, the first bottle sold for $7,200 and three others were auctioned at the Indianapolis Museum of Art for over $500 each.

A look into man's ancient past would not be complete without a Jusassic Park creation to color the beer world. Raul Cano of Cal Poly in California does research on microbes encased in amber. He recovered an ancient strain of Saccharomyces yeast extracted from a bee embedded in amber dating back 45-million-years. Somewhat skeptical that this yeast could possibly have been a dormant microbe, (…or was it, perhaps, a contamination from the lab?) he enlisted the expertise of Lewis "Chip" Lambert, a microbiologist from Xoma, an innovative company in the field of human antibody therapeutics in Berkeley. A "sterile verification process" revealed that this yeast strain was, in fact, ancient yeast in a state of cryptobiosis. Encased as it was in amber, nearly all the water from the microbe was absorbed by the resin, while the molecular base of the microbe remained untouched, similar to the process of freeze-drying.

The team of Lambert and Cano partnered with brewmasters Peter Hackett, Joe Kelley and attorney Scott Bonzell to launch a line of beers using the ancient yeast, under the name of Fossil Fuels Brewing Company. A launch party for Fossil Fuels Brewing was held in 2008 at Kelley Brothers Brewing Company. Prototypes, rich with aromas of ginger, banana and clove, were released, along with Fossil Fuel's initial plans to produce a pale ale and a wheat beer when they enter full production.

A look into the past has never been more inviting.

For information: Uncorking the Past: The Quest for Wine, Beer, and Other Alcoholic Beverages


Cheers!

Photos are: Uncorking the Past, book by Patrick E. McGovern, published by University of California Press, 2009; Sam Calagione of Dogfish Head Craft Brewery at the Penn Museum, Philadelphia


You Should Also Read:
C. Stegmaier & Son - A Photo from the Past
Sudan Grass - Dock Street Gluten Free Beer
Beer for Billionaires


Related Articles
Editor's Picks Articles
Top Ten Articles
Previous Features
Site Map





Content copyright © 2023 by Carolyn Smagalski. All rights reserved.
This content was written by Carolyn Smagalski. If you wish to use this content in any manner, you need written permission. Contact Carolyn Smagalski for details.