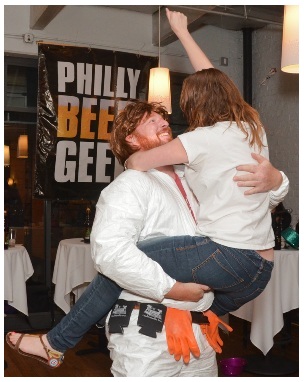 The Philly Beer Geek 2012 Competition turned out to be the biggest payday for a single beer consumer in all of Philly Beer Week. True to his beer moniker, Smashington Steve Mashington crushed the opposition, walking away with winnings worth over $3,500 in beer-centric prizes and proving his dynamic passion for Philadelphia beer. His sponsor, Jeff Lavin of Hulmeville Inn in Hulmeville PA, received a plaque announcing his bar as Home of the Philly Beer Geek 2012.

In the "Finals Round" of the 2012 Philly Beer Geek Competition, held June 7th at the River Club on the upper level of Manayunk Brewery and Restaurant in Philadelphia, six finalists battled for the gold in a heated tug-of-war to seize the crown as Philly Beer Geek. An illustrious grand jury of six celebrity Beer Judges, dressed in black robes, glitter top-hats and Mardi Gras beads, did their best to intimidate the contestants, goading them good-naturedly for bribes, while squeezing them mercilessly with tough questions.

Steve Mashington's raucous fans roared with approval as the jubilant champion leaped into the air with the announcement of his victory as 2012 Philly Beer Geek. He seemed on fire – smiling like the Cheshire cat through his red-beard and crazy stage-wig. He held nothing back. Without hesitation, Smashington urged his fellow finalists to share in his bounty, demanding that they pick their favorite items from his rich treasures. His generosity was stunning, the epitome of Philly Beer Scene synergy.

In addition to Mashington, the competing Finalists included Michael Soo, sponsored by Dock Street Beer in Philadelphia who was second runner-up; Colin Presby, sponsored by Canal Street Pub of Reading and Standard Tap of Philly, who won as first runner-up; Andrew Pope, sponsored by Iron Abbey in Horsham PA; Christian Mosebach, sponsored by American Sardine Bar in South Philadelphia; and Jesse Andreozzi, sponsored by Philly Beer Scene Magazine.

After passing through a grueling set of queries involving beer history, brewing, and regional beer, the competition mounted into segments that were akin to a doctoral thesis. Not quite, but who thought beer could be so brainy?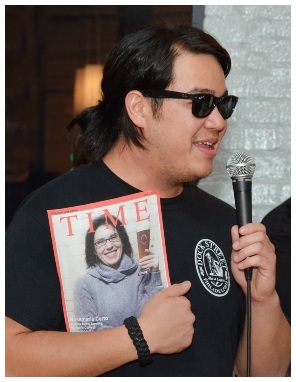 The Finalists surmounted heady questions like 'Regarding hops from Germany, Australia, or the Pacific Northwest, which is your preferred variety?' and off-the-cuff ones, including 'What would you name your Philly beer bar?'

They had the chance to turn the tables on the judges during the Stump the Chumps segment. Mashington coaxed Saccharomyces carlsbergensis from the judges in a question about yeast, but trumped them with the details of Emil Christian Hansen's role in lager yeast cultivation … and made it seem like fun.

Mike Soo spoke with pride about his sponsor, going so far as to impose the image of Dock Street Owner Rosemarie Certo on the cover of TIME magazine, calling her "the Marie Curie of Philadelphia Beer."

In the final Round of Passion, the contestants went on a fictitious journey through time, supplementing their presentations dressed as superheroes, carrying photo-shopped pictures of meeting Louis Pasteur or a goatish encounter with Prohibition, and bringing Ben Franklin himself back-to-the-future from 1776. It was a zany evening of laughter and fun.

Judges who served on the Grand Jury included: Natalie DeChico, Philly Beer Geek 2011 and collaborator in the design and production of Philly Beer Geek Basil IPA, the 1st official beer of the Philly Beer Geek Competition; Doug Marchakitus, Head Brewer at Manayunk Brewpub and lead in the production of Philly Beer Geek Basil IPA; Lew Bryson, drinks writer, author, and blogger of As Seen Through a Glass; Marilyn Candeloro, Brand Ambassador for Dock Street Beer; Scoats, Owner of the Grey Lodge Pub and Hop Angel Brauhaus; and Steve Hawk, 2010 Philly Beer Geek and beerwriter at Phillyburbs.com.

Sponsors were enthusiastic in their support of the 2012 Philly Beer Geek Competition, contributing over $3,500 in prizes for the Philly Beer Geek, the finalists, and the judges. Emcees Jason Harris and Carolyn Smagalski commended the sponsors for their generosity. These sponsors included:


Michael Rose and Manayunk Brewery & Restaurant, Origlio Beverage, Duvel Moortgat USA & Brewery Ommegang, Weyerbacher, Hulmeville Inn, beer etc., Old Eagle Tavern /Devil's Den, Canal Street Pub /Standard Tap, Teresa's Next Door, American Sardine Bar, Dock Street Beer, Beer Fox, Keystone Homebrew Supply, Philly Beer Scene Magazine, Blue Dog Tavern /Blue Dog Pub, The Farmer's Cabinet, The Boilmaker, Brauhaus Schmitz, Iron Abbey Gastropub, Iron Hill Brewery Maple Shade NJ, Triumph Brewing, The Grey Lodge Pub, City Tap House, 2nd Street Brew House, beerheads.com, Round Guys, and Phillyburbs.com.

Philly Beer Geek is a three-part competition. Contestants must be selected by a sponsor or win a Preliminary Qualifying Round held at a sponsoring bar, brewpub or restaurant; then move on to the Semi-Finals, and ultimately, to the Finals where an illustrious panel of celebrity judges evaluate and crown the Philly Beer Geek in this annual championship.

The annual Philly Beer Geek Competition began in 2007 as an anchor event of Philly Beer Week, a ten-day celebration of "Philadelphia, the Best Beer Drinking City in America." Co-founders Carolyn Smagalski, the Beer Fox of BellaOnline, and Jason Harris, Owner of Keystone Homebrew Supply in Montgomeryville and Bethlehem PA, launched the competition to reward "the individual who exhibits the greatest universal knowledge and passion for Philadelphia Beer."

Cheers!

Photo credits: Tom Conville - tomconville.com - from top: Steve Mashington, 2012 Philly Beer Geek winner with his Lady Luck; Finalist Michael Soo with his re-designed TIME Magazine Cover of Dock Street's Rosemarie Certo; Philly Beer Geek Finalists Michael Soo, Colin Presby, Andrew Pope, Christian Mosebach, Winner Steve Mashington, and Finalist Jesse Andreozzi, flanked by founders Carolyn Smagalski, far left, and Jason Harris, far right