One Solution To The Rhino Poaching Problem
If you keep an eye on news about animal conservation and the issues with poaching threatened animals, I'm sure you have read about the dramatic rise in the poaching of rhinos. Last year, the
Western Black Rhino
became officially extinct.
The reason for the decline in rhino populations is poaching. The poachers are mainly from Asia, more specifically Vietnam. The rhinos are shot and the horns are cut off and smuggled to Asian countries. They believe the rhino horns have certain medicinal qualities ranging from treating fevers, rheumatism, gout, as well as curing snakebites, hallucinations, typhoid, headaches, vomiting, food poisoning, and devil possession.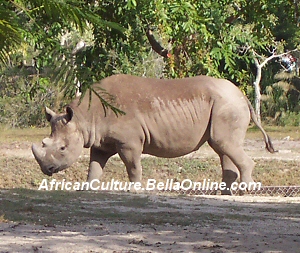 In South Africa, the country with the largest rhino population, over 1200 rhino have been lost to poaching since 2008 when the poaching epidemic first began. With little monetary resources, what is to be done about rhino poaching?
One man in South Africa has a solution - harvest the rhino horns!
Private rhino owners own roughly 25% of the rhinos, white and black, in South Africa. In order to discourage poaching, they have removed the horns from their rhinos. The owners of these rhino have stockpiled very large amounts of rhino horns since it is illegal to sell rhino horn without having (legally) killed a rhino. Rhino horns grow back at an approximate rate of 2 pounds a year. A rhino can grow back its entire horn in about 2 years.
These private owners feel allowing them to sell their stockpiled rhino horn would take the poaching pressure off their herds as well as the rhino population in the wild. The slaughter of rhinos could potentially stop if the sale of harvested horns was made legal. What these rhino owners are looking to do is farm rhino horns legally. The incoming money would help to pay for the protection of the existing rhinos. Currently, these farmers pay for around the clock security and hi-tech security systems for their rhinos along with cutting off their horns and still the rhinos are being slaughtered.
The thinking is harvesting rhino horns will stop the poaching epidemic of rhinos. Or will it? Will the legal trade of rhino horn encourage poaching even more. Currently, the rhino horn that is sold legally is tracked with micro-chipping and DNA testing. Will the price of rhino horn drop if the trade is made legal or will the price continue to rise anyway even more rhino horn is made available? If the trade is made legal will the rhino still continue to be tracked as it is now or will it be a free for all?
These are some of the questions facing conservationists as they grapple with the very real threat of the extinction of all rhino species.
This site needs an editor - click to learn more!

You Should Also Read:
Black Rhinoceros Facts
White Rhinoceros Facts
Western Black Rhino Officially Extinct




Related Articles
Editor's Picks Articles
Top Ten Articles
Previous Features
Site Map





Content copyright © 2018 by Jeanne Egbosiuba Ukwendu. All rights reserved.
This content was written by Jeanne Egbosiuba Ukwendu. If you wish to use this content in any manner, you need written permission. Contact BellaOnline Administration for details.