Crooked Series from Uinta Brewing Company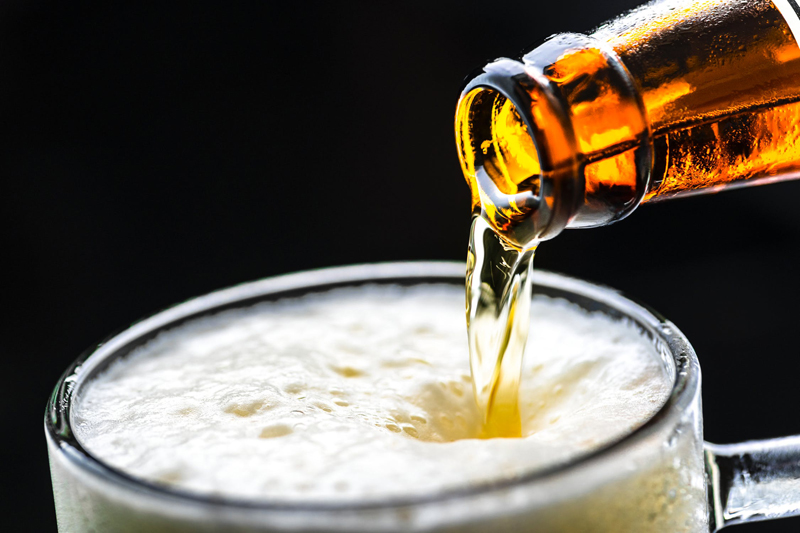 In 1964, the Serendipity Singers popularized an old English nursery rhyme from 1842 with their folksy, Calypso-styled song, Don't Let the Rain Come Down. The last verse lured us into gentle euphoria :

"Now this crooked little man and his crooked cat and mouse
They all live together in a crooked little house.
Has a crooked door with a crooked little latch;
Has a crooked roof with a crooked little patch."


The Uinta Mountain Range, stretching from northeastern Utah into Wyoming has its own crooked allure. Covered with grasses, shrubs and mountain flowers, the Uintas are dotted with 1,000 lakes and ponds that support 400 miles of streams. This is the only mountain range in the contiguous United States that run east to west – quite an anomaly, when you consider the massive attention the Rockies have attracted in the west and the Appalachians in the east. What better place to create a "Crooked Series of Beer"?

Uinta Brewing Company of Salt Lake City, Utah, lies just 100 miles west of the famous Uinta Mountain Range. Founded in 1993 by Will Hamill, Uinta Brewing seemed perfectly suited to this location, with its clean environment and natural beauty.

In 2002, Uinta made a commitment to run as a 100% wind-powered brewery, purchasing power from Utah Power's Blue Sky Program, making it the second brewery in the United States to run on wind power. New Belgium Brewing in Fort Collins, Colorado was the first. Uinta has been commended by Salt Lake City Mayor Rocky Anderson for being a strong supporting character in the "Salt Lake City Green" program.

Uinta transitioned to an 85% wind powered operation, with the other 15% power gathered from solar panels, echoing their commitment to use clean energy sources that are 100% pollution free.

Uinta - High Alcohol, Big Flavors: Crooked Line of Beers


Many people are confused by beer laws in Utah, believing that all beer in Utah must be 4.0% ABV or less (also known as three-two beer, the measure of alcoholic potency by weight: 3.2% ABW). This is simply not so, says Steve Kuftinec, Co-owner and VP of Sales at Uinta. Beer sold in supermarkets or convenience stores must be 4.0% ABV or less, but big beers may be purchased in state liquor stores throughout Utah.

…which brings us back to the crooked line of beers.

As "extreme beer brewers" in the United States, Uinta steps back-and-forth over style guidelines to create distinctive products that wow the palate. The Crooked Line includes experimental beers, packaged in 750 ml bottles with cork and crown, beers for celebrations or aging in a beer cellar. They are constantly evolving from their initial design, taking twists and turns on their way to market.

In 2012, six crooked beers were available, with more on the way. This is in addition to an already strong portfolio of Classic Beers and an Organic line.
The first line of Crooked Beers include:

Tilted Smile Imperial Pilsner - 9% ABV, 30 IBUs, and 5 SRM. This lovely, golden beauty is crafted with 100% Pilsner malt for a bready, cracker-like body, balanced by noble Saaz hops.

Detour Double IPA – 9.5% ABV, 74 IBUs, and 15 SRM. Take a detour along the bold, bright amber body as it glows,larger-than-life, with bitterness that is a hop-head's marquee. Dry and big in alcohol, the warmth is barely perceptible, so be careful with this daddy.

Cockeyed Cooper Bourbon Barrel Barley wine – 11.1% ABV, 65 IBUs, and 47 SRM. With its deep walnut body, cockeyed Cooper seduces you with aromas of bourbon, oak and vanilla that lay on top of a foundation laden with bittersweet chocolate and dark, sun-dried fruits. Big on malts and big on hops, this crooked buddy will push you right over the edge on the way to paradise.

Labyrinth Wood Aged Black Ale – 13.2% ABV, 56 IBUs, and 184 SRM. Black as an onyx gem, this multi-layered black ale is aged in rye barrels for a spiciness that adds complexity without confusing the palate. Laced with a touch of roastiness, licorice, ash, and oak, this beer shines with its subtle interplay of flavors.

Jacked Imperial Wood Aged Pumpkin Ale – 10.31% ABV, 39 IBUs, and 21 SRM. As a seasonal, the pumpkin spices merge well with a nutty, oakiness derived from the oak barrels.

Birthday Suit 19th Birthday Sour Cherry Ale Limited Edition - 5.7% ABV. A luminous rose body gleams within this bottle conditioned, American wild Ale, bursting with tart cherry, while dripping with funk and earthiness.

Cheers!

Photos are (from top): Susan Greene, Sales Rep Global Brewers Guild with Steve Kuftinec, VP of Sales and co-owner of Uinta Brewing company; Uinta Brewing Company Line of Beers

A great multi-purpose beer tool:
Nite Ize SBO-03-01 S-Biner Ahhh Carabiner Clip Bottle Opener


Make those used bottles into a work-of-art:
Ephrem's Bottle Cutter Kit
You Should Also Read:
Philadelphia Water Works - Help for Homebrewers
Seven Deadly Sins of Beer
Urbain Coutteau - Mastery at De Struise


Related Articles
Editor's Picks Articles
Top Ten Articles
Previous Features
Site Map





Content copyright © 2022 by Carolyn Smagalski. All rights reserved.
This content was written by Carolyn Smagalski. If you wish to use this content in any manner, you need written permission. Contact Carolyn Smagalski for details.