Keg of Love for Your Beer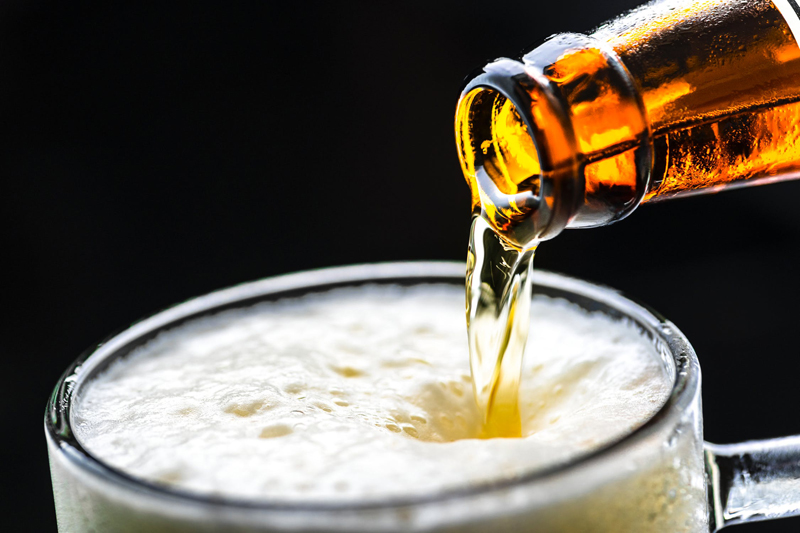 What color music are you? Deep forest green? Blazing red? Hazy orange with flecks of yellow? Perhaps a touch of light blue with a little gray mixed in? Without question, music carries our emotions to the ends of the earth. It can grab a moment, and return us there for an entire lifetime.

Traditional hand-crafted beer echoes with the same quality that lasts. When the two are perfectly aligned, each seems to assimilate the qualities of the other. Whether you are into alternative, blues, hip-hop, country or rap, there is no question that variety in music style can add a layer of sweetness to the drinking experience, like marmalade on a homemade corn muffin.

When Chris "C.J." Jones of the Esoteric Ramblers asked me to review his Keg of Love CD, I jumped at the opportunity. To whet my appetite, he had sent me the cover artwork, designed by local artist, music fan and sailing enthusiast Levi Tarr. A big ole' red heart, drenched in sheaves of barley and hop cones, filled the center of the cover. It displayed that "artisan" look, a perfect parallel to the genius and craftsmanship of the well-cultivated beer it was meant to accompany.

The music is virgin-sound at its finest, far from the generic, watered-down, mass-produced music that is so common in today's market. I was listening to Janis Joplin the other day, wondering where that "original quality" music disappeared, wishing for that demiurgic realism – that edgy, unpredictable character. There were no synthesizers, no "bought" rhythms, no sense of perfection. It was … virgin, as is Keg of Love.

Keg of Love displays as much variety as there are styles of beer. One style rolls into another, from classic country to blues, boogie, bluegrass, and do-wop. Filled with humor and double entendres, Can't Get the Blues and No Condom Blues, rip off in bluesy-country rhythms, like New Orleans' Dixieland jazz, breaking off to feature each of the musicians in solo riffs – banjo, harmonica, electric guitar, with that driving bass, rhythm guitar and drums giving it foundation and form.

Keg takes-off with a little bluegrass in Obama Self, compelling the listener to tap along with Gene Bowers' banjo, C.J.'s harmonica, or Frank Tiffany's lead guitar solos. Although you may not hear much of it anymore, Boogie-woogie is alive-and-well in 4:20 Boogie and Last Call Boogie, as C.J. reminds us that this music pairs with our beer: "the one in your hand is the one you love the best."


The wailing country sounds of title song Keg of Love are balanced with the clogging, bluegrass rhythms of Hellbound Party Train, written by Marty Jones. Enhanced by Bowers' skilled banjo and the group harmonies, the song takes on the profile of a movie theme, filling my own head with an entire spooky vision of speed-and-power, out of control.

Most songs are full of humor with lines like "I can't find the words to say I love you, but I can get you a beer" and "Beer is the raison … we're still togetherrrr." But Jones comes down to earth to provide some food for thought and discussion more than once.

I was so used to the humor, that I could have missed his cue had I not been listening. With a maritime beat reminiscent of "What do you do with a Drunken Sailor," the Esoteric Ramblers veer-off in Nuke the Whales, a theme about the banned practice of whaling, halted by the International Whaling Commission in 1986. Whaling still continues in some countries, in the name of "tradition" or for "scientific purposes."

The sound-effects in the song were haunting, ghostly sounds. Were the musicians merely mimicking the imagination of fishermen at sea? Nuke the Whales prompted me to investigate. Who knew that whales scream when they are harpooned, most often with penthrite explosive charges that detonate inside the whale's body?

Forty-four Hundred is even more stunning. But I won't be a spoiler. Listen for yourself.

Most of the music was written by Chris "C.J." Jones. Hellbound Party Train was written by Marty Jones, originally featured on the Marty Jones and the Great Unknowns CD. Nuke the Whales is credited to Chris Jones and Joe McDonald, and two of the songs, Obama Self and 4400, have riffs included from the public domain. The CD is addicting.

Keg of Love is available on iTunes, Amazon, and CD Baby. The Single is only 99-cents, but you may want to have it all. The CD was released May 12, 2012 for $8.99.

Cheers!

Photos are: Front cover of CD Keg of Love; Back Cover of Keg of Love

To grab your own copy:
Keg of Love
You Should Also Read:
Rodenbach 2007 Vintage Oak Aged Ale Barrel No. 230
Rudi Ghequire & the Rodenbach Philosophy
Ten Tips for Cooking with Beer


Related Articles
Editor's Picks Articles
Top Ten Articles
Previous Features
Site Map





Content copyright © 2023 by Carolyn Smagalski. All rights reserved.
This content was written by Carolyn Smagalski. If you wish to use this content in any manner, you need written permission. Contact Carolyn Smagalski for details.