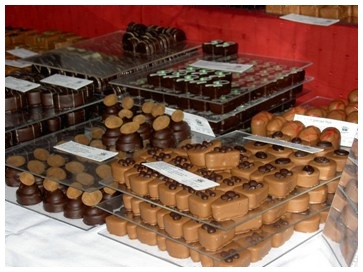 Help me with a decadent experiment. I'll say some words, and you bring an image to mind for each of those words: Godiva … Hershey's … Lindt … Cadbury … Nestles … Toblerone … Guylian … Ghirardelli … Ferrero Rocher. Although you may have momentarily pictured a blonde-tressed maiden on horseback, your mind, undoubtedly, is filled with the image of chocolate.

Theobroma Cacao, the botanical name for the Cacao tree, is the source of the chocolate we crave. Originally enjoyed as a drink, chocolate has a long history beginning with religious rites in the Aztec and Mayan civilizations. This "Food of the Gods," xocolātl, was combined with ground chiles and spices. In some cases, this drink may have been fermented, and would be served hot or cold, depending on the traditions in each society.

Cacao pods start out as tiny white flowers on the trunks or branches of the Cacao tree. They are pollinated by midges - tiny, gnat like flies with wings that buzz at the rate of 1000 beats per second. Over the course of six months, pods sprout and grow, looking very much like rough-skinned footballs. Inside, the pods are filled with bitter seeds that must be fermented, roasted and milled into cocoa nibs or chocolate "crumb" for use in the production of chocolate. They may also be used as an elegant additive in the production of specialty craft beers.

Although the Cacao tree is native to the northwestern region of South America, most of the chocolate exported these days comes from Africa. The Côte d'Ivoire on the west coast of Africa exports over 41% of the world's cacao, and Ghana covers another 13%.

Prior to the Industrial Revolution, chocolate was only served as a drink. By the end of the 18th century, a process was developed in Turin, Italy that could transform chocolate into solid form. European entrepreneurs seized upon this process including François-Louis Cailler in Switzerland (1819), Pierre Paul Caffarel in Italy (1826), and Fry & Son with a chocolate delicieux a manger in 1847.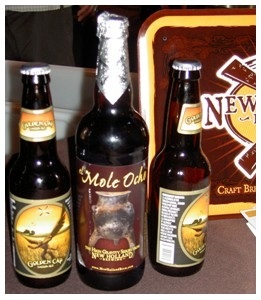 As craft beer advanced through its Renaissance, beers made with the addition of cocoa, cocoa nibs or natural chocolate flavoring, became a hot commodity. Although Chocolate Beers generally are judged in sub-categories in BJCP competitions and at the Great American Beer Festival, they have their own category in the World Beer Cup and are judged in the Coffee/Chocolate Beer category in the United States Open Beer Championships.

Beers judged in specific Chocolate categories must have chocolate incorporated into them, but many brewers squeeze chocolate flavors into their beers with the artful combination of malts. Porters, Stouts, Dark Belgians and Winter Warmers commonly have flavors of chocolate or mocha layered among coffee-ish flavors and occasional fruitiness. How do they get those flavors?

Have you ever heard of chocolate malt? Although not chocolate, this dark brown malt is the result of roasting malted barley. It can impart flavors of caramel, cocoa, and nuttiness, but because it lacks enzymes, it must be combined with other malts in the brewing process to provide fermentable sugars for the yeast. An artful brewer will combine a complex grain bill with specialty yeast for a release of flavors that will embed themselves in the pleasure regions of the brain long after the drinking is over.

You may want to compare several Chocolate beers in a horizontal tasting alongside beers with chocolate-like properties. Don't be surprised if you find more chocolate flavors in beers that have no chocolate ingredients. Note that carbonation, the addition of oats, or lower hopping levels will affect how the chocolate is experienced on your palate.

Do some beer and food pairings for an over-the-top gastronomic adventure. You may parallel them with dark, milk or white flans, Black Forest Cake, Mole Poblano, or marble-swirled cheesecake … or complement the flavors with fruit-filled pies, Cherries Jubilee, Baked Alaska, or Osso Bucco. How about a Chocolate Float?

Beer Fox Recommended Beers with Chocolate Properties:

Brooklyn Black Chocolate Stout – 10% ABV – Russian Imperial Stout - Brooklyn Brewery, Brooklyn, New York

El Mole Ocho – 9.79% ABV – Herbed/Spice Beer - New Holland Brewing Company, Holland, Michigan

Chocolate Ale – 9.10% ABV – American Strong Ale – Boulevard Brewing, Kansas City, Missouri

Bourbon Barrel Abominable Ale – 9.5% ABV – American Strong Ale – Fremont Brewing, Seattle, Washington

Dock Street Sexual Chocolate - unknown ABV – Belgian Strong Dark Ale – Dock Street Brewing, Philadelphia, Pennsylvania

Terrapin Moo-Hoo Chocolate Milk Stout – 6% ABV –Milk Stout - Terrapin Beer Company, Athens, Georgia

The Vixen Chocolate Chili Bock – 8.5% ABV – Bock - Boston Beer Company, Jamaica Plain, Massachusetts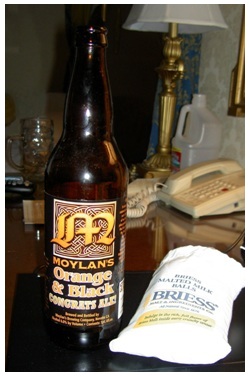 Heavy Seas Siren Noire Imperial Chocolate Stout – 8% ABV – Heavy Seas Brewing Company, Baltimore, Maryland

Peste Chocolate Chili Ale – 7.5% ABV – Chile Beer – Elysian Brewing Company, Seattle, Washington

Chocolate Stout – 6% ABV – American Stout – Rogue Ales, Newport, Oregon

Orange & Black Congrats Ale – 6% ABV – Moylan's Brewing Company, Novato, California

2X Chocolate Porter – 7% ABV – American Porter – Stoudt's Brewing Company, Adamstown, Pennsylvania

Young's Double Chocolate Stout – 5.2% ABV – Milk/Sweet Stout – Wells & Young's LTD, Bedford, England, UK

Sloth Belgian Style Imperial Stout – 10.2% ABV – Russian Imperial Stout – Midnight Sun Brewing Company, Anchorage, Alaska

Chocolate Indulgence – 7% ABV – Belgian Dark Ale – Brewery Ommegang – Cooperstown, New York

Bison Organic Chocolate Stout – 5% ABV – American Stout – Bison Brewing Company, Berkeley, California

Serpent's Stout Bourbon Barrel Aged with Cocoa Nibs and Coffee – 12.5% ABV – American Imperial Stout – The Lost Abbey, San Marcos, California

Cocoa Leche – 5.7% ABV – Milk/Sweet Stout – Goose Island Beer, Chicago, Illinois

Pike Entire Wood Aged Stout – 8% ABV – American Imperial Stout – Pike Pub & Brewery, Seattle, Washington

Duck Rabbit Baltic Porter – 9% ABV – Baltic Porter – Duck Rabbit Craft Brewery, Farmville, North Carolina

Theobroma – 9% ABV – Chile Beer – Dogfish Head Craft Brewery, Milton, Delaware

Bobo's Robust Porter – 6.2% ABV – American Porter – Big Sky Brewing Company, Missoula, Montana

Thumbprint Chocolate Abbey – 7% ABV – Dubbel – New Glarus Brewing Company, New Glarus, Wisconsin

Arcadia Cocoa Loco – 7% ABV – American Stout – Arcadia Brewing Company, Battle Creek, Michigan

Cheers!

A Jug of chocolate for your personal indulgence:
KIRKLAND Signature PREMIUM CHOCOLATES of the WORLD ASSORTMENT JAR NET WT 2 Lb (907 g) (From Italy Germany, Spain, Switzerland, Canada and Belgium)


For homebrewers: Cocoa nibs for your own Chocolate beer -
Alive and Aware Certified Organic Raw Cacao Nibs from Ecuador - 5 Pounds