Beer Float Recipes - Sweet Seduction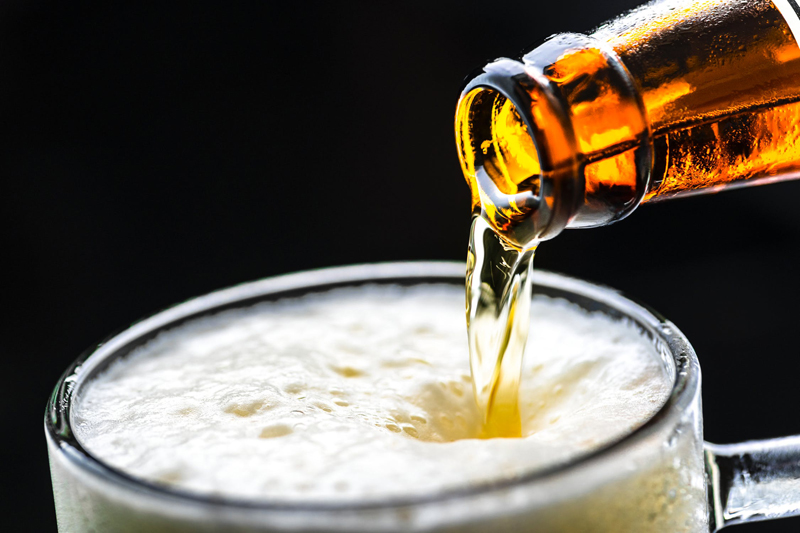 Summer darkness holds a special kind of heat…steamy, exotic, intemperate. You twist your hair, damp on the nape of your neck, and pull it upward. Beads of water rise across your sizzling skin, barely relieved by the occasional, sultry breeze. Silence breaks as the pulsing chitter of cicadas wash the air, echoed by rumbling heat thunder in the distance. No relief is in sight.

George Gershwin said it best:

"Summertime,
And the livin' is easy
Fish are jumpin'
And the cotton is high

"Your daddy's rich
And your mamma's good lookin'
So hush little baby
Don't you cry…"

You are a beer lover, and as such, possess a super-human power to overcome the heat. Exotic? Intemperate? In a word: "Beer Floats."

Beer Floats are nothing new to the scene of beer. Most top-notch beer bars and restaurants feature Beer Floats as a summertime or year-round treat. Many feature beer ice cream as part of their confection collection. Frank Morales, Executive Chef at Rustico Restaurant and Bar in Alexandria, Virginia, features peach and raspberry sorbets, and has invented the "hopsicle," Belgian fruit bars created with Belgian beers of low alcoholic strength and low IBU's.

When crafting beer ice cream, the beer itself needs to be simmered for about an hour, until the liquid reduces and most of the alcohol evaporates into the air. The resultant liquid adds complex flavors that cannot be matched by any other means. The ice cream will have little, if any, alcoholic content left. If you do not follow through with a long simmer, the resulting ice cream will be more like soft serve, and will demand that you eat it quickly.

Beers with lower alcoholic volume work more effectively in frozen desserts. As you increase alcoholic strength, the iciness becomes slushy and prevents the joy of a truly cold delicacy.

Perfecting the Beer Float

Most Beer Floats are designed with vanilla or chocolate ice cream. You may use your own variations for a gourmet touch and optimum palate appeal. Peach and raspberry ice cream flavors echo the flavors of peche and framboise, but may overpower the delightful flavors of the beer itself. These fruit lambics work well with vanilla bean ice cream, as do kriek, pomme, cassis, apricot, banana, and faro. Some summer ales also combine favorably, but caution must be made with those that are overly hoppy or citric. With these, you may add a splash of orange, apricot or chestnut liqueur. Stouts of all styles and brown ales work well with chocolate and coffee ice creams. Experiment to discover flavors that "float your boat."

Spinnerstown Hotel Restaurant and Bar, Spinnerstown, Pennsylvania, USA serves their own specialty Beer Floats with fresh, local beer, as well as nationally acclaimed Beer Floats. Their local specialties:

Nodding Head Grog Float
Nodding Head Grog – English Brown Ale, Nodding Head Brewery and Restaurant, Philadelphia, Pennsylvania, USA
Chocolate ice cream
Garnish: Whipped cream and a cherry

Troegs Troegenator Float
Troegs Troegenator Double Bock – Doppelbock, Troegs Brewing Company, Harrisburg, Pennsylvania, USA
Vanilla & Chocolate ice cream, alternating scoops
Garnish: Whipped cream
Serving suggestion: Sprinkle with finely shaved bittersweet chocolate or malted milk powder

Nationally Acclaimed Beer Float Recipes

Chocolate Guinness Float
4-5 ounces Guinness Extra Stout – Irish Dry Stout, Guinness LTD., Dublin, Ireland
Chocolate ice cream
2 tablespoons chocolate syrup

Pour half of the Guinness in a pint glass. Add chocolate syrup and mix. Place 2 scoops of chocolate ice cream in glass. Finish with a final pour of Guinness for a dramatic head.

Ginger Beer Float
(makes 4 servings)
5 cups vanilla ice cream, slightly softened
¼ cup crystallized ginger chips
¾ teaspoon ground cardamom
½ teaspoon ground cinnamon
2- 12 ounce bottles Ginger People Ginger Beer – Non-alcoholic Ginger Beer, Ginger People, Monterey, California, USA

Add crystallized ginger chips, cardamom and cinnamon to slightly softened ice cream. Swirl in gentle folds. Place in bowl, and return to freezer for 2 hours until firm scoops can be formed. Scoop ice cream into 4 pint glasses. Slowly pour cold Ginger Beer over ice cream. Serve.

Old Ruffian Barley Wine Float
Old Ruffian Barley Wine – American Barley Wine, Great Divide Brewing Company, Denver, Colorado, USA
Vanilla Ice cream
1 teaspoon cinnamon
Splash of Grand Marnier Orange Liqueur
Garnish Whipped cream and cinnamon

Pour 2-3 ounces Old Ruffian Barley Wine in a pint glass. Sprinkle with cinnamon and gently swirl. Add 2 scoops of vanilla ice cream. Pour additional Barley Wine on top, splash with orange liqueur. Garnish with whipped cream and light sprinkling of cinnamon. Serve.

Sebbie Style Chocolate Stout Float
Rogue Chocolate Stout – American Stout, Rogue Ales Brewery/Brewers on the Bay, Newport Oregon, USA
Coffee ice cream
Chocolate syrup
Garnish: Whipped cream, shaved bittersweet chocolate, malted milk powder
Pour 2-3 ounces Rogue Chocolate Stout in pint glass. Add 2-3 scoops coffee ice cream. Drizzle lightly with chocolate syrup. Top with Chocolate Stout. Garnish with whipped cream. Lightly sprinkle with shaved chocolate and malted milk powder.

Lindemans Framboise Float
Vanilla ice cream
Lindemans Framboise – Raspberry Lambic, Brouwerij Lindemans, Viezenbeek, Belgium
Scoop ice cream into pint glass. Add Lindemans Frambiose.

Young's Double Chocolate Stout Float
Young's Double Chocolate Stout – Milk/Sweet Stout, formerly Young's & Co, London, England, UK – currently crafted at Charles Wells Brewery, Bedford
Chocolate Fudge ice cream
Scoop ice cream into pint glass. Add Young's Double Dark Chocolate Stout

Beer Fox recommendations for Vanilla Bean Ice Cream Beer Floats:

Frambozen Raspberry Brown Ale – New Belgium Brewing Company, Fort Collins, Colorado, USA
Festina Peche – Dogfish head Craft Brewery, Milton Delaware, USA
Green's Endeavour Dubbel Ale – Green's Gluten Free Beers, Shipley, West Yorkshire, England, UK
Lindemans Peche – Brouwerij Lindemans, Viezenbeek, Belgium
Lindemans Framboise - Brouwerij Lindemans, Viezenbeek, Belgium
Lindemans Framboise Foudroyante - Brouwerij Lindemans, Viezenbeek, Belgium
Lindemans Pomme - Brouwerij Lindemans, Viezenbeek, Belgium
Lindemans Kriek – Brouwerij Lindemans, Viezenbeek, Belgium
Lindemans Pecheresse – Brouwerij Lindemans, Viezenbeek, Belgium
St. Louis Peche – Brouwerij Van Honsebrouck, Ingelmunster, Belgium
Skinny Dip – New Belgium Brewing Company, Fort Collins, Colorado, USA
Mort Subite Peche – Brouwerij De Keersmaeker, Asse-Kobbegem, Belgium
Mort Subite Framboise – Brouwerij De Keersmaeker, Asse-Kobbegem, Belgium
Mort Subite Oud Kriek – Brouwerij De Keersmaeker, Asse-Kobbegem, Belgium
Mort Subite Cassis - Brouwerij De Keersmaeker, Asse-Kobbegem, Belgium
La Choulette Peche – Brasserie La Choulette, Hordain, France
Chapeau Apricot Lambic – Brouwerij De Troch, Wambeek, Belgium
Chapeau Banana Lambic – Brouwerij De Troch, Wambeek, Belgium
Chapeau Raspberry Lambic - Brouwerij De Troch, Wambeek, Belgium
Saranac Pomegranate Wheat Beer – The Matt Brewing Company, Utica, New York, USA

Beer Fox recommendations for Chocolate Ice Cream Beer Floats:

No Doubt Stout – Elliot Bay Brewing Company, Seattle, Washington, USA
Black Boss Porter – BOSS Brower Witnica, Witnica, Poland
Samuel Smith's Nut Brown Ale – Samuel Smith's Old Brewery, Tadcaster, North Yorkshire, England, UK
Naughty Goose – Goose Island, Chicago, Illinois, USA
Hillsboro Brown – Boscos Nashville Brewing Company, Nashville, Tennessee, USA
Imperial Mocha Java Stout – Flossmoor Station Restaurant & Brewery, Flossmoor, Illinois, USA
AleSmith Nautical Nut Brown Ale – AleSmith Brewing Company, San Diego, California, USA
Pete's Brown aka Tribute Ale – Bear Republic Brewing Company, Healdsburg, California, USA
Chocolate Bear Stout – EZO Beer KK, Hokkaido Sapporo-shi, Japan

Cheers!


Add some class to your Beer Floats with beautiful glassware. You may also wish to use Stemmed Pilsners or Wheat Beer Glasses for a gorgeous float. Add whipped cream and drizzles chocolate for an irresistable treat.
Spiegelau Barrel Beer Classics Lager Glass, Set of 6 in Barrel Gift Tube

WMF Bistro Ice Cream Spoon, Set of 4
- These delicious recipes demand you enjoy every last drop!
 
You Should Also Read:
Beer & Food and ... Massage Oil ?
Tropical Orange Grove Chicken
Ask the Beer Fox - Introducing Beer to Wine Lovers


Related Articles
Editor's Picks Articles
Top Ten Articles
Previous Features
Site Map





Content copyright © 2022 by Carolyn Smagalski. All rights reserved.
This content was written by Carolyn Smagalski. If you wish to use this content in any manner, you need written permission. Contact Carolyn Smagalski for details.