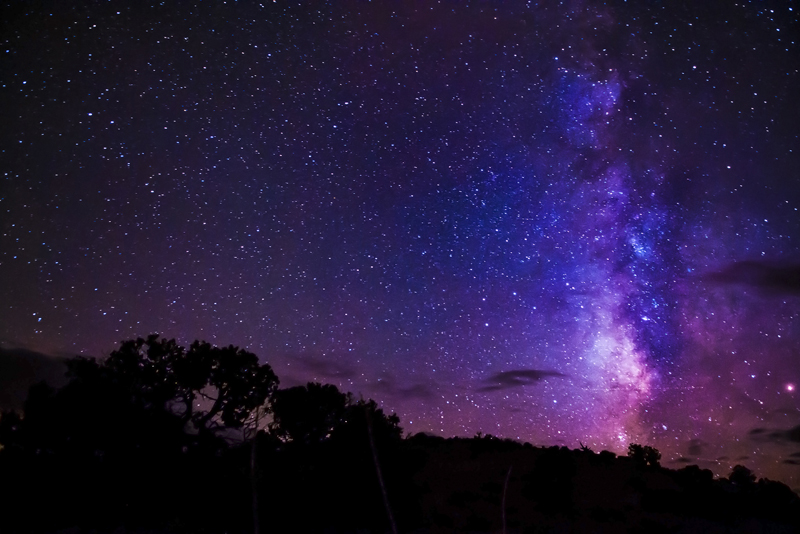 We find spiders and their webs in all sorts of places, but did you know that there have been space spiders too?
Eight legs and the right stuff
The very first spidernauts were a pair of cross spiders named Anita and Arabella. A "cross" spider isn't grumpy, it's a variety of orb-weaver. This picture clearly shows
the cross that gives this spider its name
. Orb-weavers make the flat, spiral webs which you commonly see in the house.
Anita and Arabella were on board Skylab 3 in 1973 for an experiment proposed by American high school student Judy Miles. Scientists knew that certain drugs affect how spiders make their webs and Judy wondered what the effect of microgravity would be.
The spiders were tested separately, but neither liked being weightless, each needing a push into the spider habitat.
Arabella's first attempt at web-making
wasn't the neat construction that we're used to seeing. However the final results were quite competent, though not exactly the same as ones made on Earth.
Anita died in space and Arabella was found dead on re-entry. Their bodies are preserved in the Smithsonian Air and Space Museum in Washington, D.C.
Triumph and tragedy
In 2003 eight Australian orb-weavers went into orbit on space shuttle mission STS-107. This followed a three-year project at Glen Waverley Secondary College in Melbourne in collaboration with RMIT University and the Royal Melbourne Zoo.
The students, working through the three years of their project, learned experimental design, problem-solving, researching, a lot of biology, and the physics of space travel, among other things. They used curriculum time from different subject areas and carried out independent research in their own time. In the final year there was a competition to design a
mission patch
. There was a control group of spiders in the classroom.
The 16-day shuttle mission, with a variety of experiments on board, was launched on January 16, 2003. On February 1, this very public and popular space mission was nearing its triumphant end. But instead of celebration, the world was stunned when space shuttle Columbia broke up over Texas, killing all seven astronauts and scattering debris over two US states.
A spider taxi?
Space shuttle Endeavour took two orb spiders and a lot of fruit flies to the space station in 2008. It was one of a set of experiments encouraging schools to run parallel investigations and compare their results to those from space. Unfortunately, the full investigation ended up limited to only 8 days. The fruit flies deposited slime all over the walls of the container, so the cameras couldn't see anything.
In 2011 Endeavour took two female golden orb spiders to the space station where astronaut Cady Coleman named them Gladys and Esmeralda. And the fruit flies were going to be housed separately this time!
It was Endeavour's last mission, and the spiders were launched with fanfare and tweets. Teachers had registered over a hundred thousand students who would follow the experiment in their classrooms.
After the study ended, Gladys and Esmeralda came home in style on Atlantis, the final shuttle mission. Esmeralda didn't survive the return flight, but Gladys did. And, surprise! Gladys wasn't a girl spider. Investigators quickly changed
his
name to Gladstone. He readjusted easily to life back on Earth.
Cleopatra and Nefertiti
The retirement of the space shuttle didn't mean that Gladstone and Esmeralda were the last spidernauts. Two jumping spiders, named Cleopatra and Nefertiti, went to the space station in July 2012 on the Japanese transfer vehicle HTV-3.
Jumping spiders don't make webs. They're active hunters who jump onto their prey, having first secured a thread to their perch for a quick return if needed. Amr Mohamed, an Egyptian student, proposed observing jumping spiders in microgravity, and his proposal was a winner in the YouTube Space Lab competition.
Amr's prediction was that the spiders would have great difficulty catching their prey. Astronaut Suni Williams reported otherwise: "I opened the habitat and saw [Nefertiti] running around at full speed looking for something to eat. . . . Then a fruit fly came out. Nefertiti stopped, she stalked and then she pounced." Williams added that she was glad not to be a fruit fly.
The spiders returned to Earth on the SpaceX Dragon spacecraft at the end of October. It seems that Cleopatra didn't survive re-entry, but Nefertiti readjusted to Earth gravity and went to the Smithsonian. She was a big hit, but died within a few days. The normal lifespan for her species is about a year and she had lived for ten months - but what an adventurous life!
Notes and references
1. Gladys & Esmeralda https://www.jsc.nasa.gov/jscfeatures/articles/000001057.html
2. Skylab https://history.nasa.gov/SP-401/ch3.htm#
3. "Spiders in Space" https://www.scienceinschool.org/2006/issue1/spiders
4. J Goddard, "Spidernaut who was hailed as queen of space," The Times 2012.12.05

You Should Also Read:
Cats in the Sky
Who Let the Dogs out?
Halloween


Related Articles
Editor's Picks Articles
Top Ten Articles
Previous Features
Site Map





Content copyright © 2022 by Mona Evans. All rights reserved.
This content was written by Mona Evans. If you wish to use this content in any manner, you need written permission. Contact Mona Evans for details.