Hurricane Survival Kit - Include Craft Beer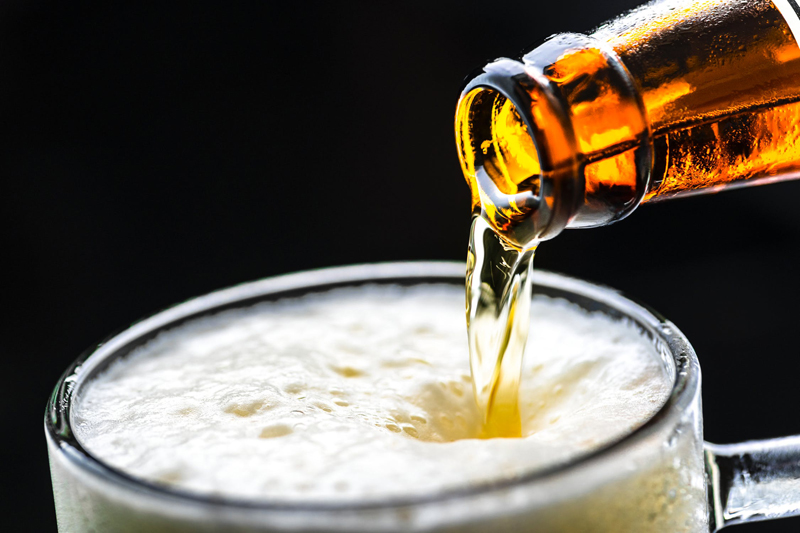 Now that Hurricane Shandy … I mean, Hurricane Sandy is behind us, we see the aftermath and it is not pretty. Only two hours from here, many people are still dealing with devastation that is hard to imagine. Staten Island is laid in ruins, Atlantic City's coastline and the Barrier Islands of New Jersey are destroyed, and the subway of New York City is still awash with water that measures a depth of 25 feet.

By comparison, those of us around Philadelphia are lucky. Although the storm left 8 million people without electricity, only about one million in my immediate area were without power. When the power went out, the rumbling wind seemed to get louder, like waves crashing on the beach. Some described it as the sound of a freight train or the subway, thundering along its tracks. The pressure was so low that my ears were popping, like they do during extreme altitude shifts in an airplane. I was fortunate to get power back within 24 hours, but others in my region waited for days. Some are still waiting.

The real shocker was that cell phone towers were knocked out, too. In cases where they remained functional, the lines were so heavily used that we couldn't get through. Those with land lines could keep in touch, as long as their phones weren't portables that required batteries and a source of electricity. We are so techno-oriented that many had forgotten how to function without their computer-internet-iPhone-iPad-iPod-xBox-or-whatever. But some candles, battery powered lanterns, board games and beer can make the time pass pleasantly while waiting for the trees to fall and the wind to die down.

If you missed the opportunity to prepare for this storm, get your beer cellar stocked for the next. There are bound to be a few winter storms coming this way. Gather up some "Sandy beers" to commemorate your resilience, too. Here are a few to savor:

Lilja's Hop Nest Monster from Sand Creek Brewing Company in Black River Falls, Wisconsin pours hazy golden with sticky lace and enduring beer head. As a mild American IPA, it fills the air with citrusy grapefruit aromas, florals and earth. The flavor is closer to an American Pale Ale, but it has a refreshing surface and semi-dry finish at 7% ABV.

Sandy Wheat from Mother's Brewing Company in Springfield, Missouri is a 4.8% American Wheat Ale. Pale yellow, with a fresh hop haze, this assertive baby is rich in wheat graininess and a clean citrusy palate. The tongue is filled with tangerines and honey sweetness, balanced with breadiness that comes alive on the tongue with bubbles and a soft pillowy head.

Mother of All Storms pours forth from Pelican Pub Brewery in Pacific City, Oregon. At 13.5% ABV, you can't go wrong with this world-class English Barleywine. Its rich mahogany color sports a lovely tan head that can barely hold down the intense aromas of dark fruits, toffee, caramel, vanilla, roasted grain, leather, booze, cocoa and spice. As the closest thing to seduction in a bottle, this one is an exotic beauty.

Black Rain Imperial Stout from Lagunitas Brewing Company in Petaluma, California can warm up any dark and stormy night. At 8.2% ABV, this American Imperial Stout glugs into the glass as black as coal, with a mocha head and complex nose of molasses, figs, raisins, dark chocolate, licorice, coffee and roasted malts. Complex depth is what it's all about. Surprisingly smooth on the tongue, it barely displays any hint of warmth until it slides down the throat.

Hurricane Jack from Fyne Ales Ltd in Argyll, Scotland is an English Pale Ale at 4.4% ABV, a lovely session beer to pair up with some cheese and crackers, along with a rousing game of Scrabble. Brilliantly golden with a lean swath of foam, this biscuit drinker is full of fresh hay and lemon zestiness.

Hurricane Kitty from Keegan Ales in Kingston, New York is an American IPA of 5.5% ABV. She shines with a hazy copper body, bronzed and firm in the glass, emitting aromas of oranges, tangerines and lots of earthiness. On the palate, the caramel-painted breadiness shines through, touched with pine and great balance.

Hellbender Barleywine from Pisgah Brewing in Black Mountain, North Carolina is a 9.8% English Barleywine of foggy amber, drenched with lots of active bubbles in the glass. Earthy, with the aroma of honey-caramel glazed toast, it rolls across the tongue with brown sugar, molasses, and hints of pineapple, melon, and passion fruit. Peppery warmth lingers in the throat.

Nor'Easter from Captain Lawrence Brewing Company in Elmsford, New York is a Belgian Dark Strong Ale of 12% ABV, gushing with olfactory pleasures. Plums, raisins, dark cherries, apples and oak dance around in your mouth with a boozy warmth. Hints of bourbon and vanilla linger.

Remember to pack up your storm cellar, beer basement, or tornado closet with some good brews, a bottle opener, hand-operated can opener, board games, battery powered lanterns, fresh batteries, candles, blankets, charcoal, a mini grill, some canned goods, and an old Boy Scout Manual. "Be Prepared, Baby. Be Prepared."

Cheers!

Remember your battery-powered lantern:
Coleman 4D Rugged Personal Size Rugged Lantern


A Survival Tool is a must-have, too:
Leatherman 850022 MUT Tactical Multi-Tool, Black
You Should Also Read:
Stillwater Artisanal Ales with Brian Strumke
How to Order in a Beer Bar & Not Look Stupid
Ancient Ales for Modern Man


Related Articles
Editor's Picks Articles
Top Ten Articles
Previous Features
Site Map





Content copyright © 2023 by Carolyn Smagalski. All rights reserved.
This content was written by Carolyn Smagalski. If you wish to use this content in any manner, you need written permission. Contact Carolyn Smagalski for details.