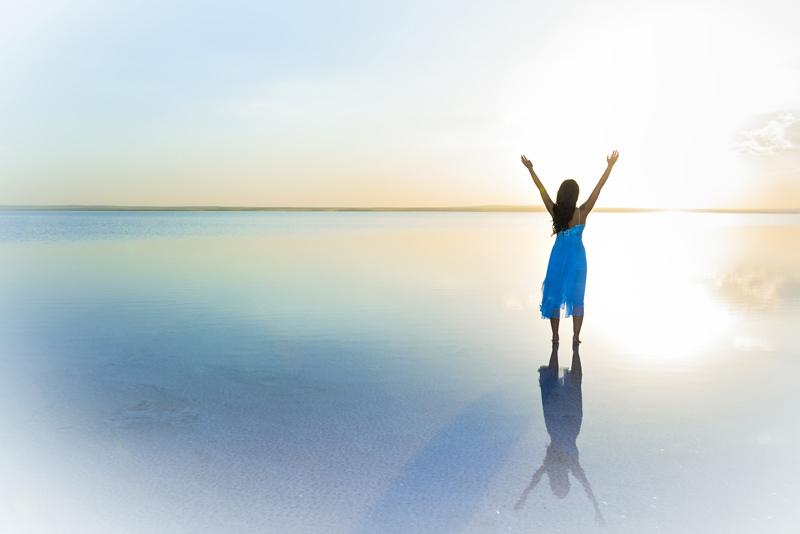 Meditation and asthma—how could these two possibly fit together? The one thing they both have in common is breathing. Breath is necessary for life—meditation typically teaches controlled breathing, while asthma is the lack of breath. Meditation's effect on health is not completely understood; however, it's often recommended for patients who suffer everything from cancer and stress to PTSD (Post Traumatic Stress Disorder) to asthma. Considered as an alternative medicine technique, meditation continues to be studied and prescribed to improve the health of people of all ages.
What is Meditation
The word "meditation" may bring up pictures of hippies from the 60s and 70s, or may bring up thoughts of Far Eastern religions, flowing saffron robes and incense. Meditation is an ancient practice, first referenced in the Hindu Vedas (written between 1200-200 BCE). Though meditation is often thought of in a religious context, it's also employed in the secular world. These days, meditation is recommended for many reasons, including improving health through physical relaxation, calming the mind, and is employed in counseling and psychotherapy.
According to the National Center for Complementary and Alternative Medicine (NCCAM), a national government survey sampled 23,393 adults and found that 9.4 percent of the respondents (about 20 million people) had used meditation in the previous 12 months. This was an increase from a similar study in 2002 which showed that 7.6 percent of respondents had practiced meditation in the previous 12 months.
How is Meditation Used for Improving Health?
Scientific studies have shown that meditation may be beneficial for different health problems. Some studies demonstrated that practicing mediation improves psychological health, instills a more positive attitude towards stress and more.
Mediation has been used for different health issues, including:
• Pain management
• Stress
• Insomnia
• Anxiety
• Depression
• Management of physical or emotional symptoms that sometimes develop with chronic illness
While many scientific studies have shown evidence that meditation may improve a person's health and well-being, the evidence is still inconclusive. More research is needed to confirm the conclusions drawn from previous studies.
Meditation and Asthma
One form of meditation, Mindfulness Meditation, may be beneficial for those who have asthma. During mindfulness meditation, you're taught to pay attention to the breath flowing in and out of your body. You're taught to breathe slowly and deeply, in and out--breathing is diaphragmic, or from the belly (diaphragm). This form of deep, controlled breathing may help to relax the entire body, including the lungs and airways.
This type of deep breathing is not recommended during an asthma attack, as it can lead to hyperventilation (breathing too deeply and too fast) and worsening asthma symptoms.
Side Effects and Risks of Meditation
Meditation is thought to be safe for most healthy people; however, it may worsen symptoms in those who have mental or psychiatric health issues.
Important Notes
1. Talk with your doctor before beginning any meditation program. Your doctor needs to have "the full picture" of your health practices. He/she may even be able to recommend a meditation program for you.
2. Research the different forms of meditation to find the one that fits with your own beliefs.
3. Check the credentials and experience of the meditation instructor you are considering.
4. Meditation should not be used in place of conventional medical care, including visiting your doctor for medical issues.
More Information about Meditation
If you'd like more information about asthma, you can check out the meditation site right here on Bellaonline. Here's a link to an article on how to do beginning meditation: https://www.bellaonline.com/site/Meditation.
Along with this information, you can find many meditation books at your local store or library, and can find meditation instructions on videos and CDS, including iTunes and Android apps. Meditation just might help you to breathe easier, while living a more relaxed and health life.
Please check out my new book
Asthma's Nothing to Wheeze At!
Now also available on Amazon
Asthma's Nothing to Wheeze At!
You Should Also Read:
Yoga and Asthma
Breathing Easier with Focused Exercises
The Effects of Stress on Asthma


Related Articles
Editor's Picks Articles
Top Ten Articles
Previous Features
Site Map



Follow @SherryAsthma
Tweet





Content copyright © 2019 by Sherry Vacik. All rights reserved.
This content was written by Sherry Vacik. If you wish to use this content in any manner, you need written permission. Contact Sherry Vacik for details.