Kopi Luwak in the Brew Kettle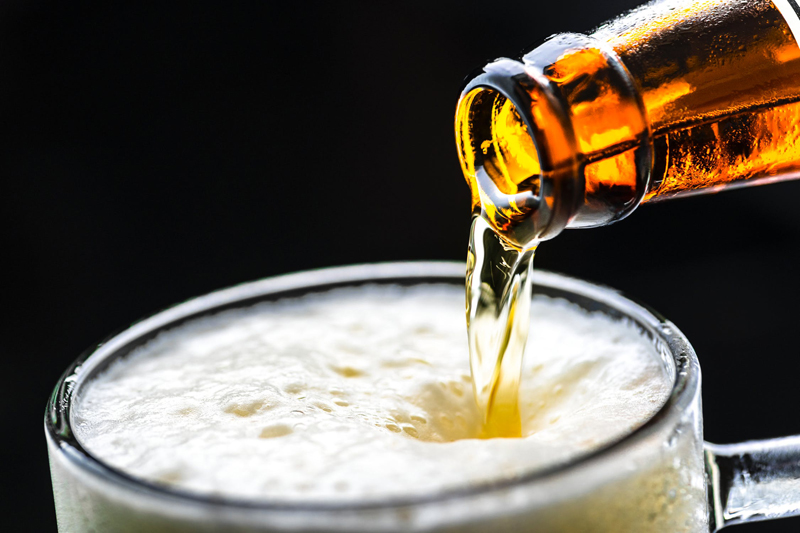 If a brewer uses Kopi Luwak in his coffee stout, is he creating a luxury product or one that celebrates environmental stewardship? Some would be grossed-out at the thought of drinking a beer that was partially fermented through an organic process. If this seems ambiguous, read on.

Kopi Luwak is made from animal-processed coffee beans. Harvesting these Coffea seeds makes them the most expensive coffee beans in the world. These coffee seeds are found in clumps of fecal matter left by the Asian Palm Civet in coffee plantations and the surrounding jungles.

The Asian Palm Civet is a marsupial, native to Africa and the tropical jungles of Southeast Asia, primarily Indonesia, the Philippines, Vietnam, India, and Malaysia. These tree-dwellers live a nocturnal life, and have adapted an omnivorous lifestyle, eating a varied diet of small animals, insects, and fruit. When the cherries of the coffee plant turn bright red or purple, they are sought out for their juicy pulp by this Asian Palm Civet.

Inside each coffee cherry, two seeds (commonly called coffee beans) grow facing each other. They are covered with a skin, or parchment. The Asian Palm Civet swallows the entire cherry, including the seeds, and its digestive system goes to work, extracting nutrition from the fruit. In the process, the pulp is digested, but the seeds and parchment are not. During this internal fermentation, proteolytic enzymes from the civet penetrate the skin of the beans, producing short peptides and amino acids. Proponents of Kopi Luwak claim that this process enhances the flavor of the end product.

The coffee beans, undigested and still covered in parchment, are excreted in clumps that include other seeds, nuts, and undigested matter. These clumps are gathered, broken apart into individual seeds, and spread onto dark material, then dried in the sun. Once dry, they are placed in a mortar and vigorously hammered with a pestle until the parchment separates from the green seeds. These seeds are laboriously separated from the undesirable debris. They are washed, dried, and stored, where they remain fresh for up to a year.

High quality producers do not roast the coffee beans until they are ordered, capitalizing on freshness and catering to the preferences of the gourmet coffee drinker. Some claim that accurate assessment of animal-processed coffee beans has been blocked by expectations; but accurate judging of the flavor depends on more than the bean alone.

This argument can be strengthened by such events as the International Coffee & Tea Expo (ICE) in Dubai, UAR. Competitions at the ICE may showcase extraordinary quality among coffee beans, but the skill of the barista weighs as heavily as the quality of the beans when assessing the end product. Within the beer community, quality assessment is also dependent upon the brewer's skill, as evident in the competitions at the Great American Beer Festival and the World Beer Cup. The two worlds seem to live a parallel lifestyle.

In fact, Coffee Flavored Beers have become so popular that they have their own category at these beer competitions. They require a distinct coffee character, but may be made in any style that creates a rich and flavorful beer. Due to the extraordinary cost of Kopi Luwak, commercial breweries do not typically dabble in this rare ingredient. But some artisans insist on a high degree of creativity, producing beers of distinctive quality and flavor. For them, a luxury product is certain.

Among these prized beers are AleSmith Speedway Stout – Kopi Luwak, crafted by AleSmith Brewing Company in San Diego, California, USA. This American Imperial Stout clocks in at 12% alcohol by volume and is rich, robust and round. A bourbon-barrel aged version is available.

Mikkeller of Københaven, Denmark brews three versions of coffee Imperial Stout with Kopi Luwak. Mikkeller Beer Geek Brunch Weasel was the first to roll out at 10.9% ABV, followed by Beer Geek Brunch Weasel Calvados Edition and Beer Geek Brunch Weasel Cognac Edition.

Brouwerij de Molen of Bodegraven, Netherlands has put their artisanal touch on Kopi Loewak American Imperial Stout. Rich and dark with a massive head, this stout features flavors of iced latte which slither across your tongue at 11.5% ABV.

Jackie O's Pub & Brewery of Athens, Ohio, USA crafts three beers using Kopi Luwak: Dark Apparition Kopi Luwak Bourbon Barrel, Oil of Aphrodite - Kopi Luwak, and Ice Apparition Kopi Luwak. Dark Apparition and Ice Apparition are Russian Imperial Stouts at 10.5% ABV and 12% ABV, respectively. Oil of Aphrodite is a Double Imperial Stout of enormous flavor and a hefty 10% ABV.

A few homebrewers are also dabbling with Kopi Luwak in their coffee beers. Brewer Jesse Waters of Honolulu, Hawaii, set plans in place for this prized rarity: "I'm going to suggest we take a small amount of finely ground coffee in a sack and boil it in the kettle prior to pouring the hot water over the mash; then introduce a bit more of the finely ground coffee in the fermentation tank. It will settle in the bottom with everything else and when we filter it, we lose the coffee grounds but not the flavor. If I were to brew it with a lite BMC (Bud-Miller-Coors) crowd-pleaser it would taste like iced coffee. Toss in cream and whipped topping and you have Beerppuccino for the crowd. Put it in a stout with chocolate, and you cater to the elite beer snob, of which I finally admit I have joined the ranks."

For one who is intent on brewing with Kopi Luwak, caution must be used in selecting a source. Purchase only coffee beans that have been gathered from Asian Palm Civets in the wild. Farmed Kopi Luwek is both unethical and lacking in quality. In captivity, these animals are caged and force-fed a diet of substandard coffee cherries, resulting in eventual death from lack of balanced nutrition. In the wild, their diet is varied. Civets are highly selective, choosing only the plump, ripe fruits which yield beans of more robust flavor. If you are going to pay the price, be sure the value is there.

Cheers!

Thinking of espresso in your brewkettle?
Bialetti Moka Express 1-Cup Stovetop Espresso Maker


Elegant mugs for your coffe AND for your coffee beer
Luigi Bormioli Set of 2 Duos Double-Wall Mugs, 14 oz.
You Should Also Read:
Secrets of Belgian Style Ale - Dubbels & Tripels
Yards Love Stout - The Velvet Torpedo
Chocolate Beer


Related Articles
Editor's Picks Articles
Top Ten Articles
Previous Features
Site Map





Content copyright © 2022 by Carolyn Smagalski. All rights reserved.
This content was written by Carolyn Smagalski. If you wish to use this content in any manner, you need written permission. Contact Carolyn Smagalski for details.